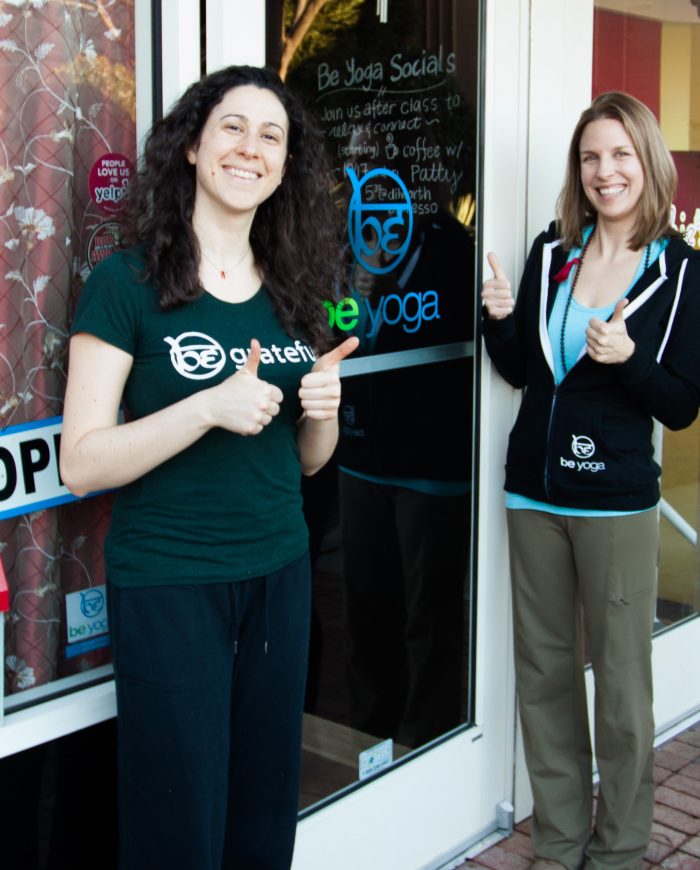 It may shock many to learn that some of our beloved yoga studios may not want to reopen.
Forget can they reopen, or how will they reopen—but do they even want to reopen?
As a former yoga studio owner, my heart breaks for every current owner who faces the steep climb out of shut-down, fraught with uncertainty, new regulations, and potential financial ruin. True, some studios will pivot beautifully with new ways to connect, hand-in-hand with their understanding landlords who mindfully adjust rent. Do not fear, yoga is not going away, but there is real suffering for some. 
No one really wants to hear about the challenges and financial aspects of owning a yoga studio or even of teaching yoga. The common shared fantasy is that yoga is a sacred calling that has nothing to do with money. We would rather think of our yoga teacher guiding us out of love and selfless service, separate from their ability to pay their rent. And the yoga studio owner should only have the good of the community on their mind. 
Many studio owners do hold the good of their community up, oftentimes to the detriment of themselves. My husband, and co-owner, used to say, "if you want to make a small fortune in yoga, start with a large fortune." All kidding aside, most studios, even ones that appear successful (which mine did), make very little money. Many truly are open as a labor of love, hoping that next year will be different. If just a few more students attend each class, they can move past break-even. 
Students used to come up to me all the time, thanking me for creating such beautiful, welcoming, and heart-centered spaces. The positive impact, the difference that my studio made in the lives of so many was the main reason why I kept going for nine years. And that was a big reason why I was able to sell one of the studios. Our second studio closed after seven years last summer, pre-COVID-19, due to significant annual rent increases. 
It is for the love of yoga and for the love of the students why some studios will reopen, but is that enough? For many, it is financially challenging even under the best of circumstances. Emotionally, it is sometimes even harder.
I spent more time than I care to admit, mediating fights between teachers and staff, smoothing out ruffled feathers, and explaining to teachers that calling out sick 10 minutes before class is not acceptable. I have tied myself in knots, cried myself to sleep, and questioned every aspect of who I am. I hid from the world the enormous stress of studio ownership.
Even with all of the stress, owning a yoga studio still brought me tremendous joy and was one of the biggest growth lessons of my life. It challenged me to step up as a leader, hear my authentic voice, set firmer boundaries, and speak up for myself. Once someone who worried about what others thought, I now only sometimes worry if everyone likes me. Yoga, especially studio ownership, made me stronger in ways I did not anticipate.
And I am so grateful that I no longer own my studios, my mental and emotional well-being thank me every day. I do, though, have guilt that I only just sold the studio this past July 2019. The new owner, full of hope at the purchase, now faces unprecedented, enormous challenges.
While every state is different, generally speaking, yoga studios are being asked to run at 50 percent capacity for social distancing. Rent is not being adjusted. The price of a yoga class is mostly not changing, in fact, there is even more pressure to lower prices since you can get many classes for free online. The equation of fewer students + increased cleaning + fear of spreading and getting COVID-19 does not balance well with unchanged rent + unchanged pricing. Slim margins will shrink further. Stress will grow larger.
Yoga could evolve beautifully in ways that truly serve the greater good. I hope for this. 
My concern is the potential collateral damage for those owners who do not wish or cannot pivot. For those owners who are unable to get out of their leases or who have unfavorable leases that have them personally responsible.
Here is what I see as necessary:
1. Yoga studio owners must be released from being held personally liable for their commercial leases if they have been impacted by COVID-19. Such as the proposed bills as New York City's 1932-2020 and California's SB 939. Both bills prevent landlords from holding commercial tenants personally liable in the event that they have to close due to COVID-19's economic impact. We need this in every state. 
2. In addition to their current offer to defer loan and interest payments for six months, the Small Business Administration must forgive all existing business debt for studios that decide to close. 
3. If studios choose to remain open, many leases must be re-negotiated. Studios simply do not have the margin to pay high rent.
Each yoga studio, like any small business or person, must decide what is the right course of action for them. We can, though, offer up our understanding and compassion.
We can continue to support our studios financially. If our studio does close we can continue to support those teachers who are looking to continue instructing. We can also look at the big picture and ask "how can I help?"
These are challenging times for all of us and this especially true for yoga studios and many other small businesses. I wish each one of you ease, clarity, compassion, and peace as you navigate the waters of your life, your businesses, your work, and your relationships. 
~