Further reading, further education:
Dear White People: We are Complicit. We've Always been Complicit.
Brené Brown defines "White Privilege" for us—& it's the Best Explanation I've Heard.
~
Symbols and unity are beautiful.
I woke up this morning to a thrashing of black squares on social media, particularly Instagram.
I quickly googled #BlackoutTuesday and was floored by the movement of two woman pausing the music industry. But I couldn't help but notice a couple of things.
Many of the photos had the caption "Muted" or "Black Lives Matter," and while I agree with the movement, posting the square stating that "we will be muted and listen" is doing the exact opposite of what was intended—actual listening. It is breaking the silence of #BlackoutTuesday and not deterring people from hopping on social media for a like or comment. The movement was originally intended to disrupt business as usual. One news outlet reflects, "It's not clear when the movement, spearheaded by two black women in the music industry as a way to pause and reflect, became associated with the black boxes, which have become most prominent on Instagram."
For me, a photo and a hashtag on Instagram devalue the horrific reality of what is going on all around the world right now. To me, it isn't walking the talk. It is simply posting a black square in hopes of showing others that we are participating, even in the smallest of ways. So instead of taking this day off in a moment of real silence, closing businesses to educate ourselves, and disrupting business as usual, we are on Instagram liking and commenting on the black squares that fill the space. Reportedly, the posts are clogging up the #BLM hashtag with blank photos, pushing needed information away (information required for the original intention of this day.)
Quite honestly, I'm tired of things being sensationalized on social media only to be talked about again when the next big tribulation occurs. Call me cynical.
While I believe changing a picture takes great strides in education (a piece of the puzzle), it distracts from the actual action that needs to be happening—continued action. And not just action once in a blue moon. Black lives are actively being oppressed every day, in ways that are not always captured on a camera, and we should be up in arms about it. Daily. I'm not trying to be insulting or offensive, but I do wonder.
Photo changes on social media are a new way to protest, and it is something we didn't have access to years ago. It spreads a feeling of unity, solidarity; there's no doubt about that, and it does educate. However, my posts generally only reach my friends, and I don't see the need to prove my stance or cooperation or care to them. They know. It is the people "beyond the choir" I want to reach.
Changing our pictures on social media is moving. It shows the reach of this movement, and while I'm not saying to stop posting pictures, I am saying that our calls for support, unity, and change shouldn't start and stop there.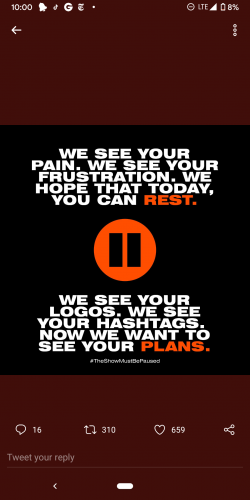 Relephant reads for this moment:

5 Ways White People can Combat Racism—Starting Now.
The Maya Angelou Quote that America Needs to Hear.
"Please make this go viral. I am begging you. Make America see this, I beg you."