View this post on Instagram
Whether it's science or magic, if it's of fun benefit, enjoy! ~ ed
Could astrology explain this crazy year? Maybe:
My husband was scrolling his newsfeed this morning when he suddenly blurted out, "NASA says you're not an Aries anymore; you're a Pisces!"
While we're both pretty skeptical about astrology, I've been known to look people up in my mom's weathered copy of Linda Goodman's Sun Signs. Turns out, I may have been looking up all the wrong descriptions because, according to NASA, astrology lovers may have been wrong their whole lives about their star signs.
How could this be? It's all down to a 13th star sign to the calendar which throws the whole system out.
According to this star chart, my son is no longer a Sagittarius; he's an Ophiuchus, which might explain his flamboyance.
The 13th star sign
Ophiuchus, Ancient Greek for "snake bearer," comes into line for 18 days between November 29 and December 17.
"House Ophiuchus represented Unity. Its people were spirited, magnetic, impulsive, clever, flamboyant, and at times jealous, power-hungry, and temperamental," says Los Angeles based author, Romina Russell.
Apparently, this charismatic guy is not that new to the charts either, having first been identified by the ancient Babylonians.
"Even according to the Babylonians' own ancient stories, there were 13 constellations in the zodiac. To make a tidy match with their 12-month calendar, the Babylonians ignored the fact that the Sun actually moves through 13 constellations, not 12. So the Babylonians picked one, Ophiuchus, to leave out. Then they assigned each of those 12 constellations equal amounts of time." ~ The Telegraph
What's changed?
Astrology devotees can take a deep breath. Nothing has changed, really. All the hoo-ha is actually down to a four-year-old NASA blog post aimed at children that just resurfaced in the media.
"The 12 constellations that make up the astrological signs are well known, but there are actually as many as 21, they are just smaller, and their stars don't appear as prominently in the sky. This has meant that for years, signs like Ophiuchus have been ignored by astrologers in favour of the 12 'main' signs. They have always been there and always been known about, astrology just chooses not to use them." ~ iNews
"Since astrology is a system used by humans to discuss their lives, it does not necessarily need to line up with the stars as they actually are. As such, people can stick with their existing star sign, or opt to use their supposedly newly calculated one—the only thing that really matters is that the astrologers who then use those star signs are using the same system." ~ The Independent
Because the earth has an elliptical orbit, though, it is true that it's no longer aligned to the stars in the same way as when the signs of the zodiac were first conceived, making smaller constellations like Ophiuchus even more prevalent in the sky.
So, if you've never felt an affinity with the star sign you thought you were born under, it may be worth reconsidering.
Here's a breakdown of the star chart, if you include Ophiuchus.
Capricorn: January 20th to February 16th
Aquarius: February 16th to March 11th
Pisces: March 11th to April 18th
Aries: April 18th to May 13th
Taurus: May 13th to June 21st
Gemini: June 21st to July 20th
Cancer: July 20th to August 10th
Leo: August 10th to September 16th
Virgo: September 16th to October 30th
Libra: October 30th to November 23rd
Scorpio: November 23rd to November 29th
Ophiuchus: November 29th to December 17th
Sagittarius: December 17th to January 20th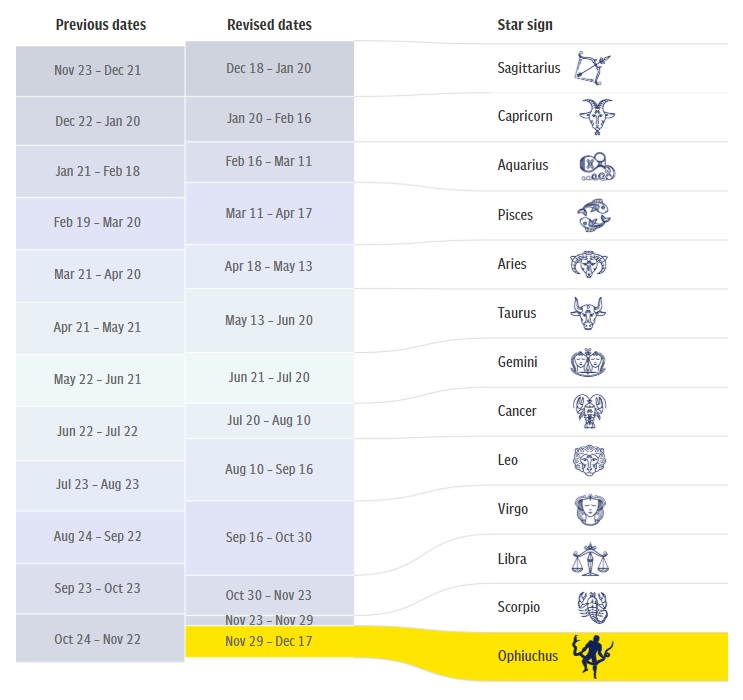 Best reddit comments:
"I don't even know who I am anymore. What am I gonna blame my blunders on now?"
"All this talk about star signs changing is hilarious, everyone's freaking out because they've realized why they sucked at life—they were living on someone else's fortune!"
"I'm now Gemini, was a Cancer. The description of Cancer suits me more than Gemini, so based off that I think there is only 12 star signs."
The moral of the story?
Astrology is not a science. It's more of a mythology devised thousands of years ago to explain and classify people according to the day on which they were born. But human beings are complicated AF and each one of us is unique in both our nature and nurture, so while it may be fun to look up your traits according to your star sign and we can enjoy reading our horoscopes, we should be wary of taking them too seriously.