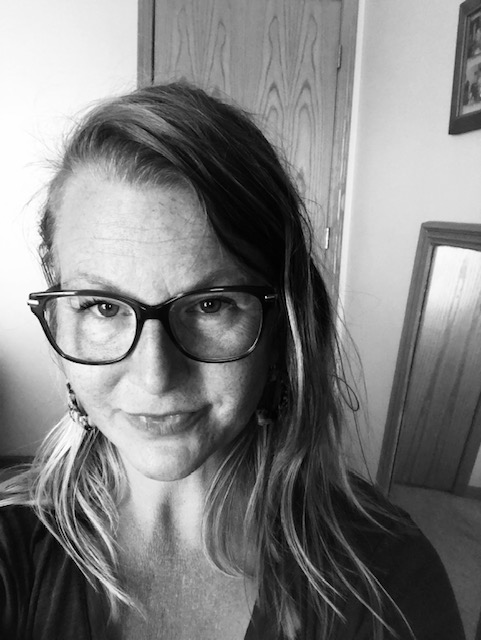 Running through my brain in the last few days felt exhausting.
We are in the Covid-19 season and who knows how long this is going to last—it's already been almost four months as I write this.
I assume that I've gone through all of the emotions that everyone else has, but I feel some clarity peeping through every once in a while. 
I put on my mascara today and penciled my eyebrows. My hair is long from no cuts, and I was able to go on a walk this morning with a couple of ladies from work.
Last week, we were able to get out of town for camping. Somehow, camping makes me feel so grateful to return to a warm home and a kitchen sink. So you could say that I'm pretty lucky. 
We visited some monuments and took some photos, and I literally tore myself apart in the photos: my boobs were too saggy, my tummy wasn't flat, my shorts were too high, and I just didn't look good. I felt self-conscious.
I had a great experience and even got to pet some wild donkeys. The picture of me petting the wild donkeys is turning around in my brain and making me feel like I'm not good enough. The experience itself was beautiful, childlike, and magical, but the memory I was left with was that photo. 
My brain likes to do this to me sometimes—I want to fight against it and tell it that those are lies, but to my standard, the photo is not pretty—I am not skinny or put together enough. A lady took our family's picture and that one also felt bad. It's not how I thought I would be presenting myself to the world. 
I've been working from home for three months, wearing sweatpants, and not socializing. I feel like I have put on a few extra pounds since the gym was closed, since I wasn't working outside the house, and since I was definitely eating more comfort food and moving less.
Scrolling on social media more than usual and comparing myself to others is definitely sinking in. Online shopping has increased exponentially and I'm buying anything that promises to make me feel better, more energetic, and more comfortable in a my skin.
I'm following more people because I'm seeking approval.
Prior to this pandemic, I was reading a chapter in my Bible daily—now it's more biweekly. I had a journal practice where I prayed and left my cares and worries with my creator. Now, I'm reaching for my phone first. Amazon and Instagram have become idols, and I'm stuck.
On a positive note, I feel like I'm seeking answers—I'm asking for wisdom. Last week, I was on a Kombucha binge, and today, I'm drinking a healthy green drink. I was able to visit with family, and having been so isolated, I truly enjoyed the visit. I feel more of myself. 
I saw a talk that Glennon Doyle gave about how she just loves her Lexapro and jumps to the pharmacy line to get it. I disagree (but please take your meds if you need them. This is just me and my current stance on what is working for me).
I had been medicated most of my life, and this is not the easier way by any means, but I appreciate that I'm learning my patterns of control, anxiety, depression, PMS, and trying to navigate through them.
I was numb before. It was better in many ways, but I also want to see where this wholeness journey takes me. 
The saying "Jesus take the wheel" is ringing true today. 
Lord, I praise you, and I thank you. Thank you for showing me I am a daughter and no longer an orphan. I am a true daughter of the King.
Even though my birth certificate says "father unknown," I am known by you.
You see me and you love me perfectly as I am. 
~