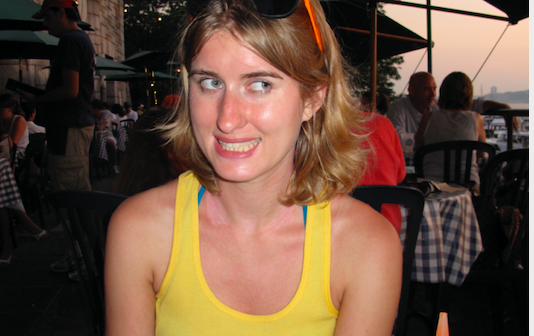 Words fall out of my mouth.
They've been doing this for a while now. I watch other people string each other's words together into conversations like trapeze artists throwing each other up into the air to gracefully catch one another, swinging back and forth.
I was at a birthday party, standing next to a few coworkers of mine as they talked about a third, absent coworker.
"Jackie called out again tomorrow," one said to the other.
"Again? hasn't she been out, like, six times already this month?"
"Yeah, well, she's pregnant you know—"
"Who gets pregnant after just signing a two-month contract?"
"Right?"
As I watched them pass their words back and forth for some reason, I decided to add: "I could get pregnant."
They both turned and frowned at me. "You're a man."
"I could get butt-pregnant," I said.
"What is butt pregnant?"
"I don't know."
"Okay."
"Okay."
They turned and walked away. That is when a woman who'd been standing nearby approached me and said, "I thought it was funny."
Her name was Liz.
"My name is Liz," she said.
"I'm not pregnant," I told her.
She laughed, "I figured."
Things went on like that for a while. I would say increasingly more awkward things and she would laugh and tease me into saying more. When the party ended, we headed to a nearby bar where the conversation eventually hit a lull.
"Tell me something," she said.
"What?" I asked.
"Anything."
"Anything?"
She smiled. I started thinking something nefarious might be going on like, maybe she was using me for my money, before realizing: I don't have any money.
So I said, "I don't have any money."
"I can pay for drinks then," she said without pause.
"No, I mean—I can pay for drinks. I just, like, don't have money as a general thing, like money-money, you know?"
Again, she laughed and said, "Noted. Is that all you wanted to tell me?"
"No," I said. I wanted to tell her something charming and funny. Something that made me look suave but, at the same time, approachable.
"Well?" she asked.
And, in retrospect, this might have just been when a less awkward person would have said, "Your drink is empty. It's late. I live five minutes away."
But I said:
"Okay, so, when I was 11, I had a dog—" I started so suddenly and with such drunken charisma, "—her name was Maggie. One night, my school was having some festival. For exotic foods, or something. We were about to leave and my mother asked me to let the dog out. Uh, so, I let her out. But, she was the kind of dog that likes to jump fences. So, we had a lead to put her on. Well, I always forgot, and I forgot that night. I was too excited and rushed. So, Maggie jumped the fence, of course."
At this point, I realized something had gone terribly wrong but couldn't place exactly what. Liz is smiling, nodding, encouraging me along. And the words kept falling, each doing their own walk of shame from my brain to my mouth.
"Uh, so, I run around to the front. I see Maggie dash down the driveway. She heads straight for the road. I called out to her. She turned. A car ran right over her. I screamed for my mother. Maggie didn't die right away. I remember sitting in the back, scratching her wet ears as she breathed heavy and whined. We took her to the animal hospital. I remember sitting there. I remember I loved that dog so much. And yet, as I sat, I couldn't help feeling bummed that I was going to miss exotic food night at my school. I felt so terrible about that."
Somewhere inside of me, a sober man frowned.
Liz stared. Bless her, she was still smiling a fragile, slipping smile, waiting for the punch line. I opened my mouth. I closed it. I looked down at my hands and sighed.
I looked back at her.
"Oh," she said, still trying to smile. It looked painful. Then, she stood up and said, "Okay, that was weird."
She turned and walked out of the bar.
~
First date woes? Give this a watch: