My new book is coming out. Here's an excerpt.
Saving the World Ain't for the Faint at Heart.
Step one to saving the world? Meditate each morning. Take a good posture, dedicate your day to being of benefit, and with eyes open (not separating from our life) breathe in and out. And in and out. Distracted? Bring your attention back to your breath. Distracted again? Label your thoughts 'thinking' and bring your attention back to your breath.
Step two: it's eight hours or more of most of our daylight hours. So: make your work your love and your love of benefit. This takes investment in yourself, hard work, sacrifice, and a willingness to extend yourself beyond what we think we are, to who we truly are. This has to be about more than easy-dreamy privilege: what we love doing has to pay our bills—this seed has to take root in the soil of our life, as it is.
Step three: pay your bills. Apologize if you've done wrong (I am truly sorry). Work to improve yourself—out of love for your fundamental goodness, not aggression toward yourself. Be responsible—for what we buy, eat, consume, throw away.
Step four: invest care in community gatherings large and small. Get a weekly hike or brunch going. Connect. Joy. Invest care in solo time—treat it as a pleasure, not an embarrassment.
Step five: appreciate this moment, right now. The bees and the sound of traffic and the sun and my dog and the flowers and my tired eyes. This is my moment. What is yours?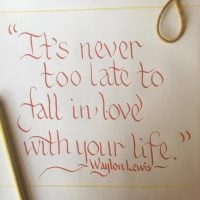 The above is an excerpt from Waylon H. Lewis' forthcoming book, It's Never too Late to Fall in Love with Your Life: Practical Buddhist advice for Everyday Life. It's 365 quotes, with commentary, one for every day. Pre-order it here and save $5.