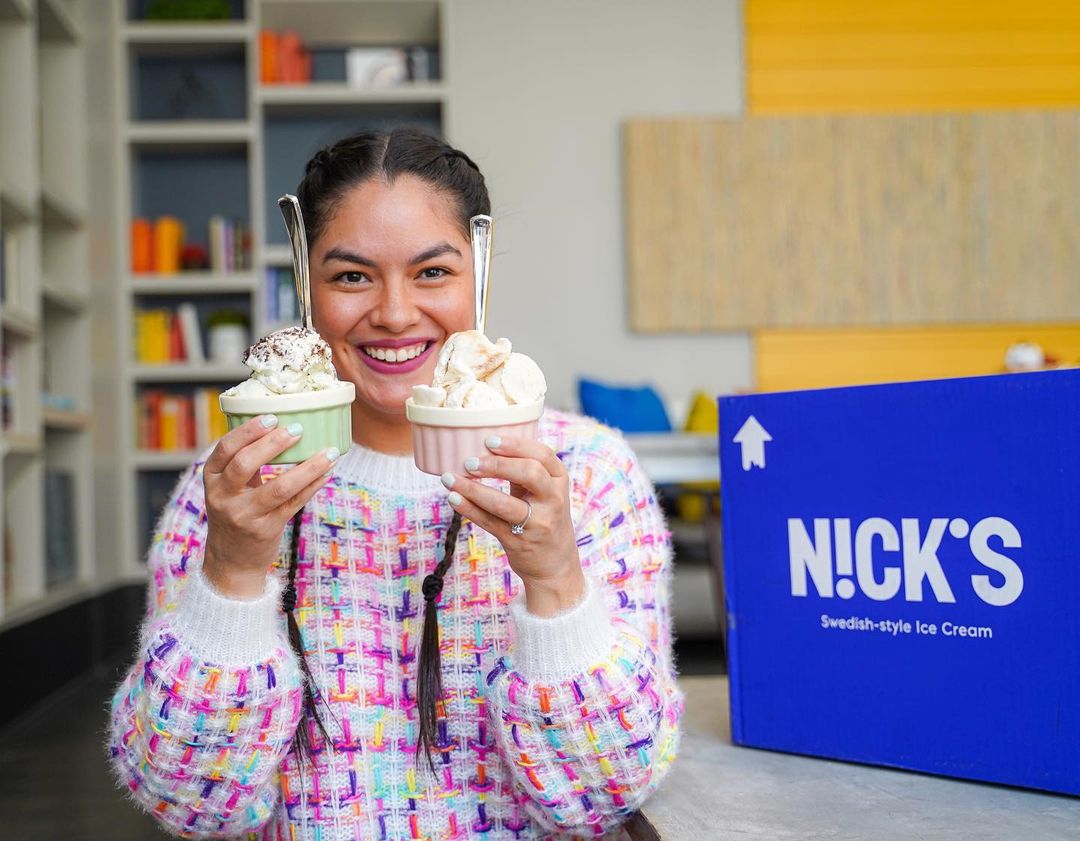 This article is written in partnership with N!CK'S. They're dedicated to making the world healthier—one pint of ice cream at a time. We're honored to work with them. ~ ed.
~
As a kid, I used to eat ice cream by the tub.
I remember the pure joy of taking a big scoop of mint chocolate chip while watching a favorite show in our family basement.
Then, as I got older, anytime I reached for that tub there was always the lingering feeling of guilt. Suddenly, I had to be conscious of what I was putting into my body, and couldn't enjoy this delicious treat for what it was.
Over the years, I watched as adults offered each other ice cream as dessert and would almost always coyly say, "Oh go on, just one scoop." Like it was a sneaky, guilty pleasure, one in which they "don't usually indulge."
Part of this concern is fair—most ice cream is loaded with sugar and calories. Yet, nowadays, we don't really know what to believe; there's so much misinformation in the health and food industry. What's the latest nutritional enemy? Who knows because it keeps changing. Fat, sugar, dairy…Sugar has definitely become the lead villain.
But…it doesn't mean we have to sacrifice our sweet-cravings, ice cream especially. I discovered N!CK'S ice cream, which is one of the first-ever leaders in the sugar replacement industry. They're not just about tastiness or being calorie-light—they're a balance of both. And they've also just launched their vegan line: Vegansk.
As a 90% vegan trying to go the full 100, this got me pretty excited. Though, you don't have to be vegan to enjoy this full-flavored, better-for-you ice cream.
Niclas Luthman: The Man Behind the Ice Cream.
Growing up in Sweden, Nick always had an overactive sweet tooth. Not yet worried about the potential consequences, he would enjoy as much sugar as his heart desired. But when he was diagnosed with diabetes later on as an adult, he was forced to change his sweet-tooth indulged lifestyle.
With a background in mechanical engineering, Nick used his innovative skills to create a treat that didn't compromise taste for health. His affinity for science and newfound passion for innovating "no-sugar treats" led him to invent the world's first "better-for-you" ice cream where taste is—surprisingly—not compromised. In fact, it's pretty damn delicious.
Lagom: Perfect Balance Equates to Great Happiness.
The Swedes live their life according to the concept of lagom, which means finding happiness through balance. Applied to their ice cream, N!CK'S doesn't leave taste as an afterthought to health.
It's about that "just right" combination that allows for harmony in life, instead of feeling like we have to sacrifice one thing in order to have the other. Though, according to Swedes, you can't have a lagom pair of jeans—but it certainly does work for ice cream!
Tasty Vegan Ice Cream is Not a Dream. It's Swedish.

When we think of light ice creams, we usually think of that thin-textured, gritty, lackluster in flavor combination that collects residue in your mouth and isn't really worth the calories anyway.
But N!CK'S mission is such that we shouldn't have to compromise flavor for our health. What makes this Swedish-style ice cream so superior in the creamy and delicious category is a plant-based fat that has way fewer calories than the normal, full-fat stuff.
Elephant's founder, Waylon Lewis, was recently treated to a sneak peek (taste) into the Vegansk line:
"The best moment of my busy days, often, is at the end of them—I curl up on my (eco) couch with a good show, and dip into a little (eco) ice cream. So, as a vegan, dipping into yummy plant-based ice cream that's kind to animals makes it all the sweeter (without the sugar—they use stevia and such). Nick's flavors were yummy—my fave was the caramel—Sälta Karamell."
~ Waylon Lewis, editor-in-chief, Elephant Journal
How we can use Food Science to Better our Health & the Planet.
The growth of the vegan ice cream market is attributed to an increase in the number of vegan and nutrition-conscious consumers across the globe. There's also been a rise in the number of people allergic to dairy products and the rise in people developing lactose intolerance.
What's scary, however, is that the average person still consumes around 150 pounds of sugar per year despite this effort to make more mindful choices in their diet. It's only with the right food technologies (like N!CK'S) that we'll start to see a shift in consumer behavior that can also work symbiotically to better our economy, ecosystem, and health.
What is Animal-Free Dairy Protein?
In order to achieve their insanely creamy texture, N!CK'S has partnered with appropriately named Perfect Day, the creators of the world's first animal-free whey protein that's identical to protein in cow's milk—but without any cows. It's vegan, lactose-free, and animal-free.
It does still contain dairy (though it is animal-free), so if you're allergic to milk, it's nej for you. If you just want lactose-free and animal-free, it's ja for you!
And this is where food science comes in. Perfect Day has reimagined dairy protein without cows. They've invented the world's first real milk proteins made without animals, so you can enjoy the real taste, texture, and nutrition of dairy—but produced sustainably and without the downsides of factory farming, lactose, hormones, or antibiotics.
No longer does ice cream have to be a guilty pleasure, now it can be enjoyed to the fullest while also fixing our sadly broken food chain.
Personally, I'm excited to be able to enjoy that mint chocolate ice cream guilt-free like I did as a kid. And I can feel good about indulging in a treat that's also not hurting the planet.
Maybe I'll even be so bold as to eat it straight from the tub!
Vegansk for All! In 3 Indulgent Flavors.
This is Vegansk.
1/4
And Vegansk isn't just for vegans. Tasty vegan ice cream is not a dream. It's Swedish. Vegansk for all!
Pre-order now