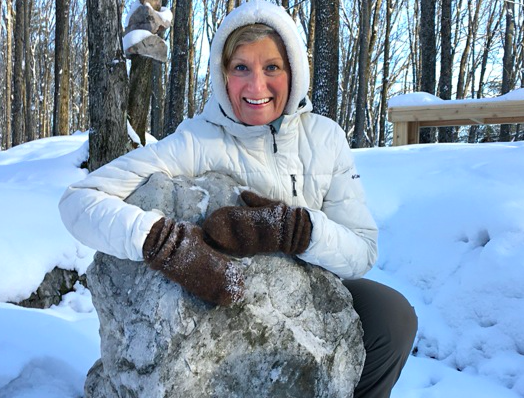 "The truth is: Belonging starts with self-acceptance. Your level of belonging, in fact, can never be greater than your level of self-acceptance, because believing that you're enough is what gives you the courage to be authentic, vulnerable and imperfect." ~ Brené Brown
~
There was once a little girl who thought she was enough until life experiences got in the way and began to make her believe she was not.
It has taken me years to finally console that scared little girl inside of myself and give her the nurturing, love, and approval she chased all her life just to feel that she, in fact, was enough. It is still a work in progress—or should I say I am still a work in progress.
The path to loving oneself and feeling deep in your heart and soul that you are enough is damn hard work. Work that did not start until life looked me in the face and showed me the path of destruction I had created while trying to find that worth—that true sense of being enough.
On the outside looking in, I had it all—a great husband with a successful business of his own, a beautiful three thousand square foot home in the suburbs, three healthy, incredibly gorgeous children (two boys and a girl), a flourishing career as an accountant in a corporate finance position making a six-figure income, amazing friends, and a social life that went on and on. I was blessed, blessed, blessed.
Yet something was missing. I could feel it in every ounce of my being. It was like this haunting voice in my mind, a hole in my heart, and an ache in my soul that just could not be erased, filled, or consoled. There was not enough status, money, trips to tropical islands, diamond jewelry, fancy cars, designer clothes, bigger and bigger houses, social engagements, alcohol, and parties to create a sense of contentment and being enough.
So, what was I not enough of? I wasn't:
Skinny enough, as clearly told by my best friend's father and numerous other boys/men in my life.
Smart enough, as failing the Sir Isaac Newton physics test in high school told me.
Strong enough as the boys who abused me sexually led me to believe.
Pretty enough from every direction possible. Family: I was the only girl with four brothers, and so I became a tomboy. Society: no one to counteract our obsession with beauty and teach me about real beauty.
Rich enough as coming from a family who had little in the way of material wealth told me.
The bow that wrapped it all nicely together was loveable enough as I felt from my mostly absent parents.
I was just not good enough. Or so I started to believe.
When my mother died in 2000, my external "had it all" was not enough to hold me together. This degree of grief required so much more of me from the inside. I was not equipped, nor did I have the tools to prevent myself from reacting to the pain. I proceeded to, brick by brick, tear down the external façade of being enough—I left my job, destroyed and ended my marriage, broke my children's hearts, and left myself in financial distress.
The messy journey of hard work, taking responsibility, and the path to loving myself from the inside out had begun. That now twenty-one-year adventure is another story filled with drama, trauma, heartache, and tears—but also filled with growth, joy, love, and truth.
That little girl is enough. The woman I have grown into is enough.
Enough really is enough.
"I exist as I am, that is enough." ~ Walt Whitman
~