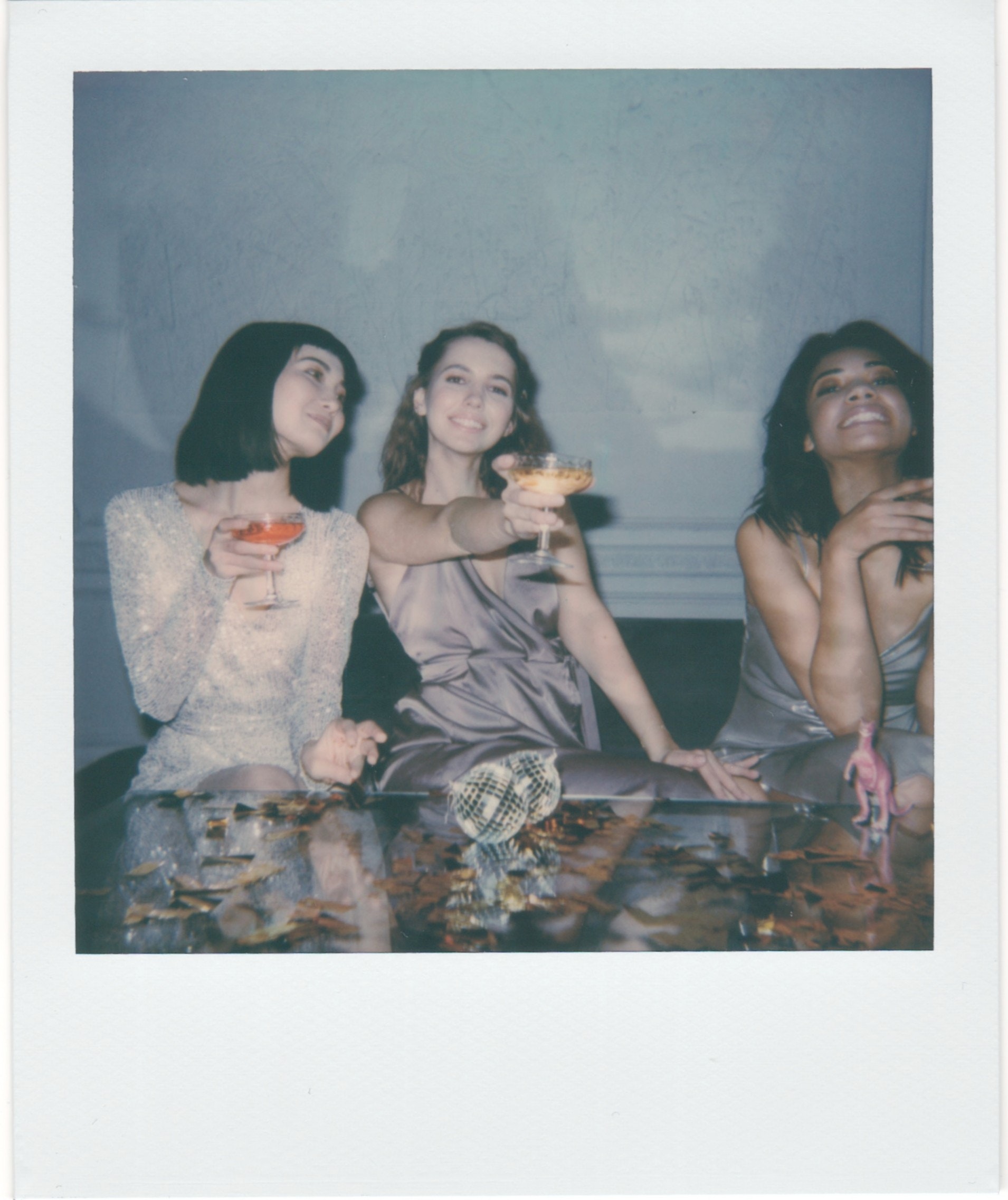 *Elephant is not your doctor or hospital. Our lawyers would say "this website is not designed to, and should not be construed to provide medical advice, professional diagnosis, opinion or treatment to you or any other individual, and is not intended as a substitute for medical or professional care and treatment. Always consult a health professional before trying out new home therapies or changing your diet." But we can't afford lawyers, and you knew all that. ~ ed.
~
Elephant is honored to work with Monument. They're a holistic, online alcohol treatment program that allows you to change your drinking on your own terms. 
~
I wake up. Mouth dry. Head pounding. Memory a blur.
What happened last night?
I reach for the glass of water that drunk-me had left for future, hungover-me beside my bed, and feel relief as I drink from the cold glass. Check phone: texts from friends making sure I got home okay.
One text from an unknown number: Heyyyy, cutie. So great to meet you. Yes, I'm sure it was great to meet you too, unknown number.
This experience is all-too-familiar to me and to many. The blackout. The not-knowing how the night went from "just a few drinks" to waking up, no idea how you got home. The shame, guilt, self-hatred.
The thing is, I didn't drink every day; I didn't crave alcohol; I didn't feel like I needed a drink, so I didn't understand why I was still bingeing on the weekend, blacking out, unable to stop once I started.
In the United States, over 14 million adults struggle with Alcohol Use Disorder. And only 10 percent of those people seek out treatment each year. That's millions of people who are suffering and, quite frankly, deteriorating their physical and mental health.
Clearly, my story is not unique.
Mike Russell, CEO & Co-Founder of Monument, an online platform for those looking to change their relationship with drinking, has a similar experience, too.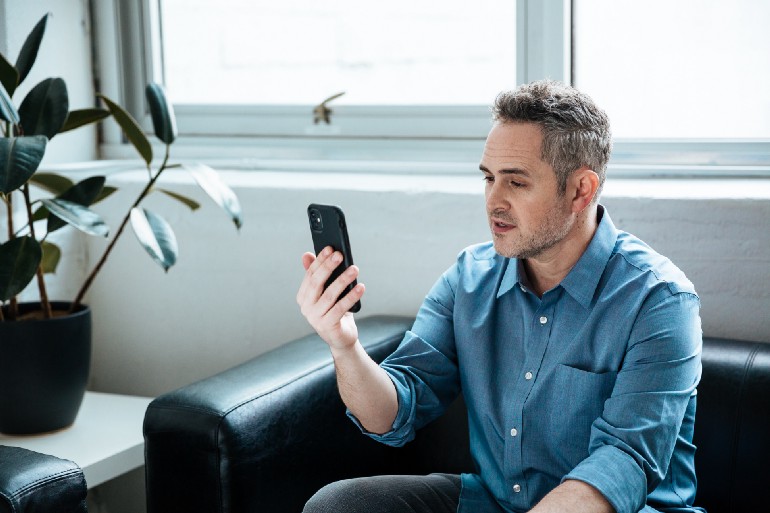 Mike's Story
Most people in Mike's life didn't realize he had an unhealthy relationship with drinking until he told them. Like many, it was concealed under the guise of a "party lifestyle"—typical of a "high-functioning" person with Alcohol Use Disorder who can still maintain a job, family, friends, all while struggling beneath the surface.
"I would only drink when going out, but I was going out all the time. My binges and 48-hour hangovers came and went and came and went, and no one seemed to be bothered by it."
After settling down, however, the drinking didn't stop just because the partying did. He became a husband, a dad, and didn't want binge drinking to be part of his story anymore.
He tried various outpatient centers, group meetings, searching online, but it wasn't until a sober friend told him about FDA-approved medications to help people with their drinking that his treatment journey truly began.
"I saw a glimpse into what my life could be like without alcohol: showing up to a 3-year-old's birthday party at 11AM instead of sleeping through it, missing work only for family vacations and the occasional fishing trip, being the attentive, high-energy, family-over-everything dad my kids deserve."
Mike hasn't had a drink since the day he started his prescription. Through his journey, he founded Monument so he could help others change their relationship with drinking. He wanted to create a treatment that wasn't a one-size-fits-all solution—because there isn't one.
He wanted to find a way to make treatment accessible, affordable, and personalized.
Change your Drinking on Your Own Terms.
As Mike envisioned, Monument is a holistic, personalized online alcohol treatment program designed to fit members' goals and lifestyles and to support both sobriety and moderation.
What struck me about Monument was the expertise and gravitas of the program. They provide licensed physicians, medication, and therapy to help you in your treatment.
Since Monument is completely online, it allows for anonymity and flexibility, which were two roadblocks Mike found when starting his own journey. No longer do we have to lie to managers or family about going to therapy or drive hours to find a group meeting, but we can have access to real medical care right at our fingertips.
Especially now with COVID-19, this is even more essential.
How it Works:
There are four key pillars to how Monument works: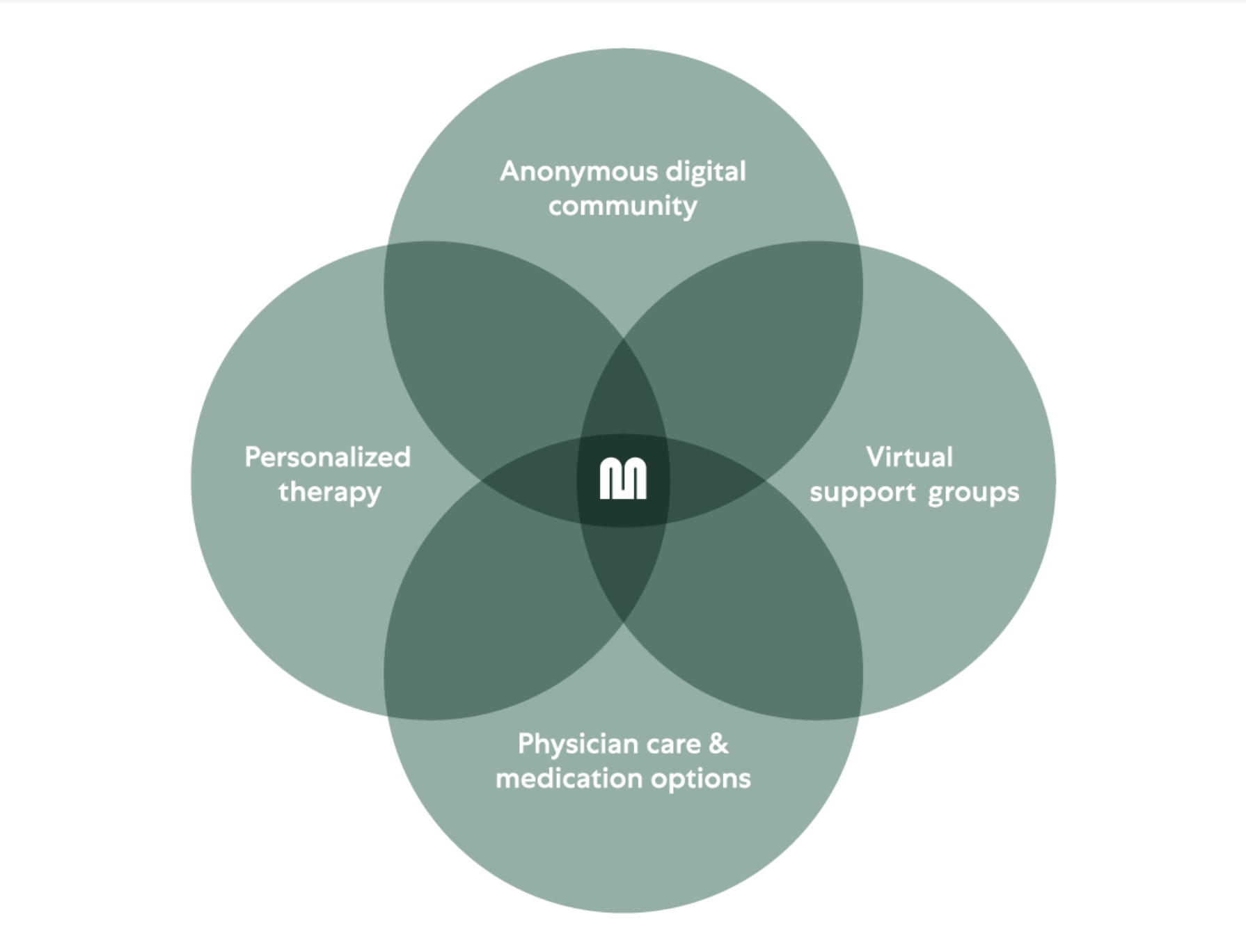 1. Specialized therapy. 
Monument connects you to a therapist specialized in helping people change their drinking habits. They then build out a curriculum of therapy sessions that align with your needs and goals.
Every plan begins with an alcohol assessment to personalize your plan. You can choose your program length, though the therapist may recommend a timeframe based on your needs and goals.
2. Medication to help you stop drinking. 
Alcohol Use Disorder is a health condition like any other, and should be treated as such. If medication to stop drinking interests you, Monument will connect you with a physician to discuss your options.
In terms of insurance, Monument is currently in-network with Aetna, Cigna, United Healthcare/Optum, Medicare, and Oscar Health for members in the state of New York. (1)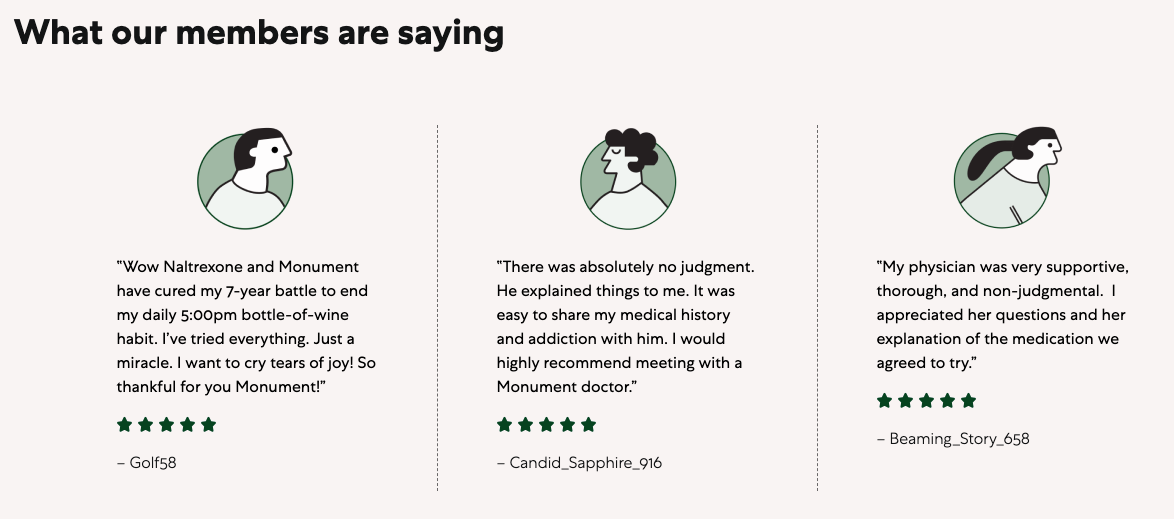 3. Online support groups.
Monument support groups are free, hour-long virtual video sessions, moderated by a therapist. You select a topic and time that works for you to connect with others with similar goals and challenges.
You may join anonymously or not, and you will never be called on to share. Community is such an important aspect in any difficult situation to know you're not alone; all you have to do is show up.
4. 24/7 Anonymous forum.
The Monument community forum is available anytime, anywhere. It's an anonymous space for members to give and get support and motivation as they change their relationship with alcohol. Like the online support groups, there are moderators who will help inspire conversation, connection, and reflection.
Why the Way we Talk about our Drinking Matters.
I never fit the bill of what we believe an "alcoholic" is supposed to look like. So, for a long time, I didn't think I had a problem. This kind of black-and-white thinking can keep us stuck in unhealthy patterns, never seeking out the help we might need.
We get stuck in the thinking of, "I'm not an alcoholic; therefore, I don't have a problem with my drinking; therefore, I don't need help."
This is what I love about Monument. They're changing the way we talk about Alcohol Use Disorder to a more inclusive and less stigmatizing way.
We don't need to "get sober," but we can change our relationship with alcohol.
If we drink again, it is not a "relapse" or a "failure," but part of the non-linear journey to healing.
You are not an alcoholic; you are you—a human being with a name, and your drinking does not define you.
It has taken me a long time to realize that Alcohol Use Disorder is not a moral failing. It has also taken me a long time to realize that this does not have to be my story any longer.
I'm not a mom yet, but Mike's story is a sobering (pun-intended) wake-up call to what my future could look like.
I would like to be there for the birthday parties. I would like to remember tucking my kids into bed. And I would like to be fully present for my life every step of the way.
I don't want to hit "rock bottom" before I change my relationship with alcohol, and you don't have to either.
There is absolutely no shame in admitting that.




~~~(
(1) If a new member is interested in using their insurance coverage for their care, they can email a copy of the front and back of their insurance card here.
~