This article was written in partnership with Ned. They're dedicated to giving all humans access to natural nutrients and better health through their holistic hemp offerings—we're honored to work with them. ~ ed.
Author's note: *No husbands were harmed in the making of this article. 
The conditions were perfect.
My head was on the pillow by 10:30 p.m., next to soothing stream sounds wafting from my meditation app. My wrists were kissed with lavender essential oil that I snagged from our stay at a Westin a year ago. (Anyone have an expiration date check on that?)
I needed this. I needed to recharge. My first career change in six years was upon me and my sporadic nights of sleep featuring vivid dreams or abrupt racing thoughts needed to take a back seat this time.
All the key sleep players were in place. My eyelids were reaching toward each other. My breath was slowing down, when…"Hey, Mike! Yeah, yeah that sounds good. What do you think about those reports?" My husband was on a work call in the next room.
My eyes snapped open. A work call? At this hour? In a pandemic? In this economy?!
I lost it. How dare he disrupt my perfectly orchestrated sleep symphony? I spouted off about work-life-balance, and boundaries, and consideration.
Shortly after this scolding, though, I was saturated with regret. I was ashamed that I lost my temper, my sleep, and seemingly any semblance of control over what my body should do naturally.
Why did I lose my cool when my husband was simply doing his job in the next room over? I mean, really, it wasn't that serious. Or personal. It's not like he wanted to be working that late.
Ten months worth of living, eating, exercising, working, and sleeping in a confined area with my significant other eclipsed my sense of logic in that moment. The past year has been a dance between my anxiety, my daily stressors, and the inability to shut them off, followed by an exhausted system—too weary to side-step it all.
I've refused to surrender to the idea that this is adulthood and fall into a sleeping pill routine. No shame in that, but I even shy away from taking Advil if I can avoid it.
That's why I was not only open to, but relieved to meet Mellö—a holistic magnesium "super-blend" crafted to address the source of our sleep deprivation, not the symptoms.
Mellö was created by Ned, founded by two friends, Adriaan and Ret, who sought out natural solutions to health issues and remedies for damage done to our bodies in a society that's increasingly consuming synthetic products.
They have a full-spectrum hemp line that has treated a variety of ailments—from women's cycle woes, to stress and anxiety. After years of extracting knowledge and sources from local Colorado farms, they've formulated the only daily magnesium supplement that engages with every inch of the body: Mellö.
I mixed the Lavenderberry Mellö blend into my water on Sunday night, and it put my lavender essential oil rubs to shame. Not only did I get better shut-eye than Princess Aurora, I actually felt more relaxed when I woke up. (In part because I wasn't awakened by my husband's snores for once.)
Seriously, I needed it. You might want to try it out >>
That's one of the themes that Ned addresses with their offerings. Relaxing our minds doesn't come from the external cure-all's prescribed by self-care Instagram "experts." Magnesium is even present in Epsom salt, at the top of the self-care hierarchy, but it can't be absorbed in our bodies through a luxurious evening bath—it needs to be ingested for its benefits to take effect.
But let's back up, because if you're like me, magnesium wasn't even on your radar. I definitely didn't know that "according to the WHO, nearly 80% of Americans could greatly benefit from more magnesium." Eighty percent?! It's me. I'm Americans.
What's so special about Magnesium?
Magnesium has an overall calming effect on the body. It helps us maintain healthy levels of the neurotransmitter GABA (or gamma-aminobutyric acid) which takes the lead in "turning off" our waking minds. That same brain function combats anxiety, stress, and can even stand up to migraines. (1.)
Magnesium acts as a mood stabilizer that's proven to support our body's natural functions that wind our thoughts down before sleep. Take a seat, Harry Styles. Although I might still listen to your sleepy stories.
Better sleep = better mood. Shop now >>
In addition to reducing pandemic-related stress, magnesium was also incorporated into a D3 and B12 blend given to seniors battling COVID-19 in what was called the DMV combination. Paired with the other ingredients, it was proven to slow the progression of COVID-19 symptoms. (1.)
With more GABA from magnesium, we need less of all the sleep ceremony fuss that I've been relying on to press mute on my thoughts at night. Not just that, we get health benefits, better circulation, mood balance, and overall feelings of calm. (2.)
Okay, magnesium, I see you. So, why Mellö?
Adriaan and Ret learned about this Marvel Hero mineral and have been extracting the best formula and combination of ingredients to hone in on 3 forms of chelated magnesium, L-theanine, GABA, and over 70 trace minerals.
Mellö meets our mineral needs with a trifecta of effectiveness: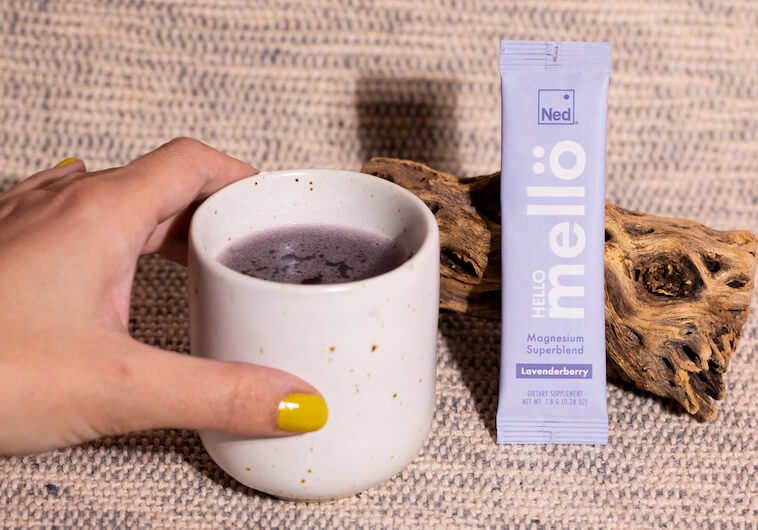 1. Magnesium Threonate for Brain Absorption: Scientists at MIT developed the most advanced form of magnesium and the only one that crosses the blood-brain barrier.
2. Magnesium Citrate for Gut Absorption: Found in the pristine waters of the North Atlantic, this is among the most nutrient-dense forms of magnesium containing over 70 essential trace minerals. It's gentle on our stomachs and easy to digest, unlike other magnesium citrate counterparts.
3. Magnesium Lactate Gluconate for Blood & Bone Absorption: This is the most bioavailable form of magnesium, also with the most (300 to be exact) essential functions.
This isn't your average magnesium supplement. Mellö fills the gaps that other supplements and even Magnesium-rich foods can't—well, lately at least.
Historically, magnesium-sized holes in our diets could be satisfied by eating certain foods like: pumpkin seeds, almonds, spinach, dark chocolate, quinoa, arugula, potato, avocado, tofu, egg noodles, bananas, salmon, bread, romaine lettuce, and apples—but the levels of magnesium present in each has declined over the decades.
You would have to eat four carrots to get the amount of magnesium contained in one carrot in the 1940's. Why? The same reason Ned went into business—the way we get our nutrients isn't sustainable. We're not growing our ingredients like Grandma used to.
Magnesium with a Mission.

The mass production, wide-net-casting produce of today is showing up daily in our diets, and as a result, in our sleep schedules. Ned has been passionate about mitigating that by focusing on connecting people with sustainably sourced nutrients present in their products.
"For us, helping people feel better and live better has meant discovering and redefining tools derived from nature first," said Ret Taylor, co-founder of Ned.
Minerals and nutrients to restore your body, mindfully >>
Their eco-friendly outer packaging wasn't the only implication of this when I tried Mellö (no unnecessary bubble wrap or stuffing). Ned also practices what they preach. It's evident in their commitment to City Harvest, NYC's largest food rescue organization. Their donation supported the rescue of 42,000 pounds of produce from Hunt's Point in the Bronx with the goal to provide underserved communities with magnesium-rich, nutritious foods.
Ned's notion that "access to natural betterment is a human right" is present in the ethics and integrity of the ingredients they use, and how they move through communities in the country. When people give a care about what they do, it effortlessly flows through their products like a stream. Sorry, still trying to let the peaceful stream soundscape go.
Mellö doesn't add anything new to our bodies or our lives. It restores. It revives. It replenishes what's been lost in the mass production and consumerism of it all.
"Minerals before Meds." That's Ned's idea of getting back in touch with what should already be present within. There shouldn't be a need for pills, or salts, or oils. Ned's taking steps every day to get us all access to the nutrients that have been out of reach for too long—the ones that beget better overall health, mood, and sleep naturally.
There's no need to panic while we wait, because in the meantime we have a way to Mellö.
There's magnesium—and then there's Mellö.
1. Mind
Boost memory and brain function.
1/3
Mellö is a powerful daily magnesium supplement to propel memory, mood, brain function, stress response, sleep, energy, and nerve and muscle health. Mellö nourishes every inch of your body with a proprietary super-blend of 3 forms of chelated magnesium, L-theanine, GABA, and over 70 trace minerals, specially formulated for whole-body—and brain—absorption.
Pre-Order Now
References:
1. www.msn.com/en-us/health/nutrition/cant-turn-off-your-brain-to-fall-asleep-at-night-magnesium-supplements-might-help/
2. www.news-medical.net/news/20200604/Study-says-vitamin-magnesium-combo-may-reduce-severity-of-COVID-19-in-seniors.aspx