You would not even know we were back here,
quietly farming the land.
Truck farms seem to be a thing of the past. Most people think big is the only way to make it in farming, but we are used to running contrary to conventional opinion. Still, I could not be more surprised to find myself here in the small village of Cloverdale, living a rural life. Although totally unlikely, it is indeed perfect. 
I had always been a city girl. I was raised in the suburbs and had accumulated the necessary props and entrapments to feel successful since, without them, I felt invisible. I wanted to grow up to be someone interesting yet feared I had no depth.
Along the way, I had also accumulated failed relationships, lousy self-esteem, and a deeply engrained unhappiness with life. I was raised with the expectation of being a wife and a mother. How could I explain that neither one was something I envisioned for myself? I resented this expectation being my only option. I wanted life "outside the box." I wanted to live life with humor, commitment, and purpose. I yearned for a life that felt authentic. Yet, how exactly does one go about finding the life I envisioned? 
I decided initially to invest in myself. I needed to understand who I really was, not the one who lived through others. After much soul-searching and a considerable amount of therapy, I came to realize that I had repeatedly made choices in the effort to please someone else. If I wasn't a problem to anyone else, maybe, just maybe, I would be loved.
Being a pleaser and living through the expectations of others created distance from something I deeply feared and had come to understand about myself. Once facing this fear, I took the first truly honest step I could under these circumstances. I ended my 18-year marriage, and with the support of my dearest friends, I started building a life of my own. This included coming out as a lesbian. 
In deciding whether to move to the country, much less be in a new relationship, I asked myself a simple question: is this what is best for me? The decision I made was completely out of my previous character but completely authentic for who I was becoming. I chose to live in the small village of Cloverdale, Michigan, on a self-sustaining farm with my new partner Valerie. 
We farm 5.5 acres, which seems small until you are planting, weeding, or harvesting the vegetables. Although we are not getting any younger, the work keeps us fit. When I first came to the farm, it was unthinkable for me to lift anything beyond 20 pounds, comfortably. Now I load 50-pound grain bags for our chickens without strain. Muscles have developed where I never knew they existed. 
Moving to a rural environment proved the catalyst for shedding many things I had thought were important. I was always particular about my appearance. If I left the house for any reason, I had my hair styled and my makeup on. I would never consider wearing sleeveless shirts and preferred air-conditioning to sweating outside. Now my hair is natural silver, I hardly ever wear makeup, and my arms are a deep, nutty brown. 
When I lived in the city, I was either working, shopping, dining, or visiting friends. Stimulation on all levels was a constant. In the neighborhood where I lived, I was often barraged by stereos, police sirens, and other noises. In my new life in the country, nature is more noticeable. I live side by side with her. I seek out the silence nature offers and start noticing endless surprises I never noticed before. Bird song has taken the place of sirens and wind chimes the place of stereos. I am noticeably calmer.
Along with being self-employed, my daily choices seem less frantic or designed for distraction. Time itself takes on a whole new dimension. Now when I walk out the back door, I notice the moist scent of the earth, the wind in the trees, and wideness of the sky. 
What a revelation to walk out our back door and into the fields to harvest quality food for dinner. I learned what it takes to get food to the consumer. The cycle of seed, to plant, to harvest brought me closer to the land. This, in turn, brought me closer to myself. As the seasons pass, I, too, am changed—by the farm, the land, and life in the small community. 
Life in the country turns out to be anything but boring. It feels right to be part of something as fundamental as growing food for ourselves and others. In the fall of my life, I am grateful to have landed here.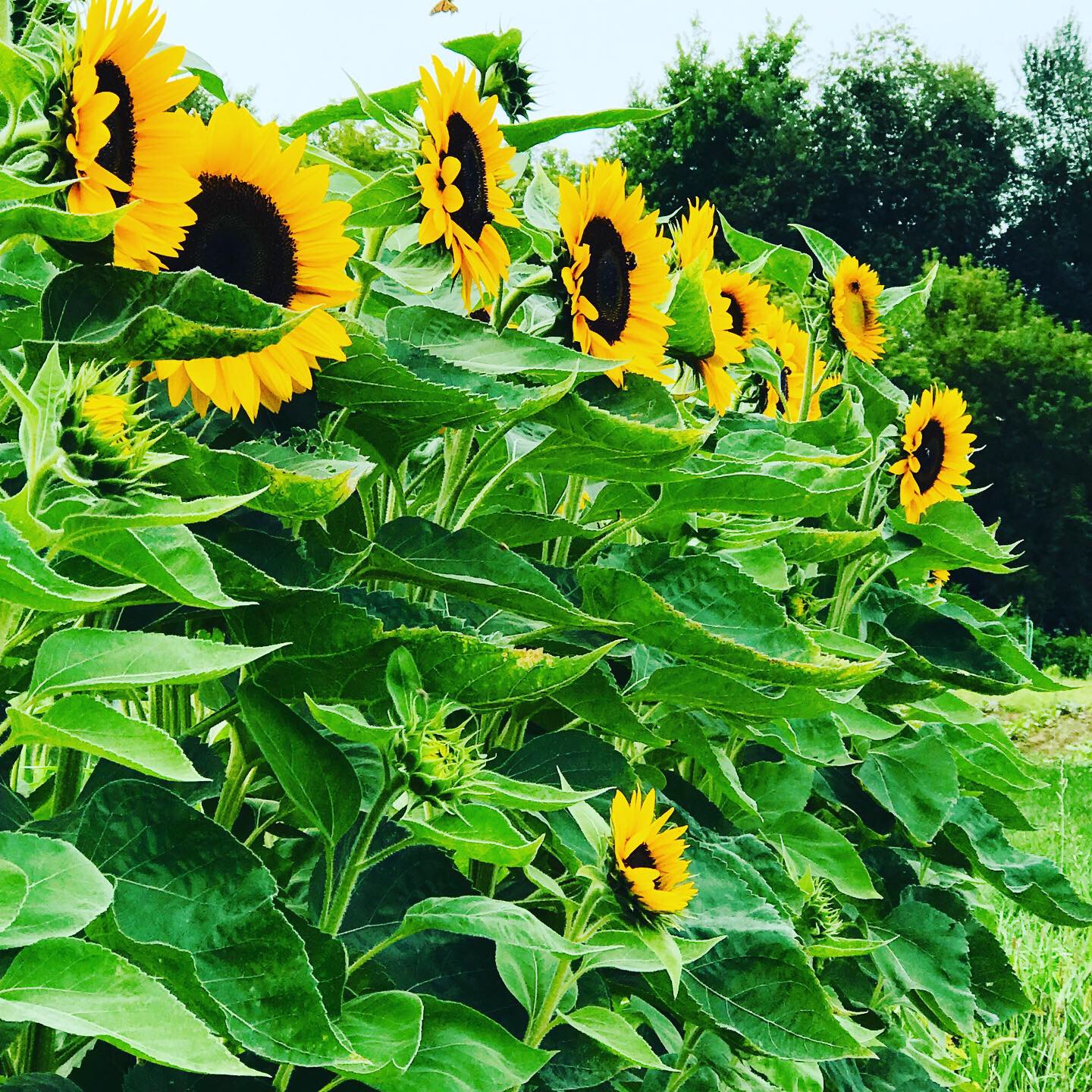 ~