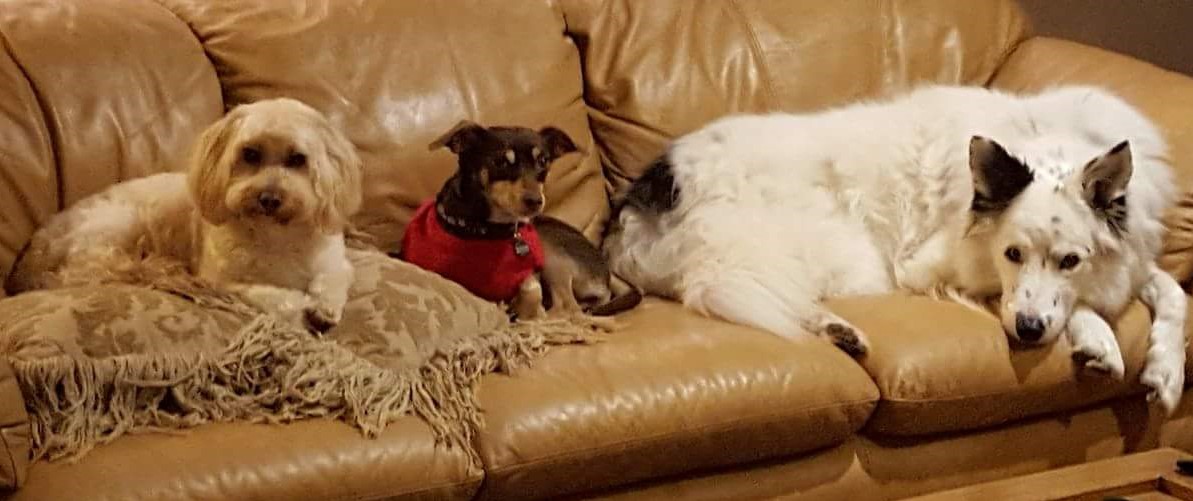 I have found that most things I need to know, I've learned from my dogs.
Anybody remember that charming little book from the 80s, written by Robert Fulghum, Everything I Need to Know, I Learned In Kindergarten?
It was all about the grand significance of life that can be found in the smallest details.
I have found that most things I need to know, I've learned from my dogs.
Let me tell you a little about that.
Ringo, Our Border Collie—The Shadow Chaser
One day I was working at my desk. The warm afternoon sun was streaming in through the windows. It left patterns of shadows on the rich red of our terra cotta tile floor. Those shadows moved around the floor as the gentle summer breeze encouraged the trees outside to sway just a little.
Our big white and black Border Collie was lying down at my feet but began to see the dance of the shadows. He immediately became alert and named them the enemy, something he needed to catch and conquer.
He spent the next two hours watching them, never taking his eyes off of them. He would periodically raise his front feet off the floor, a little like a horse rearing up, then pounce down on one of the enemy shadows. Believing he had conquered it, he would move his attention to the next shadow. He stayed diligent with his post until the afternoon sun moved to a gentler place in the sky and the shadows faded away.
I'm pretty sure Ringo determined that he had chased them away, leaving the house safe until the demons returned and he would need to conquer them again.
This left me wondering, how many of us chase shadows? See something that is harmless and let our minds turn it into the enemy. Do I make too many nothings into somethings that require me to call upon my mental army? What if I just let the shadows come and go, like the rising and setting sun? What if I reminded myself that I don't have to fight those shadows? Maybe then I could simply take a nap in the sun.
Pinto, The Blanket Dweller
When you come into our home, you'll notice that there is a blanket laid out on each couch and every chair. One would think they had been placed to wrap around a chilly shoulder or drape across a lap that needs warming.
But these blankets are not for us. They're for our little blanket dweller.
Pinto is small. Some kind of a chihuahua, dachshund, who-knows-what-else mix. His hair is short, and he gets cold easily, so he likes to wrap himself up in a blanket.
Pinto positions his nose under the edge of a blanket, flicks it up and over his back, then begins to twist around until he has created a blanket swaddle to keep himself warm. He sleeps deeply now. Snoring. Dreaming. Safe from the cold.
There are different kinds of cold for us humans. Pinto might say that we overthink everything. We can find a chill in a harsh word or an absent text from a loved one. Our kind of cold is sometimes complicated, messy. Warming ourselves often takes more than a blanket or a cup of hot tea.
Maybe one day I'll become as adept as Pinto at swaddling myself, meeting my own needs, wrapping myself in my own warm blanket.
Matty, The Convivial Foodie
"He's so cute!" That's what everyone says when they meet Matty. Curly bleached-wheat hair surrounding big black gorilla eyes. He looks like a poodle gone astray. Messy hair. The face of a doggy cherub. A tail that wags incessantly to make certain you know he is happily anticipating—well—everything.
Matty just plain loves life, but his favorite thing in the whole world is food. He loves food. When we tuck him into bed at night, we always say to him, "It's a good night to sleep, Matty, it's breakfast eve," and he wags vigorously, knowing that it's true.
Matty is a foodie. He loves to taste a bite of everything. His favorite sound is of someone chopping food in the kitchen because he knows he might get a bite of that succulent red bell pepper or taste the earthy flavor of an olive. He loves it when we have Mexican food. He doesn't mind the spice. And pizza? Pizza crust is his favorite. A crisp apple slice with a smidge of peanut butter for dessert, a little bit of toast for breakfast, and he's a happy camper.
Please don't think we overfeed Matty. We're careful to just give him a tiny taste of all his favorite foods. But Matty is a convivialist. He loves everything and everybody. He just loves food the best.
How sweet to be like Matty. No worries about his appearance. No worries about his weight. He knows that love, a daily walk, oh, and food, yes food, are the best things in life.
 ~