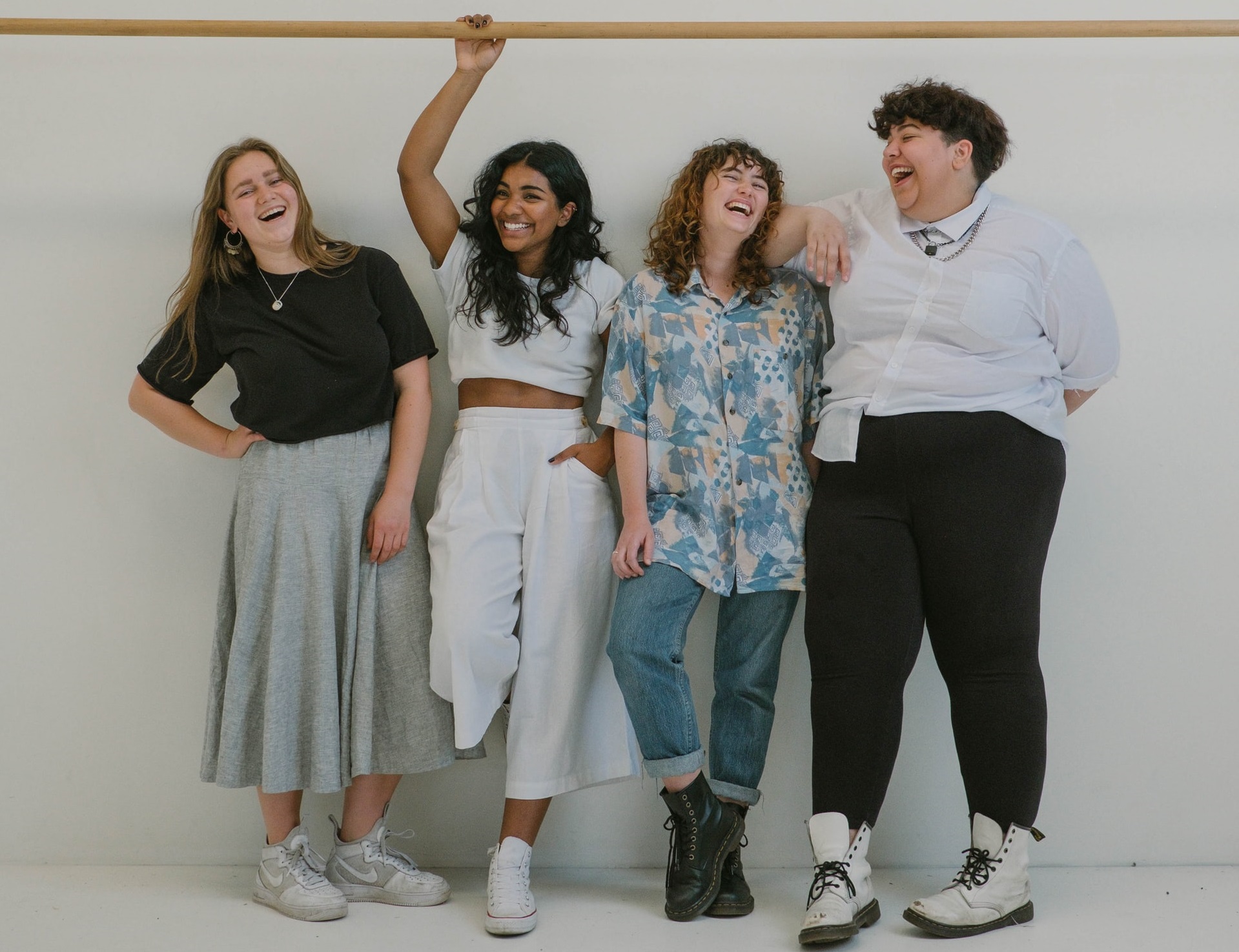 This article is offered in partnership with Noom. They're dedicated to making healthy living easier for us all, and we're honored to work with them. ~ ed.
I am an anti-dieter.
I only follow body-positive Instagram accounts, I've read books like The F*ck It Diet, and I've done coaching to heal some of my body image issues.
And yes, I still wanted to lose weight.
Last year, during the first lockdown, I gained a lot of weight. Now, I'm all for accepting that this was part of our coping mechanism during an incredibly difficult time. But, for me, it was a little bit more than that.
I'd gotten into a new relationship, and we both gained—what I learned is called "love weight"—ordering so much takeout, spending lazy time watching movies, drinking wine together in the early stages of romance. I was moving way less, and I'm someone who loves to workout and needs it for my mental health.
When we broke up in the fall, I felt lost. I didn't feel good in my body. I felt depressed. I was having digestive issues and struggling with over-drinking. I needed a change.
I tried to get back into "healthy patterns"—exercising a bit more, cooking most of my meals, only drinking on weekends. But I was still 17 pounds heavier than I had been pre-COVID and pre-relationship.
I asked myself, if someone, for their own, personal reasons, wants to lose weight, how can you reasonably go about it?
I was skeptical of Noom for sure. Most of those in the body positivity community condemn it for being "just another diet," and I was aware they asked you to eat a low 1,200 calories a day.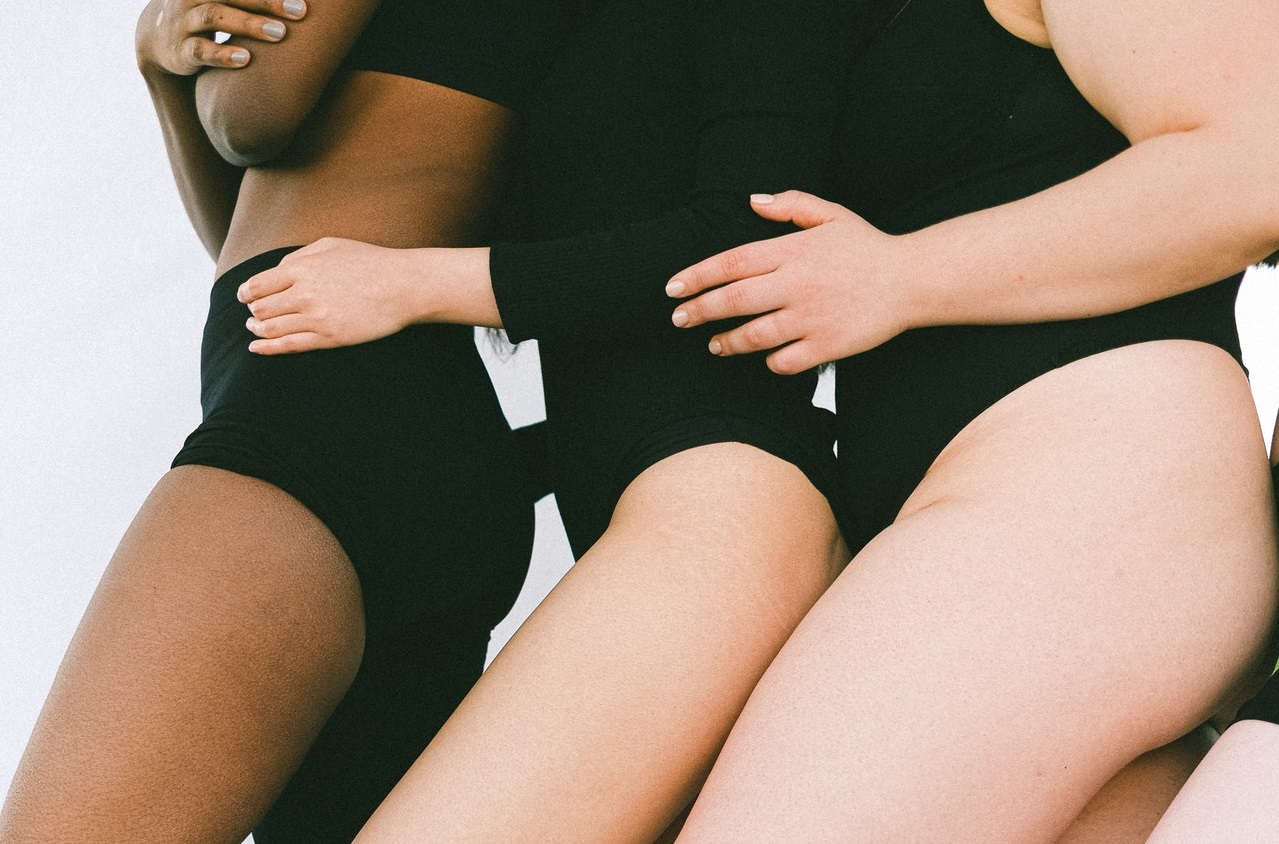 But, if you want to lose weight—for whatever your reasons are—you've got to look at calories in versus calories out. It also comes down to seriously looking at your ingrained behaviors and food beliefs that have led to where you are now.
Why did my weight flip flop so much? Why did I beat myself up for gaining weight in the first place? And why did I measure so much of my self-worth on this number on the scale?
Yes, Noom helped me address all of this.
You can read a play-by-play of how Noom works, from another editor who tried it, here. But these are my main takeaways:
I'm someone who loves to learn about my behaviors. I knew if I wanted real change, I'd have to do this thing head-on. Noom provides 5-9 minutes every day of "learning," which includes articles about food behaviors, food psychology, and pop quizzes to test your knowledge and help you retain the information you learned.
Some of the articles are a little basic if you're already a health-geek like me and know most of this stuff already. But it was helpful to take a more holistic approach rather than solely focusing on calorie counting.
I loved the community and group discussion aspect. In fact, I think it's this part of Noom that really helped me change some of my ingrained beliefs.
For example, when I started to feel like Noom was becoming restrictive—some of my unhealthy patterns started to come through, my group really grounded me: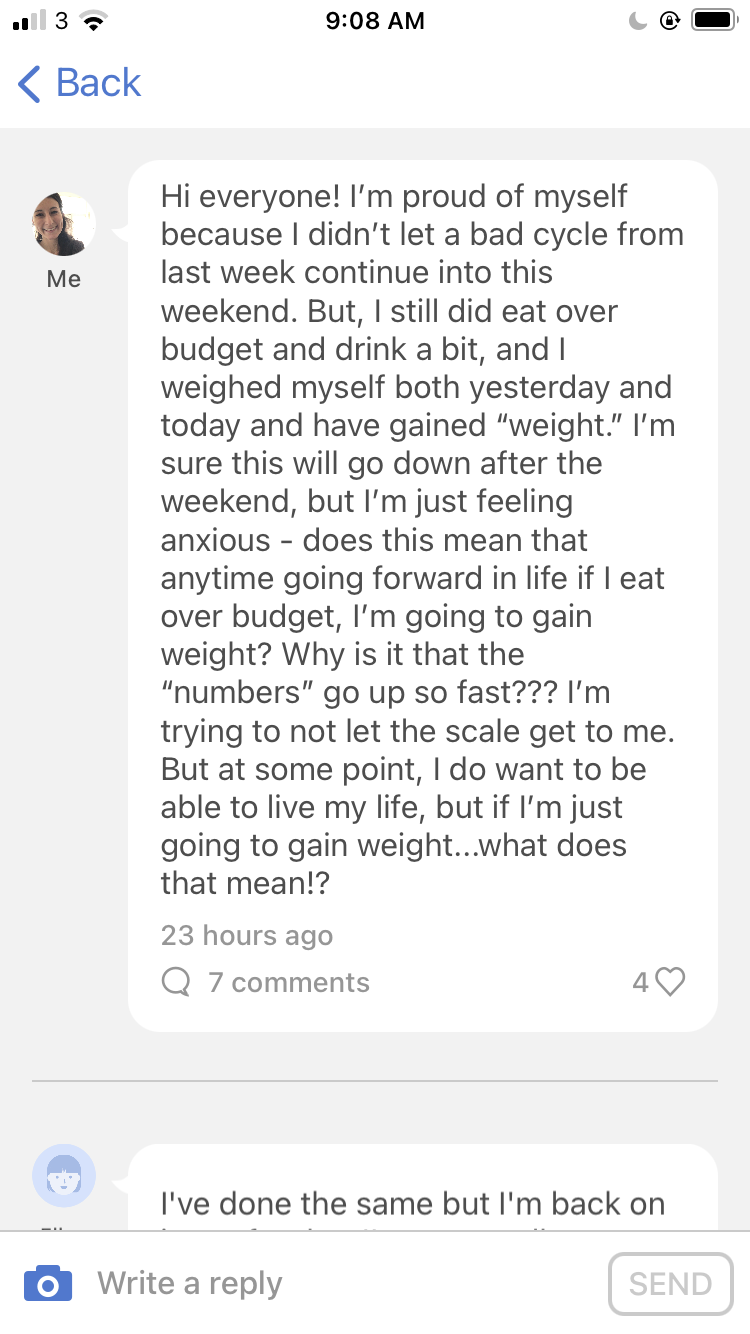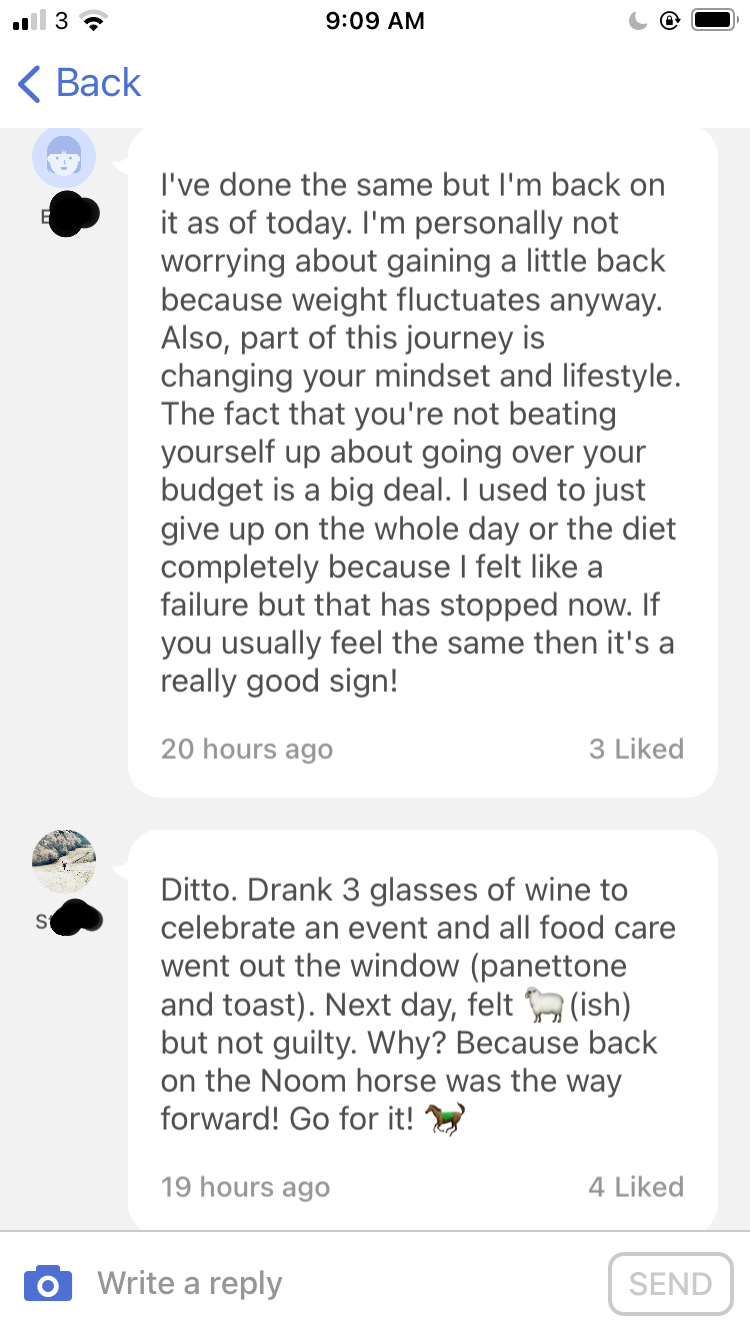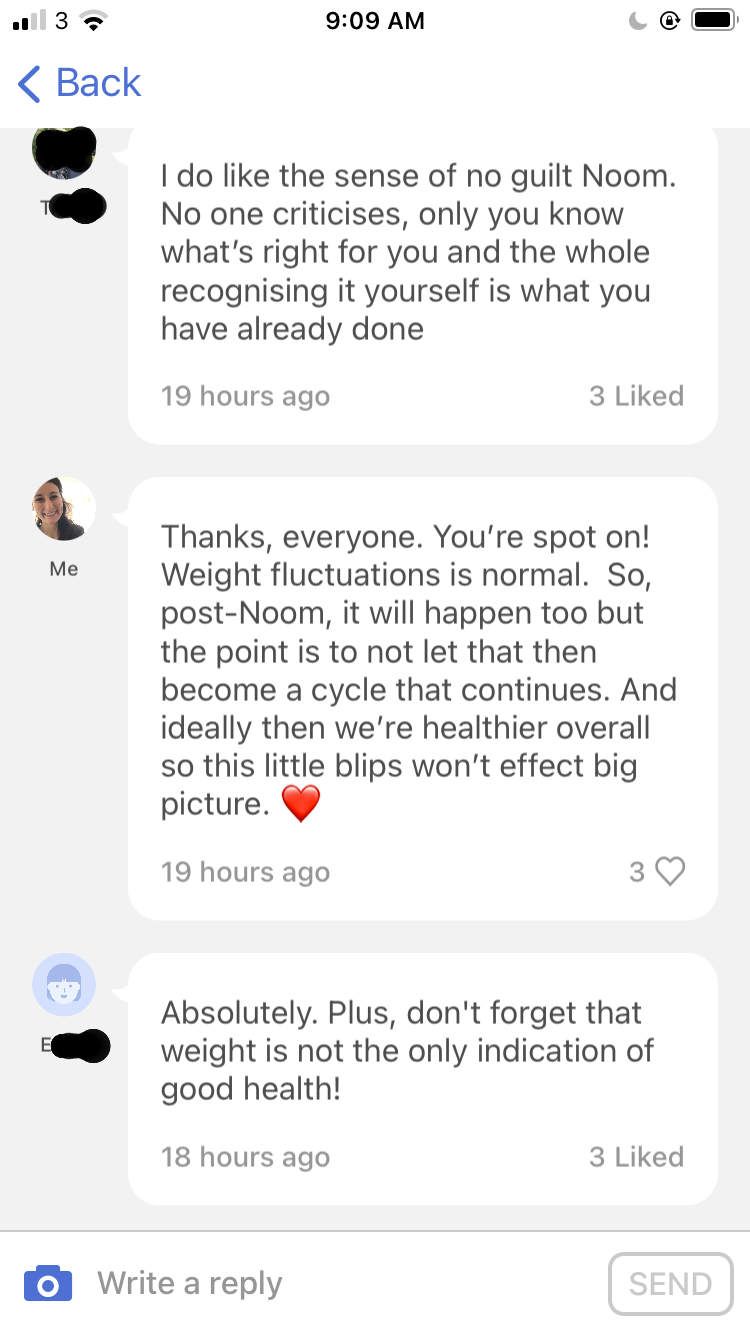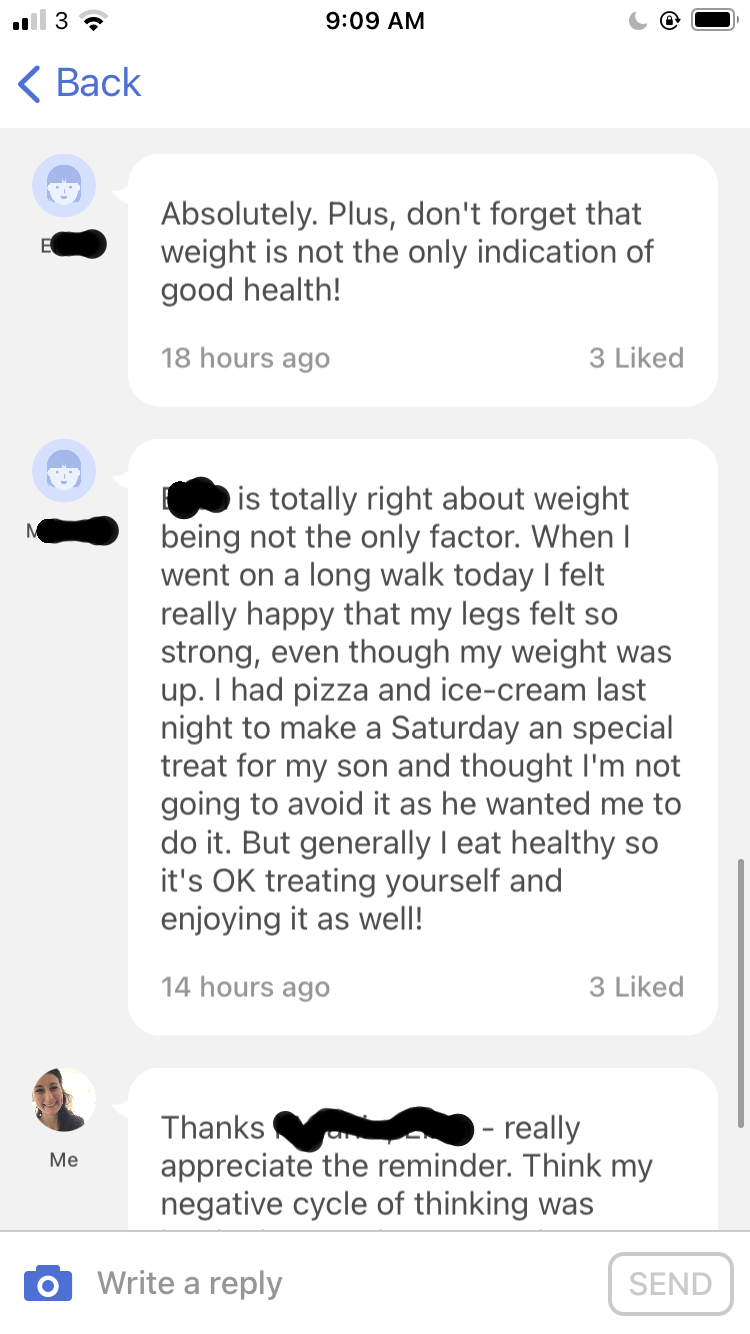 **I would suggest, however, that if you struggle with disordered eating and have a history of eating disorders, Noom is not for you.**
After that day, I decided I'd stopped the daily weigh-ins (which many people don't find beneficial), and kept the big-picture in mind.
I also told my coach that I found the 1,200 calories were not sustainable for me (especially as a quite active person), and I changed my "speed" on the app to move at a slower pace, which gives you a higher food budget. She was super encouraging and said that it was important to listen to my body and do what would work for me long-term.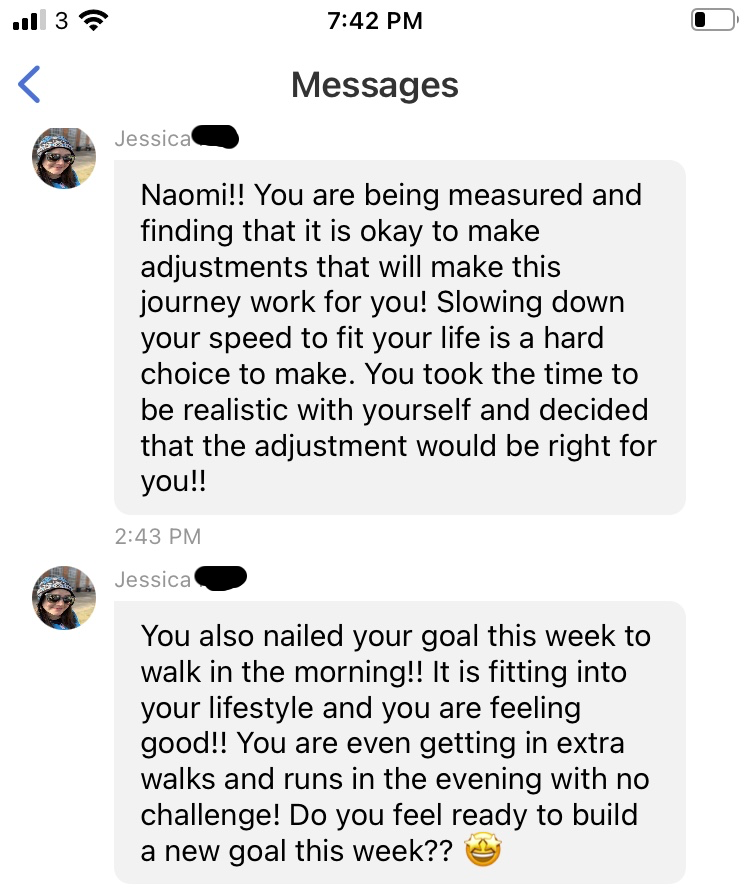 Since I was already a relatively healthy and active person, what really helped was noticing how small changes can make a big impact. I used to focus only on working out in terms of an actual workout, but I didn't think about my general movement as much. Now, especially in lockdown when we have fewer reasons to leave the house, I make sure I go for a walk at least once a day, and I take stretching breaks from my desk.
The biggest thing for me was beginning to pay attention to what I'm consuming and expending, which is, scientifically, what you need to do for weight loss.
When I told my coach that I was feeling a bit stuck because I was close to my original "goal," but not quite getting there, she reminded me that focusing on a number on the scale wasn't important. It was not a measure of my health or the lifestyle changes I had made.
It clicked for me then that I had to let go of thinking some arbitrary number would lead to what I really wanted: confidence, energy, feeling capable, strong, and healthy.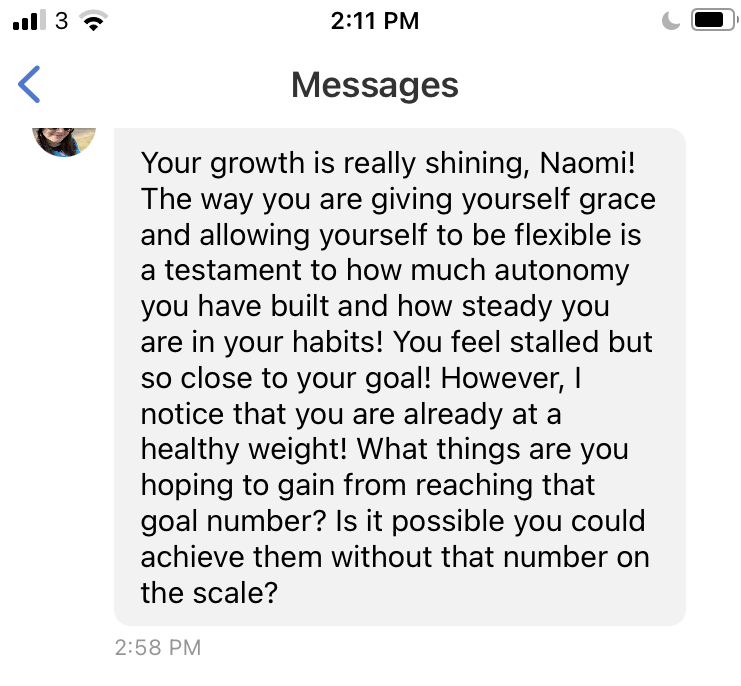 The desire to lose weight is deeply personal. I think about how Lizzo, who was a face of the body positivity movement, decided to embark on a weight loss journey. She was condemned. (Though, I am aware she was also condemned for advocating for detox products too.)
The community acted as if her desire to lose weight was a betrayal. As if one could not be fat, love themselves, and want to lose weight. What I believe is that it should be everyone's individual decision, and we should never shame or judge someone for doing what they feel is right for them.
But what you will never hear me say is that who I am post-Noom is better than who I was before. I will never say that life is better thinner, and I will never say what Kate Moss famously said, "Nothing tastes as good as skinny feels"—pizza, you are my one, true love.
But I will say that listening to my body, fueling it with real, whole foods (mostly plants), and moving in ways that feel intuitive to me do make me a happier, more confident person.
I feel better in my body. I have more energy. Isn't that what we all want to feel in order to go out there and tackle the world?
And, I think, if I ever get into a relationship again, I'll suggest we at least go for a romantic walk before we order Thai food and park on the couch for the night.
Balance.
The Psychology-based Tool for Lasting Behavioral Change.
Weight loss doesn't have to be about vanity. Dive in to a healthier life.
1/1
There are loads of good reasons why maintaining a healthy weight and relationship with food are so important: It is the first step to preventing or improving many chronic and pre-chronic conditions like diabetes and hypertension. And there are other, less measurable, but definitely tangible results: like improved self-confidence and increased energy, which contribute to a happier, healthier life.
Get Healthy For Good