This article is written in partnership with GreenPan. They're dedicated to helping people detoxify their kitchens with clean, eco-friendly cookware—we're honored to work with them. ~ ed.
The choices we make, even on a kitchen-sink level, matter. Using cookware that isn't bad for our health, or our environment…is literally vital. Every single decision we make can be mindful, full of joy, caring, and practical. I'm genuinely proud to use (and show off—it's lovely) GreenPan in my eco kitchen. ~ Waylon H. Lewis, editor-in-chief
A healthy relationship starts in the kitchen.
I'm relatively green to the marriage game—three years in—but I can say this with confidence: how you and your significant other interact around meal time can make or break you.
In the early years, I refused to set foot in the kitchen, as if there was a force field blocking my entrance. I even said, "if you're going to be with me, you just have to accept that I won't cook." (24-year-old me was snappy).
For whatever reason, Jeff not only stuck around, but legally bound himself to me for life.
Maybe he saw the potential, because not long after my declaration of lifelong takeout orders…I caved. Not only did I fall in love with making healthier versions of our favorite foods, but in my mind, I felt like I could be the next Ina Garten (I do have a husband named Jeffrey, after all).
Though our relationship was on a great page, there was still something underlying, and extremely toxic about our mealtime meetings. While we were intentionally making healthy meals (most of the time), we had no idea that what we were cooking with was detrimental. Our pans were completely counteracting every health-conscious move we made. And all along, they've been laden with chemicals that have some serious repercussions.
They've also been the cause of who's going to scrub this pan stand-offs. You know, when you've already taken care of all the dishes, and as you begin to breathe out a sigh of relief…there it is—that one pan looming and staring directly into your soul as if to say:
"have fun scrubbing me for the next 30 minutes."
*Insert diabolical laugh here.*
Suddenly, and especially in a homebound pandemic world, our coveted kitchen felt like a toxic relationship that we needed to avoid. It seemed like the time to evaluate a better way of doing things—and a greener one at that.
We decided to get a suite of eco-conscious cookware from GreenPan, and…it's been life changing.
Let's talk about what's not in GreenPan.
PFAS are everywhere. P—what, now? They're per- and polyfluoroalkyl substances (PFAS), also known as "forever chemicals." They characterize a group of about 5,000 man-made chemicals that refuse to go away, and take a ridiculously long time to break down in nature. They're used on most non-stick pans for stain resistance, grease resistance, and water resistance, and they've found their way from our cookware to our bloodstreams.
According to the CDC, just a few of the health concerns that may be caused by PFAS are:
>> Thyroid dysfunction
>> Lowered sperm count
>> Reduction in immunity
>> Reduced vaccination response
>> Lowered chance of getting pregnant
>> Increased cholesterol levels
>> Increased the risk of cancer
Scary stuff…and that's not to mention their impact on our environment. PFAS are contaminating our soil, rivers, and the food supply of animals.
With the GreenPan creators becoming more aware of these toxic traitors to our systems and how they show up in our cupboards, they decided to create pans that have a better handle on safety—and I'm not just talking about how they're dishwasher safe.
In 2007, they created the first ceramic alternative to traditional non stick coatings, derived from sand. They use upcycled stainless steel and aluminum whenever possible, and 60% less CO2 is emitted during the curing phase of production of their Thermolon™ coatings, compared to the the production of traditional coatings worldwide. Their cookware is free of plastic, toxins, cadmium, and lead—and they know that less is more when it comes to their manufacturing.
But they're not just doing better by our health and the environment…these pans are straight-up better.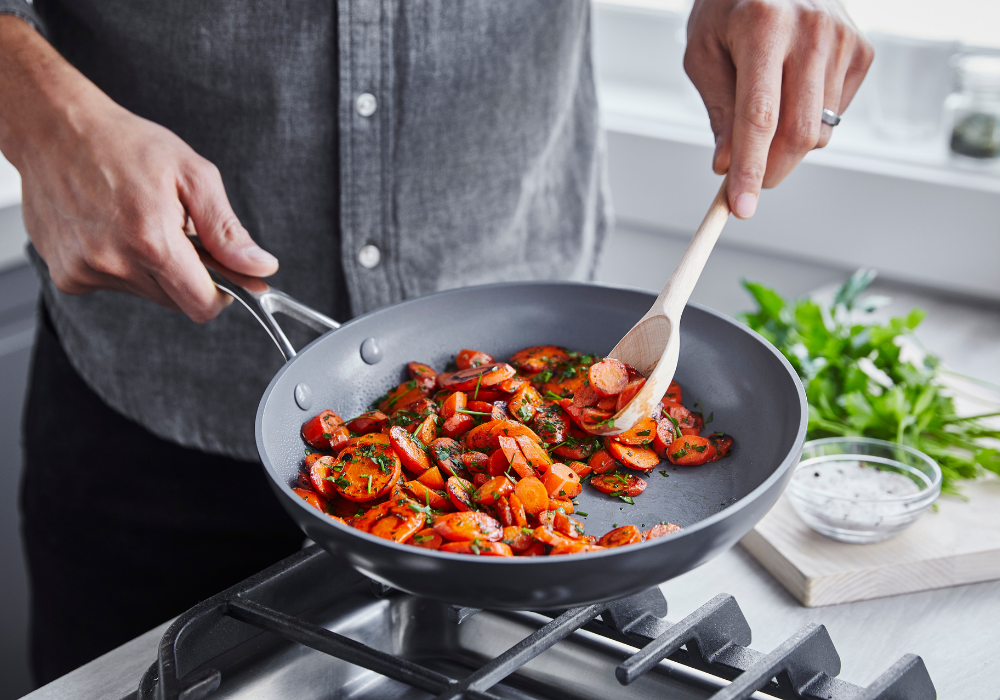 The forever relationship I actually want to be in does not involve chemicals.
Jeff and I called it a draw on our pan stand off when we gave our GreenPan pan a try. First of all, these are gorgeous to look at. I can't even express the amount of times I went to pull a pan out to cook something with my old (toxic) ones and slid them right back into the dark, grimy cave from which they came. Ever notice a chalky white coating on your pans? Hi, PFAS, nice to be formally introduced. We happily tossed them once our eyes met our shiny new eco-friendly pans.
Our upgraded GreenPan set is sleek and jet black with gold handles, and if we had the space, I would hang them up on display by our stovetop. Just seeing them come out of the package made me want to reassume Ina Garten position. But to lean into actually cooking healthy for the first time, we decided to make GreenPan's recipe for Puttanesca, which translates in Italian to "Lady of the Night," as I discovered. I mean…we needed to start this relationship off the right way, you know?
The first thing I noticed was how light it felt, well, aside from how pretty it was. We started up the recipe, threw in as much garlic—as Jeff's Italian ancestors whispered into his ear to add—and got stirring. The only problem was, I underestimated the amount of pasta we needed to incorporate. Pasta math is hard, guys.
We didn't sweat it (okay, I sweated a little bit but we were making the Lady of the Night) and just added more as we cooked. While all the tomato, parsley, and olive flavors merged, nothing was sticking to the bottom. Even with royally screwing up the recipe, it still came out delicious. I cleaned it swiftly with ease and there was not a single dish washing drag down in sight.
Jeff and I got to add another favorite cooking memory to our archives, and we felt empowered by our newfound knowledge, while making a change for the better. We're not health nuts, and we're only just budding environmentalists, but eliminating this toxic relationship from our lives was the best decision we've made for ourselves and our kitchen.
Not to mention—it's been super healthy (and yummy) for our relationship.
It's time for a Change of Pans.
1. Venice Pro Noir Ceramic Nonstick 13-Piece Set
1/8
Have you ever cooked with diamonds? Well, you're about to. This set features extraordinary Diamond Advanced ceramic nonstick coating infused with thousands of diamonds, creating a luxe, responsive surface that gives you serious control over your cuisine.
Shop Now