We just got a bunny. It is white and fluffy and has a Mohawk that won't quit. We are so in love.
The decision to get a new pet was incredibly impulsive.
Our daughter, Fiona, has been campaigning for a cat for years. My husband Ryan, however, is allergic and I simply am not excited about more hair on the floors in addition to what our boxer/lab already contributes. We had been at an understanding for months that if we get a cat, it wouldn't be until our eventual move.
I don't know how we got on the subject of getting a bunny, but when Ryan said, "We could put a hutch in the backyard," I jumped and said, "Let's do it!" It's perfect, I thought—a pet we can keep outside. No hair!
And from that moment until the night we brought the bunny home (roughly 72 hours), I was that parent in search of an Easter bunny for their daughter. And by "that parent," I mean in addition to impulsive, ignorant: lacking any knowledge of what I was getting myself into.
We ordered a hutch and got a crate as a temporary enclosure until the hutch was delivered. We also got bedding, hay, food in pellet form, and two chew toys because the sales clerk at Petco said two is a good number of toys to have. Sure, no problem. The would-be bunny's new home was set, and the next day, Sunday, we were scheduled to meet a few. From the sound of it, they had been handled since birth so we foresaw at least being able to pet or hold our bun soon after we got home.
When we arrived to see the bunnies, the woman, Sammie, who greeted us asked if we were coming from the Goochland area. "No, we came from Richmond's west end," I told her. This put Sammie into a bit of a frenzy, as it seemed she had scheduled two families to come see the same bunnies at the same time. Lucky for us, we arrived minutes in advance of the other family and won the pick of the litter! More accurately, though, we were looking at the last three, who were left from the original eight or nine babies. They go quick this time of year.
Ultimately we got the one we wanted. Its fur is fluffy but not too long, with dusty grey ears, nose, and tail. Sammie told us it's too young to tell its gender. No problem, we named him/her Fern anyway. One eye is a dark almost black, the other is light blue. What a gem.
But as we were driving home, I had a sinking feeling that this whole process was very rushed.
Not just our decision, but the actual visit and purchase. We got the bunny home—it seemed nervous but curious as it wandered around, and I began to feel my ignorance rising to the surface.
By bedtime, I was frantically Googling and YouTubing baby bunny basics, and what would you know: bunnies hate being handled, at first at least. Instantly I felt like an asshole, having picked it up and loved on it. Meanwhile, it's not sure if I want to eat it or not. Bunnies are prey animals and really smart ones at that. You're supposed to let them come to you. Also, that water bottle Petco sold me causes dehydration in bunnies, so I needed to use a bowl instead. My favorite bit of wisdom was that bunnies like to sh*t where they eat, so I needed to keep some food in their litter box for potty-training.
But the clincher: they must be kept indoors, especially if they were raised indoors. In the rush to make a decision, as the Goochland family approached, I had failed to ask if our bunny was raised one way or another, and wouldn't you know it, a cold snap was making its way to Richmond by week's end. I was kind of freaking out.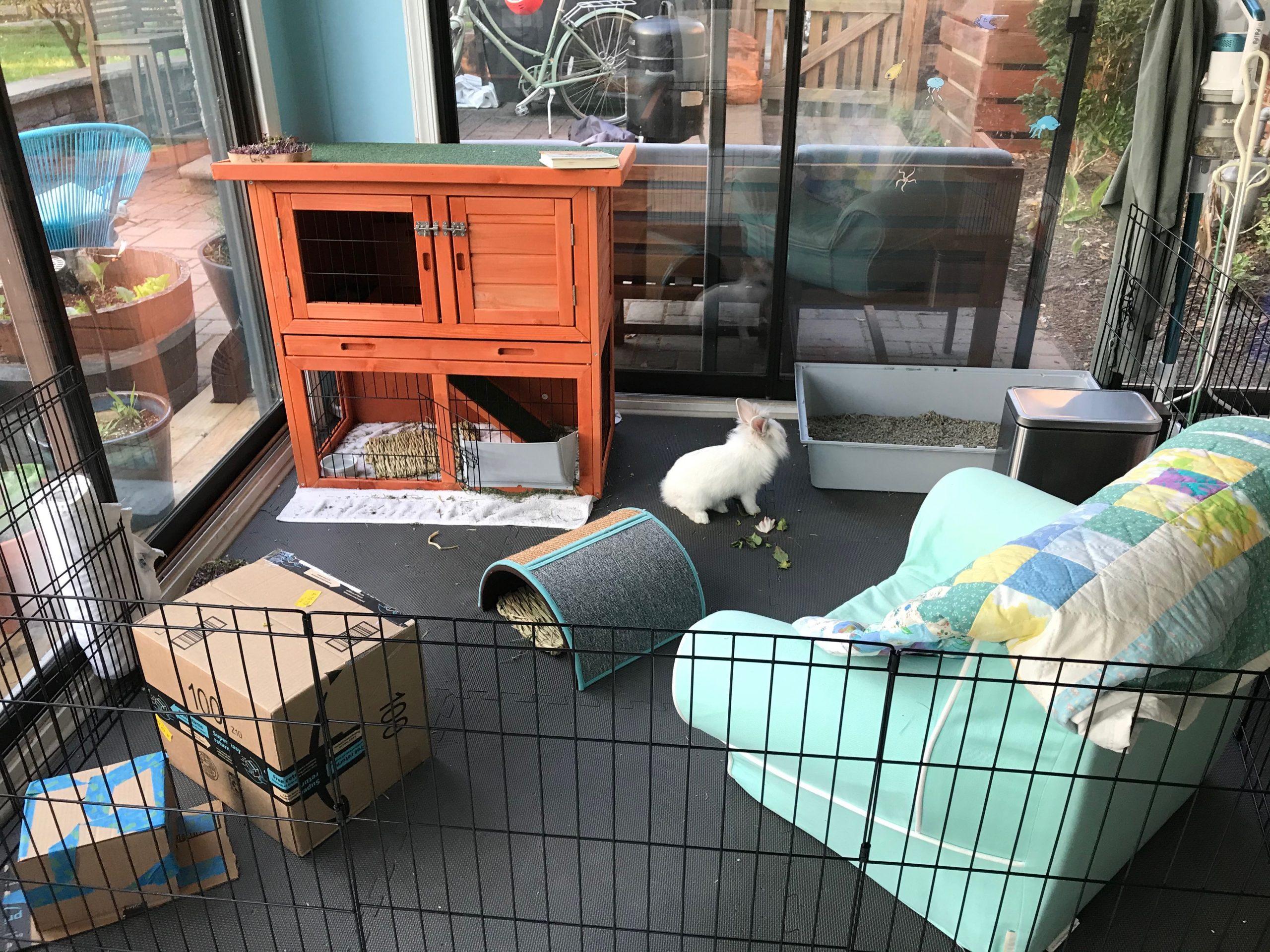 My instinct was to believe Fern was an indoor bunny. So when I got the guts to ask the question I should have asked at the outset, Sammie confirmed my suspicion. That Wednesday, the hutch arrived, and the next day, I set it up in our sunroom and put up a pen around it so Fern could safely roam free. I wasn't going to be that parent who made a dumb decision that ultimately determined the fate of an innocent animal. No—despite my impulses, I'm an animal person and I made it right.
The first step was mustering all the patience that little ball of fuzz required from me.
That didn't mean leaving it alone completely; in fact, it meant the opposite. I became Fern's constant observer, learning when she's most active, what she prefers to eat (incidentally not carrots), and most notably her personality. Fern is brave, funny, and super laid back. (And no, we still haven't discovered her gender—"she" is just our default for now.)
What was at one moment a perceived failure on my part as a reasonable parent and pet owner is now a family success story.
Yes, I am that parent who bought her kid an Easter bunny, but I owned that and made it right.
We gave her the hutch home of her dreams, and its door is always open. Today, Fern is fully potty-trained, roams free in our sunroom, and loves gentle rubs, brushing, and eating kale from our hands. Bunnies are amazing pets if you can accommodate them. They are irresistibly adorable. Little poop balls and all.
My only hope now, in my enlightenment, is that she remains healthy and happy, for the expected nine years she has to live.
PS: Bunnies don't play with toys, even if they are just for chewing. Waste of money.