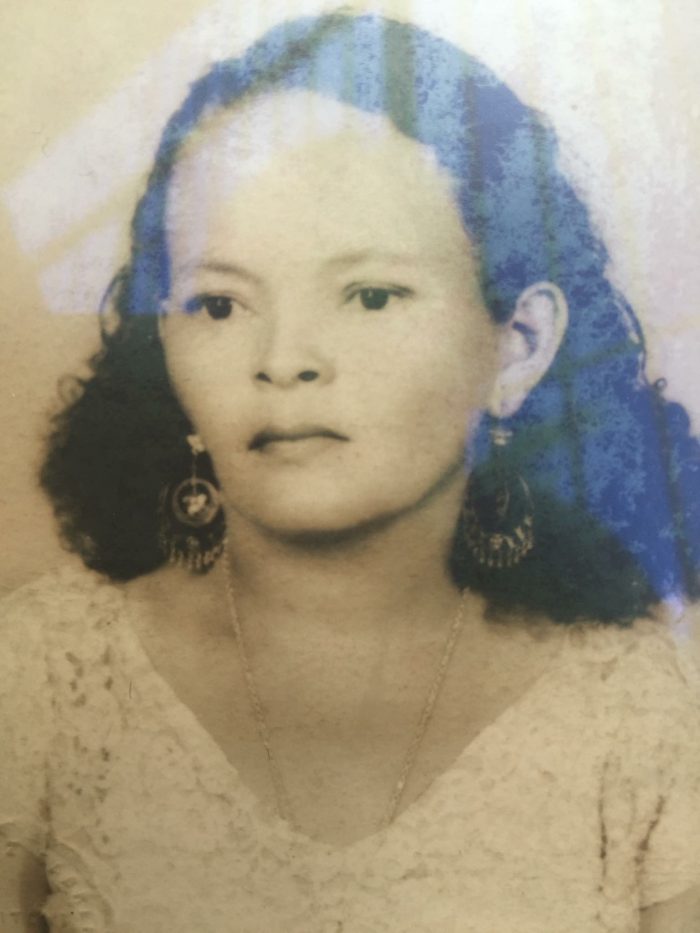 When my mother brought me to Trinidad, she had no blueprint to follow, no money to guarantee my keep, nothing to calm her motherly heart by knowing her 15-year-old daughter will be safe. 
She left with tears in her eyes, but she held strong to her resolve because she wanted to change the course of history for me and my descendants. 
She did that. 
My mother reinvented herself and, through her, the women who came after her. My children and grandchildren have a different story because they have seen their female elders as the strong women who sacrificed to provide them with opportunities. Today, they stand tall on their shoulders. 
Early in my childhood, my father taught her the basics, but I always admired her tenacity to learn to read and write (even when it wasn't going to provide her with a degree or a job). That was her best lesson: teaching me to work toward my dreams and goals, even if it was just because they meant something to me.
After tending to us and the shop, although tired, she started her reading and writing lessons. There was no weekend or "holiday off" as this passion occupied her spare time. I understood this to be her self-love.
In the midst of my otherwise chaotic childhood, I was blessed to have a mother who surrendered her life to us—her children. This doesn't mean my mother was perfect, but I truly felt she was doing the best she could.
When I was 15 years old, we took the trip from Guiria, Venezuela, to Port of Spain in a pirogue; it was nighttime. Years later, I discovered people came from Venezuela this way illegally. (I suspect this is what happened.) We were checked by immigration upon arrival, and I was able to stay legally.
She managed to purchase a return flight for me as she didn't want me to take the trip back alone. I never found out how she made the connections in Guiria to source a skipper to bring us over—we lived in Maracay, which is about 12 hours drive (760 km) from Guiria—but she was determined to provide me with a chance in life.
My mother wanted a different, more prosperous life for me. I was being raised under the same circumstances she was, but removing me from that environment and providing an education for me was the chance she strived for. 
My mother was raised poor, and education was a luxury not available to her. But she was ambitious and wanted the best for her daughters. She worked hard to give me the best shot at life that she could provide and decided to bring me to Trinidad to pursue that. To live beyond her.
The trip was taxing and scary: fear of being caught, fear of the boat sinking, feeling vulnerable, and cold. My half-brother, Hector, accompanied us. It was comforting for me to have him on this journey, but my mother lived fearlessly. She always said to me, "Heroina, no one dies on the eve of their death." She never looked at the risk involved—only her dream of a better life for me. 
As they started to move the pirogue from the shore and we were still in shallow waters, my mother fell in the sea when attempting to board the boat. They quickly helped her on board, and we started our journey to a foreign land.
They spoke a different language—had a different culture, different cuisine, different way of life—but I trusted my mother's judgment. I silently followed her lead, and that place then became my home. 
Not a day goes by that I don't feel my mother's presence next to me, watching over me, guiding me. Whenever I reach a crossroad and don't know where to turn, I consult with her and wonder what she would have done. I remember her wisdom and the lessons she's left with me. 
When leaving Venezuela, I had to halt my education. I then got married at the tender age of 18 and had three children in the five years that followed. This made it impossible to continue for a long time.
Self-education has been my way of moving forward. Elephant Journal's writing course, "Write your Heart Out," is a tribute to my mother and the lessons I gained from her. 
Honoring my mother this year will mean no flowers at her grave, no mass in her name, or candles in my home shrine. 
My mother loved writing and education, so writing something about my mother is the best way I can think of honoring her.
For a woman who descended from grandmas who barely knew how to read and write, not having these skills themselves, she had great respect and admiration for academic success.