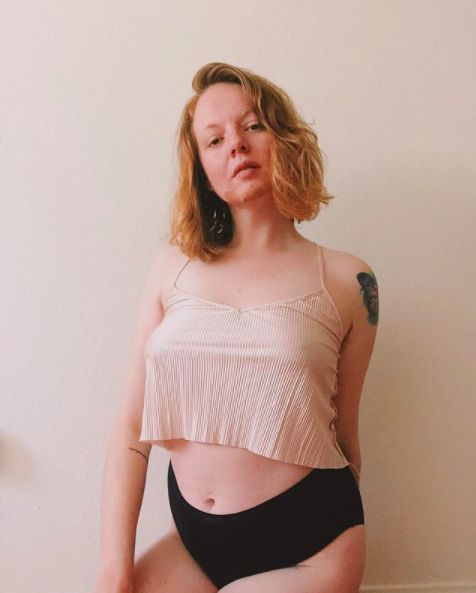 When I was a child, I vividly recall being shamed by family members, without them realizing it, about some of the most intimate and pure experiences of my life.
It was well into the evening, and I had just come inside from chasing after and dancing with those sparkling, midwestern lightning bugs.
I was acutely aware of the deep red wine on everyone's breath, which was made more obvious by the staining of their teeth and the subtle cigarette smoke wafting through the thick summer air.
My extended family, whom I barely knew, were in town for a gathering. They lived across the world, so the gathering must have been for something important. The timeline in my memory bank is a bit fuzzy, but I'm fairly certain that it was during a pretty traumatic time—mostly because a lot of my childhood was.
I sat at the table, trying to fit in with these "big people" whom I called family but felt alien around them. I regularly tried to shapeshift into whatever identity was sitting in front of me so that I could finally feel like I belonged.
Suddenly, one of them had let out a ginormous cackle and said something like, "Jessica just won't stop…" All I remember from that moment forward was feeling completely shattered as the person made jokes about how much I loved to touch myself.
The people sitting at the table burst into uncontrollable, drunken laughter  as they mentioned how at four years old, I would burst into excitement and say, "My hands smell like peach, which is the name my mother used for pussy.
As I desperately tried to keep my little self composed, I ended up laughing along with them.
To be clear, this isn't the person's fault. She wasn't meaning to be harmful or shaming. In truth, it's really no one's fault, but that's where this story really begins to unfold.
This moment, along with many other moments, has shaped the way I felt about my body, pleasure, and my right to experience them both. If I am being honest, I had been feeling dirty for what I had been doing with my own body for a long time. But the pleasure was so desirable that I kept doing it anyway, even though I often had this feeling that others thought it was bad, or at the very least, shameful.
Even if it wasn't directly told to me, there was this energy in the air that would clench whenever it was mentioned. I could tell people were uncomfortable and embarrassed, which, naturally, made me feel uncomfortable and embarrassed too.
I started to feel truly ashamed…
Fast forward a few years, and I started experimenting with my sexuality at a young age. But after feeling like touching myself wasn't considered "normal," I started to think that maybe it would be more acceptable if another person touched me instead.
So, I started experimenting with boys—usually much older boys—who would touch me in what I now realize were all the wrong ways. This, too, made a deep imprint on how I felt about having pleasure and my body.
My relationship with myself had soon begun to spiral. All of these undesirable experiences in my own body, on top of losing what felt like my entire family due to a completely unrelated grief-engrossed event, made me lose my innocence and youth quite quickly.
I was drinking extensively at the age of 14, doing drugs whenever I could get my hands on them, allowing men to touch me just to fill the void I constantly experienced and went in and out of a dangerous eating disorder. I had zero connection with what once made me feel so good and feel so like myself.
A decade later, with the help of a lot of therapy, my unfolding spiritual practice, a few years of sobriety, a marriage followed by a divorce, and a whole lot of unpacking, I came across these mystical, magical words:
"Shame is the lie someone told you about yourself." ~ Anaïs Nin
When I first read these words from the beloved Anaïs Nin, a few years ago, it was as if someone had shot me with an arrow in the center of my chest, and like a piece of glass, everything around me began to shatter and fall.
Every shameful blow, every moment of angst in my body, every regrettable decision, every dysfunctional relationship, every slut-shaming experience, every man who had taken advantage of me, and all the moments the world made me feel dirty or impure started to abruptly rise to the surface.
I suddenly realized that none of them were mine to keep.
None of these experiences and projections around sex and pleasure being dirty, shameful, or abnormal were ever mine to call home. To be fair, they aren't even the homes of the people who project them; they are the poisoned ideas that our culture has put upon people in order to make them feel less than worthy—less than perfect, so that they stay within guidelines that are more sheltered and neutral rather than radical, raw, and beautifully, heartbreakingly human.
One of the many conundrums we face when we look at the concept of sex and pleasure as deemed taboo is that though this is the narrative that's imprinted into our psyche, the world is still completely obsessed with them both.
The difference is they try to hide it. This is where all the dysfunction, abuse, and dangerous obsession starts to insidiously come out and play. Oftentimes, they try to hide it because of the shame they feel, but there's another aspect to it that's alive and dangerous: fear.
This is where the over-sexualization of women, bodies, and people comes from. This is where rape culture comes from. This is where people in power, taking advantage of people who work for them, comes from. At a more dramatic level, it's where Catholic priests abusing and sexualizing children come from.
It's where repressed sexuality turns into abuse and violence, rather than natural human instincts. Then, the fear continues to cycle. When we see how sex and sexuality can be used to hurt people, we start to associate the hurt with sex and pleasure itself, instead of the dysfunctional place it came from. And that gets projected onto innocent little people, too.
However, none of it is sustainable or normal. And for some reason, I feel like I had known this the whole time, but was keeping it all repressed because of what somebody else had said.
I've always been an erotically alive being. It has been one of the only things I've identified with (besides being a writer) that has stuck with me the majority of my life. I have always been fascinated by pleasure, sex, and the erotic. Yet, it wasn't until I truly felt safe in my own body and experiences that I felt I could actually explore that part of myself.
When I started to unpack all of this, it soon became clear that I was not alone in my experiences. I started doing a lot of "reclaiming my pleasure" work, doing sexy self-portrait shoots, unraveling how I had been showing up in intimate relationships with others and myself, and sharing that with the world.
I was still shamed and ostracized by some, but most welcomed it with open arms. It was a breath of fresh air for people who felt the same way—to see someone else expressing something so true and real to them with such magnetism and a "give-no-f*cks" attitude. I was scared sh*less, yet, I kept doing it anyway.
And then, something amazing happened.
I started to see the erotic everywhere. In the clouds intertwined with the sky, in the waves penetrating the earth, and in the water caressing my shoulders. I started to understand that the erotic was not merely some physical experience between two humans or one human. But rather, it is the energy that brings everything into an integration—a togetherness. It brings them into what most spiritual teachings reference as the "One."
When we talk about masculine and feminine energies, we often think about gender. Yet, the reality is, these are the energies that make up the entirety of our universe. Without one or the other, everything would collapse. It isn't about one man and one woman or any of that gender stuff; it's about two polarizing energies coming together to create a harmonious integration. That integration of the two is actually what makes the world go round (literally), and yet, we are constantly living in a place of pain and shame within it.
So, as I continue my own journey of unraveling shame, pain, and reclaiming my eroticism, there are few things that now come to my mind:
How could something so Godly be deemed as so dirty?
How could sex be seen as a sin when it is the basis of all creation?
How could our mothers and fathers create us and then imprint shame into us when we experience that lively birthing of pleasure embodiment within ourselves?
It is strikingly clear to me now that it actually doesn't have anything to do with sex at all. It has everything to do with the shaming and abuse that awakens due to the repression of real, raw sexuality. It has to do with the fear and pain people hold due to that shame and abuse. It is a vicious, vicious cycle.
It has taken me years to untangle these ideas. I am still untangling them, as I probably always will be. But if this reaches anyone today who has felt ashamed in their bodies, I hope they recognize that the shame was never their own.
Because truly, that shame was never ours to call home.