People closest to me have asked me why I haven't spoken up yet about the outrageous number of native children found in Kamloops, British Columbia.
Here's why it's taken a bit:
Tragedy happens so often in our world—every few days, it's another.
But this story? For me, this isn't just another news story that people will forget about in a few years. This was my mother's life. This was my mother's trauma. And by extension, now it's mine, too.
Growing up native in the 90s seemed fine for me, but not a day went by when I wasn't reminded of the horror stories my mother went though at the hands of those who were racist toward natives. Some Canadians seem to think it's something that's easy to get over, or that it isn't recent enough, and I'm here say that will never be the case.
So, maybe one 26-year-old's experience can help.
Some people think it was cruel of my mom to tell me the nitty gritty details, but it opened my eyes to horrors no child should ever endure.
From what I know, my grandma Vivie survived the Birtle Indian Residential School in Birtle, Manitoba, and I'm so grateful she did. By 1957, she had three daughters: Gladys (the eldest), Margaret (the middle), and my mother, Jean (the youngest). She'd built a family and hoped to move on from the pain.
But like many native mothers experienced, CFS visited and decided my mom and her sister Margaret were better off in what was to be an abusive foster home. Not to mention, they were separated from their eldest sister, Gladys, for decades.
Every type of abuse happened to my mom and aunt Margaret because they were native. If it wasn't at home, then it happened at school. And when one type of abuse finished, another started.
Then, in 1964, my mom's life shattered even more when her foster mother murdered her sister Margaret—a nine-year-old child—because of the colour of her skin.
Systemic racism led to Children's Aid trying to cover it up as leukemia (and succeeding for over 30 years) so that the various bruises wouldn't be a problem for the autopsy or her death record. The final cherry on top was that they buried her with incorrect information on her tombstone.
My mom left that home at 15 with physical and mental scars that would never heal and would haunt her to the end of her life.
After over 30 years, in December, 1993, my mom and Aunt Gladys finally had the opportunity to find the justice my aunt Margaret deserved when a retired but compassionate and committed RCMP sergeant followed through on a Crime Stoppers tip. They reopened her case and while ultimate justice was denied, they brought the truth to the light and they found out why these children had been forgotten for so many years.
The silver lining: they found my mom's birth mother, and a younger sister, Rose, so she could finally reconnect with her family.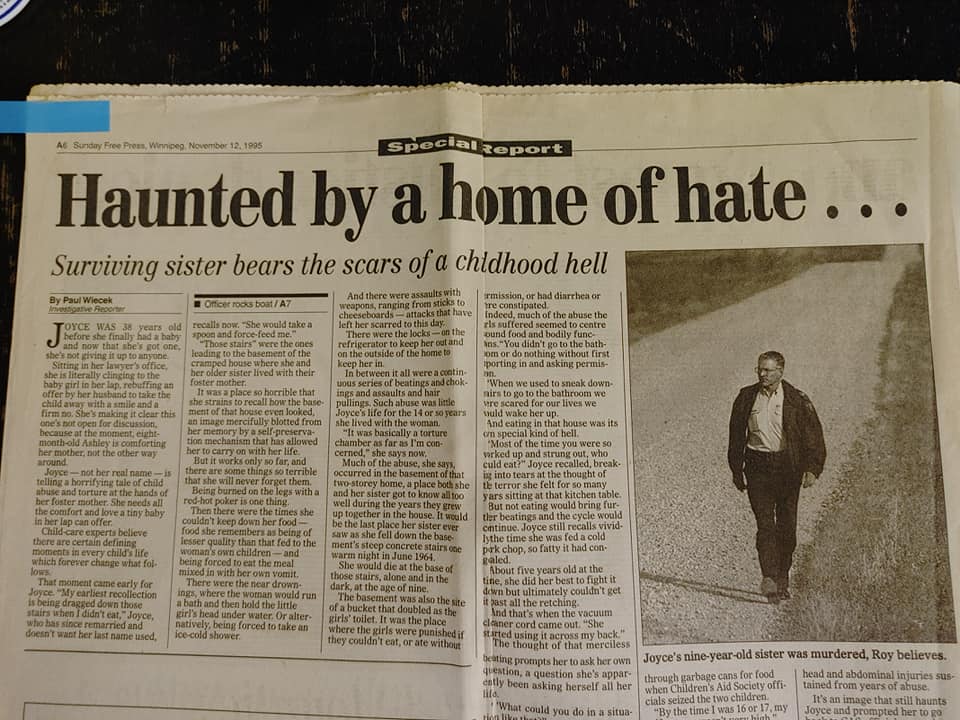 So, everything should be finished and settled right?
Wrong.
By then, it was too late for my mom. As hard as she tried to put on a smile, or be grateful for the truth, she was broken deep down in a way that no justice could ever help.
Years prior, as a young woman, she was diagnosed with many various mental health issues: severe depression, general and social anxiety disorder, and PTSD. No matter how many years passed, doctors she spoke to, or medications she tried, it always left her feeling the same: a broken child who had her family, her culture, and her life ripped away from her. PTSD isn't just for soldiers, it's for the survivors of heinous experiences like my mother went through.
She passed this September, and my only saving grace is that her 63 years of torture are over. She's at peace.
But now, here I stand, holding generations of trauma in my hands, heart, and soul, ready to scream out for justice.
So, the next time you hear someone say to native people, "it was so long ago," or, "you got your recognition," or, "it's not up to us to help anymore," remember that they are blatantly disregarding what Canada has done over the past 100 years. The next time you get upset and think that a native person is angry for no reason, try and remember the date June 24, 1964. Because that is less than 60 years ago, and the day my aunt was murdered because of her race.
This isn't ancient history. My mother isn't ancient history, nor am I.
This is our trauma, anger, pain, and relentless cry for people in Canada to open their eyes.