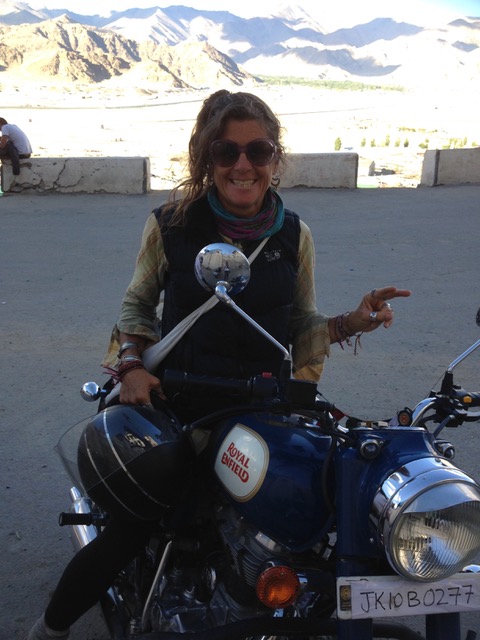 "I discovered that when I believed my thoughts I suffered, but when I didn't believe them I didn't suffer, and that this is true for every human being. Freedom is as simple as that. I found that suffering is optional. I found a joy within me that has never disappeared, not for a single moment. That joy is in everyone, always. And I invite you not to believe me. I invite you to test it for yourself." ~ Byron Katie
How Motorcycling Alone in the Himalayas Helped Me to Face Fear, Develop Self Compassion, Dissolve Limiting Beliefs, and Be Mindful.
On a Saturday in early May 2019, the day before a new moon, I am preoccupied with the previous night's dream about my friend, Jake.
I feel convinced that Jake must be thinking about me, and that I picked up on his vibes. I check my phone obsessively all day, expecting a message to pop up from him.
The conversation that we will have if he does message starts something like this: "Jake, you would love this place and this motorcycle mission I am on!"
He suggested a year ago, over Instagram, that we plan a motorcycle mission in a year's time. Which is now, except, instead of being on a Himalayan Love Story Adventure—I am alone.
Mid-fantasy conversation, I start up my Royal Enfield Bullet 350 Classic motorcycle to drive the three miles into the small bustling village town of Chamoli.
Driving a Royal Enfield Bullet requires my full focus at all times.
I have been on my game for the past five weeks of narrow, guard-rail-less mountain road driving, through pelting hail, rain, and epic traffic, dust, road works, huge ruts, honking busses, and wandering cows. The adventure has been an intense form of mindfulness practice.
Today, however, I am not present.
The dream distracts me and triggers my core limiting beliefs.
Limiting beliefs are thoughts we think a lot that are untrue and hold us back.
These thoughts can activate feelings of unworthiness, diminish our confidence, and send self-esteem packing.
The first step in tackling and changing our limiting beliefs is awareness of what we are thinking.
Some common limiting beliefs we may have are:
I need a partner to feel whole and complete.
I am not capable of accomplishing this project/adventure/goal.
I need outside approval to feel validated and worthy.
I am unworthy of being seen.
I am a fraud.
Limiting beliefs can sabotage our feelings of accomplishment and sneak in when we feel on the brink of success. Learning how to recognize our limiting beliefs and then change them is an empowering tool that helps us to align with self-love instead of self-sabotage.
The thoughts we think are extremely powerful.
Most of us don't realize when we have slipped into deeply ingrained thought patterns that do not serve us until something snaps us back into the moment.
On this day, a yellow school bus approaches in my rearview mirror and I pause allowing it to pass. A small white dog barks, nipping at my heels as I start my bike.
I accelerate feeling out of control like someone else is driving. I float outside my body, as the bike turns left. My mind goes completely blank as I fall over, as if in slow motion. My left elbow takes the full impact of the fall on the hard asphalt.
The engine is still running as the 423 pounds of bike lay on top of me. I flick off the red switch cutting the engine, slide out from under the bike, and stand up stunned.
"What happened?" A neighbor man asks, lifting my bike back upright as I stare shell-shocked, assessing my body.
"I have no idea," I reply, holding onto my painful left elbow.
I just got slammed back into consciousness, like an asteroid careening through the atmosphere and smashing into Earth.
My elbow throbs with the reminder that I have lost focus.
The crash and elbow injury have snapped me back into awareness.
Once we gain awareness of our limiting beliefs the next step is to change them, and have compassion for ourselves.
We want to congratulate ourselves when we see the illusion of the thought and practice loving compassion by reframing it.
Flipping the thought into the opposite is an amazing practice coined by Byron Katie in her book and process called The Work.
Katie's The Work outlines a simple yet powerful four-step process:
Shaken from the crash, I feel tentative, and my elbow still hurts.
I know I need to get back on the horse and take a short drive into town.
I ask Source Energy for help, "please clear me of all lower vibrational energy, replace it with confidence, calm, safety, protection, self-assuredness, and I ask my guides on the Other Side to please help drive this motorcycle for me. Thank you."
Pausing, I do an internal fear check. Calm signals we are good to go.
I swing my right leg over the bike, stick the key in the ignition and turn the key. Switching the red switch to on, I press my right thumb on the starter button, and it starts right up. It takes all my 120 pounds of strength to get the heavy bike upright off the kickstand.
I flick the kickstand up with my left foot. I squeeze in the clutch with my left hand and push my left foot down on the gears clicking it into first. Slowly releasing the clutch, I accelerate the bike slowly with my right hand, and we're away!
Driving the Bullet feels powerful, and solid. I drive slowly from the B and B where I am staying, into town. Other bikes zoom past, honking to signal they're overtaking. Several rough patches, a stream crossing, pedestrians, cows, dogs, and abruptly stopping vehicles, require my full concentration.
I park my bike in town and do my shopping.
"How old are you?" The curious Indian gentleman asks as I leave the vegetable stand. "49," I reply.
"And you are driving a Bullet?" He remarks with disbelief.
"Yes I drive a Bullet," I say.
Still in slight disbelief myself.
Wandering into the tiny chai shop, I bring my hands together in prayer position and say a cheerful, "Namaste. Ek chai milega?" (One chai possible?)
Chai guy stares extra-long and replies, "Haan, milega milega, baitho!" (Yes, possible possible, sit.)
Sitting down at one of the two tables, I pull out my lined notebook, the same kind the children use in school. There is even a place for the teacher's signature at the bottom of the page and on the cover is a motocross bike flinging dirt out of the back wheel.
Handmade sweets of all varieties are displayed behind a glass case, sold in bulk boxes by weight. A queue of four women wait to have their order filled.
I order mine by the piece. A gooey square that tastes like very oily, chewy, carrot, walnut cake.
One of the chai guys looks over my shoulder at my writing, and I cover it with both hands.
"Private!" I say.
Chai guy slides me a note, written in loopy cursive letters that reads, "How do you like the chai shop?"
I laugh, "Bohot achha!"(Very good).
Sipping the steaming hot sweet chai out of the tiny glass, and ignoring the chai guy, I write down the untrue thoughts that the Jake dream triggered:
1. If Jake likes me I must be worthy.
2. If he approves of me, I am valuable.
3. If he were with me, somehow this trip would be better.
4. I am not complete on my own.
5. I need him to feel safe and protected.
I look at these untrue limiting thoughts, see their illusion, and change them.
1. I am worthy right now as I am.
2. I am valuable right now as I am.
3. I am having an amazing trip alone and in fact, I love being alone!
4. I feel whole and complete exactly as I am.
5. I know how to keep myself safe and protect myself, and I AM!
I close my notebook, pay for the chai, and with all new resolve, head for my bike.
Developing awareness of our limiting beliefs and consciously changing them is a powerful mindfulness practice that can transform our lives.
Reframing our thoughts to support us rather than sabotage us makes the seemingly impossible possible.
It gives us the permission to celebrate and share our success from an authentic place of positive self-approval rather than one of seeking outside validation.
Now that our minds are a nicer place to be, our joyful child self feels safe to come out and play, and life gets a whole lot more fun!
~