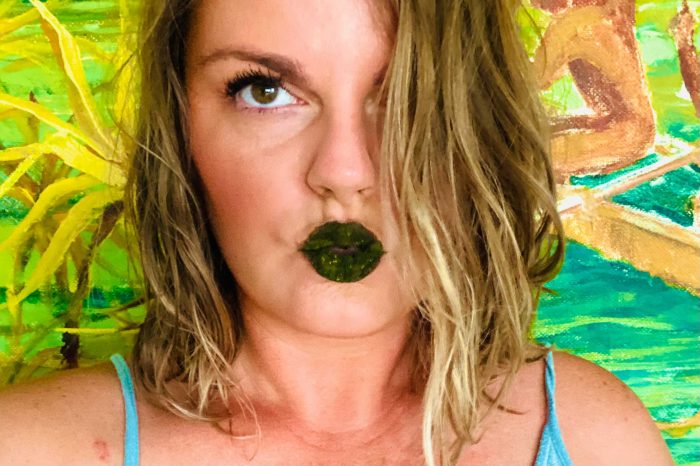 This article is written in partnership with Pure Synergy—they're dedicated to making all-natural nutrition easier, and we're honored to work with them. ~ ed.
~
Editor's Note: Yes, this is a sales post, but the enthusiasm here is as real as a coffee craving after four hours of crappy sleep before a 10-hour workday. ~ Marisa, Ed.
"Nourished." I wrote the word down and stared at it longingly.
Each year, I create a list of five or six feeling words to focus on cultivating in my life. Then, I take small actions to help me feel those core desired feelings every day. Nourished has been on the list for a couple of years now—it's been that elusive.⁠
Another word on my list of core desired feelings? Healing.
It seems no matter what or how much I eat, my body fails to feel satisfied. And I'm not talking about a stomach-level hunger; I'm talking about a down-to-my-bones hunger. And aching bones, at that. It seems these days like I've had minor injury after minor injury; UTI after UTI; anxious, stressed-out, brain-foggy morning after anxious, stressed-out, brain-foggy morning.
So, between the omnipresent feeling of lacking nourishment, the physical pain and lack of focus, more often than not, I've found myself feeling pretty darn depleted.
I can't count the number of times I've wished there were some magical potion to help me to feel sated and balanced in my body. Dear God, would I like to experience that wonderful space of pure synergy between all of my systems.
I found it—the potion. Okay, so maybe it's more science than magic. And so down the hatch it went. But, first…
Choosing a Superfood Powder
When it comes to wanting to see notable results, quality matters. Pure Synergy's blend of 62 superfoods—many of which are chlorophyll-packed—seemed ideal to fuel my experiment.
With the help of Chinese medicine, a Shaman, a Tibetan monk, and other healers, Pure Synergy's founder, Mitchell May developed his Organic Superfood formula—and pulled off what doctors considered an unexplainable recovery.
Faced with traditional medicine pushing for his leg to be amputated or else face life-threatening infection, he decided to embark on a journey of extensive research in the hopes that his findings might help him heal. And heal he did, much to the astonishment of physicians. That was in the 1960's—30 years before green juice and superfoods were "the thing." So, this was basically the original superfood powder.
Plus, if this long-established superfood blend could heal something like that, maybe it could help heal that malnourished feeling and those comparatively little boo-boos of mine.
When I dug in deeper, I found a company that not only roots itself in a thorough understanding of Chinese medicine, but one that also takes special care to ensure bioavailability. All ingredients are harvested, prepared, and stored using methods that optimally preserve each superfood in ways that are unique to the properties and needs of that particular ingredient—all in the name of providing the best benefit to our bodies.
The amount of attention placed on quality and efficacy was striking.
So, I embarked on my 30-day superfood drinking journey. Here's what happened: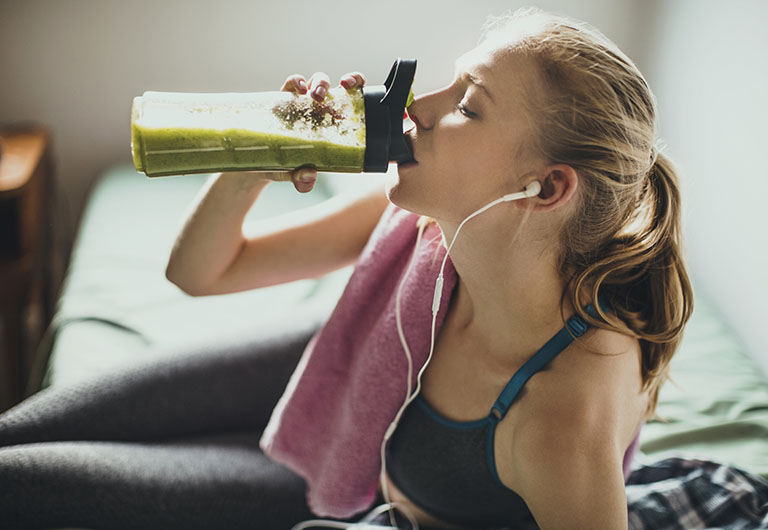 It replaced my coffee—mostly.
I've considered investing in my own espresso maker and grinder, I love coffee so much. But from literally day one of my superfood-drinking journey, I noticed that I neither really needed nor wanted my coffee. Slowly, my French-press brewing routine was replaced by a superfood-shaking ritual.
On the days that I did brew my coffee and have it first? Let's just say I noticed the difference between a Pure Synergy-fueled day and a caffeine-cocked morning.
I had greater mental focus.
I noticed right from the start that I was feeling more awake, alert, and focused.
I stopped pinging back and forth around my to-do list in a coffee-buzzed hype and started clearly creating lists and crossing items off of them in a more collected and organized fashion. I got way more done.
It was as if my body was a sponge for this stuff.
Some of the energizing and focus-increasing ingredients:
>> Atractylodes (Bai-Zhu) Rhizome Extract (aka ginseng): Serves to awaken your Qi (Chinese for lifeforce).
>> Ginkgo leaf: Supports memory and brain function.
>> Klamath blue green algae: Enhances and heightens mental clarity.
>> Poria (Fu Ling) Extract: Supports ongoing vitality and lifeforce.
>> Rosemary and Sage Leaf: Support healthy blood flow to the brain, increase concentration.
I felt nourished and had fewer cravings.
I call myself an "impressive eater." Read: I eat too much—usually because I don't feel that the food that I eat fuels my body.
When I drank Pure Synergy in the mornings, I found that I felt fewer of those sharp and sudden desires to reach for a snack—any snack—to fill the physical void.
My body just cruised on having enough nourishment to work with instead of reaching for flotation devices.
Some of the nourishing ingredients:
All 62 of them. (You can read all about each of them, here).
The superfoods in this mix are full of vitamins and minerals that serve to support and balance liver, thyroid, circulatory, and digestive health (among others). They also help us better break down our foods to actually absorb nutrients instead of just consuming them.
One of the key components in many of them? Chlorophyll. It's a powerhouse that has been found to work wonders for inflammation in your skin—keeping bacterial growth at bay, and reducing the effects of sun damage.
Detoxification and weight loss have been cited benefits of chlorophyll, and it's even been credited as a natural deodorant. So you smell good and feel even better. (1)
Some other powerhouses we might not know about:
> Bladderwick: Supports healthy thyroid function and overall health.
>> Chlorella: One of the densest known nutrient compositions of any food.
>> Jujube fruit extract: Provides 20 times the vitamin C of many citrus fruits, 8 different flavonoids, and 18 different amino acids.
>> Kombu: The "King of Seaweed." It is rich in iodine, an essential mineral to support your thyroid, master gland of metabolism.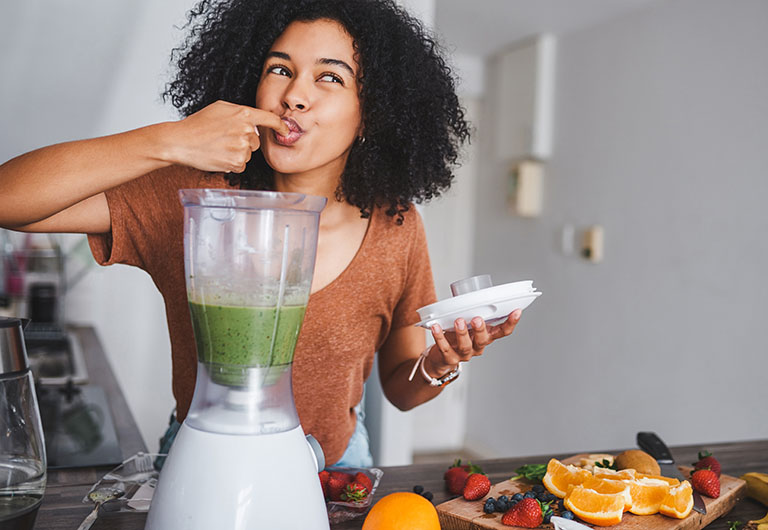 I experienced less pain.
I experience widespread joint pain on a regular basis. Some months are better than others but while drinking Pure Synergy, I saw a pretty marked reduction from even what I've felt in some of my better months.
Not only that, but both a wrist injury and a stubborn groin injury started to suddenly feel significantly better midway through the month.
Ingredients that support healthy inflammation response:
>> Nettle: Supports a normal inflammation response—especially in the presence of seasonal allergies.
>> Ligusticum wallichii root extract: Promotes healthy circulation of blood throughout the body, and may also support a normal and healthy inflammation response.
>> Shiitake mushrooms: A broad and effective healing agent.
My skin cleared up—a little.
I have pretty good skin, but every month, around my period, a couple of resident cystic zits pop up in the same exact spots. Not this month.
Know what else I saw less of? My always-itchy skin and scalp.
The skin-supporting ingredients:
>> Red Clover Powder: Supporting healthy skin, lungs, and digestion.
>> Rehmannia Root Extract: Catching on in the West as an important herb to help balance stress and energy.
>> Rose hips: Overall wellness booster especially beneficial for radiant skin.
>> Yellow dock root: Clears skin from the inside.
I was about 50 percent less stressed.
I deal with a pretty decent amount of anxiety—from the social sort to the kind that's work-related. When I'm stressed in these situations, that tension flows into all other facets of my life—including my relationships.
Near the end of my month drinking Pure Synergy, I found myself more at ease. It was as if my internal stress dial had been turned to about half power. Because I was nourishing my body, my mind had more time and space to offer others.
I also slept better.
Less stress means an easier time falling and staying asleep.
I've always been jealous of people who lie down for five minutes and are out cold.
Usually, I cannot turn my mind off before bed time, which means I stay awake until about 1 a.m., when I can finally power down.
About midway through my 30-day experiment with Pure Synergy, a new internal sleep timer had been set, and my body could not ignore it. By 11 p.m. I was ready to snooze. By 11:05 p.m., I was hard asleep—mouth agape and all.
The stress-relieving and thus sleep-giving ingredients:
>> Red Clover: Supports a woman through hormonal ebbs and flows.
>> Polygala root extract: Traditionally known as "will strengthener." Helps us remain calm, centered, and focused during trying times.
>> Reishi mushroom: Provides a deep foundation of mental, emotional, and spiritual support through its grounding, calming, and soothing properties.
>> Schizandra Seed & Fruit Extract: A powerful "adaptogen," that counters stress by reducing the levels of stress hormones in the blood.
>> Skullcap: A classic nerve tonic that supports and nourishes a healthy nervous system throughout the day-to-day struggles of modern life.
It seemed almost unbelievable to me how naturally this fit into my routine and seemed to assist in reducing so much of what had been plaguing me from a physical, emotional, and mental standpoint. Was this psychosomatic?
I guess not, because my co-worker who took the challenge with me had her own experience that echoed mine:
"It's not every day that I feel ready to, well, take on the day. Most of what I drink and eat to at least feel like a human has been like a bandaid, a "fix"—until I was recently introduced to the OG of superfood powder: Pure Synergy's Organic Green Superfood. I took on their 30-day challenge, and although I may have missed a day or two, I'm definitely not missing what this stuff has done for me.
I've been feeling more focused, less anxious, and have had an overall sense of levity that my usual daily drinks have never given me. One of the best benefits is that I reach for the snacks less during the day (don't want to mess up a good thing). I love mixing the Superfood with the Berry Powder and throwing in a dash of almond milk and sip it at my desk while I work.
There's over 30 years of research packed into this powerful powder, which is why it's no wonder that it has the potential to elevate your life in less than 30 days. Your local (pricey) juicery, and most other powdery wellness promisers, don't take the same care to freeze dry their ingredients for ultimate Bioavailability like these guys do, and it shows." ~ Kaitlin May, Eleditor
When it comes to superfood powders that pack a punch, we've pretty much decided that this isn't just the OG, but the GOAT. So if you're ready for a subtle but mighty shift from the inside out, trust us: this is, no doubt, the superfood formula for you.
~
The OG of Organic Green Superfood.
1. Ancient Healing Wisdom in a Glass.
60+ organic ingredients for your best you.
1/2
"Daily serving since 1992. What does that tell you? I missed it terribly in the one year I lived abroad. It seems to provide a base to my overall energy. I am remarkably active for my age (70's now!) and have nice hair, strong fingernails, and fairly supple skin, without consuming any other supplements." ~ Rachael S.
Shop Now and get 20% off
References: 
(1) https://www.google.com/url?q=https://www.healthline.com/health/liquid-chlorophyll-benefits-risks