This article is written in partnership with Davines. They're dedicated to creating good lives for all—through beauty, ethics and sustainability. We're honored to work with them. ~ ed.
~
"We always called you The Hair."
The five-foot-something teen with sandy, blonde tresses (named Brendan, maybe?) told me I had become a walking eponym for my mane.
My 16-year-old brain had trouble understanding that this was my crowning characteristic, since it had always felt like a bother to me. It was fine—both in texture and my tolerance of it—but it never seemed like a defining feature of mine. Well, it was fine, but never thin.
I had an abundance of the stuff, and I was told by peers that they could spot me from across the patchy football field based on the loftiness of my locks. Cut to 14 years later, at age 30, and you'd think we were talking about an entirely different human.
See, now—I can fit a hair tie made for a Polly Pocket around one of my french braids. Four years ago, when I went to a new salon for a haircut, I was met with a furrowed brow when the stylist asked me if I "had experienced any significant hair loss recently."
I was appalled, and pretty heartbroken. Was it really that bad?
Surely some of my hair's je ne sais quoi had hung around over the years, right?
I felt sobered. I felt stuck. I felt stranded only a few months away from my wedding.
I bought some clip-in extensions, and let them fill in the blank spaces that—well, God knows what—created over the years. Seriously, what the hell happened to my hair?
Since that salon blunder, I've pretty much placed my hair on the back burner (not literally, although the flat ironing days of the early aughts were not so far off). I felt like I got a welcomed break from fussing with it during quarantine when there wasn't much of a reason to really zhuzh it up anymore—but now that we're re-entering the wild world of socializing, my hair has pressure to get back on the curling iron again.
Like anything in life, we can't really repair something before we know what damaged it in the first place, so I started exploring what's really been behind this 14-year-long hair density depletion.
The first bit of slightly good, mostly bad, news that I discovered thanks to Davines—sustainable hair care extraordinaires—is that I'm not alone in this hair thinning journey. About 40% of the country's hair-loss sufferers are women—the same folks who take the brunt of society's pressures to appear like Disney princesses from puberty to when we become grandparents. (1)
Unlike our beauty standards, Davines is dedicated to making their products sustainable, and encouraging people to prioritize their self-care as much as they prioritize caring for the environment they live, work, and love in. With gentle, intuitive, salon quality products driven by meticulous research—they're helping educate the masses (and me) on how to repair their hair from the inside out.
We shouldn't need to just helplessly watch our follicles fade over time, and Davines engineered an Energizing Line of products to help us regain control (and a whole lot of volume).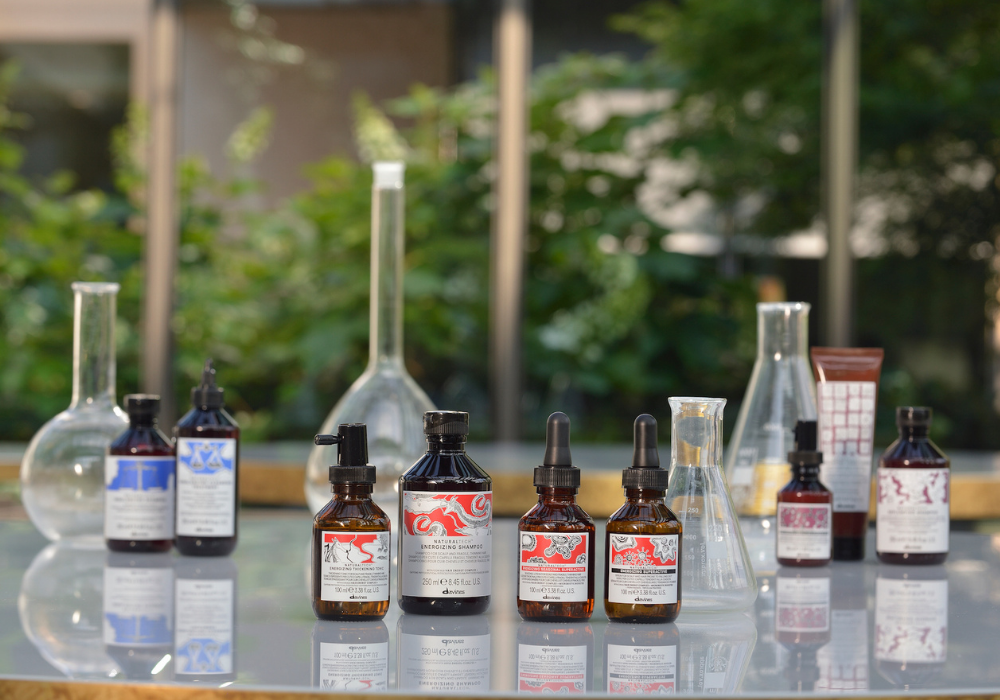 Seriously, it's science—the combination of ingredients in each of the products stimulates circulation on the scalp while reinforcing existing strands; leaving hair stronger and thicker when you use them daily.
They've developed their own line of Hair Thinning Heroes with biology-backed, all-natural ingredients:
>> Their Hair Energy Complex, a proprietary blend of Green Tea extract and Vitamin B3, fights inflammation and pesky free radicals to reestablish a well-balanced scalp.
>> Caffeine Phytoceuticals act like coffee to give your skin and scalp tissue a wake-up call. They stimulate the follicles to encourage hair growth and strength (and I wish they were safe to ingest on a Monday morning.)
>> Their Microbiotic Booster is a V.I.P., exclusive blend of molecules created by Davines' Research Laboratories, and it maintains the integrity of the skin barrier—defending it against hair thinning thieves and boosting your confidence along the way.
Before we can enlist this army of Davines' soothing solutions, we've got the understand the reasons why our hair spends more time plugging up the dryer filter than sitting pretty on our noggins.
Thanks to them, we've got the lowdown on hair thinning culprits and all the ways we can stop them in their sneaky tracks.
>> The Culprit: Your genes. Yup, thanks, mom. The patterns you notice in your parents' hairlines are most likely a roadmap for your own. Thinning along the crown of your scalp is the most common fate for women, and signature bald spots with receding hairlines are ahead for men if they've been a trend in their family lines.
What to use: Davines Energizing Shampoo: It's a gentle, sulfate-free shampoo that cleanses the hair while replenishing it with some vigor and reviving the scalp. With the help of caffeine and Hair Energy Complex, it stimulates new hair growth, and acts as a crutch for any weak hairs to prevent more breakage in the future. Is your hair 911 status? Apply it every other day for one month for an intensive treatment, and then switch to maintenance two times a week for two months for optimal results.
>> The Culprit: Your hormones. Going on or off both control, pregnancy and postpartum, and peri and post menopause can all throw our hormones, and hair, out of whack. The peaks and valleys of your hormones cause hair to thin or even fall out—as if you don't have enough to deal with already.
What to use: Energizing Superactive: This is designed to reduce hair loss caused by hormonal factors, putting a cap on the production of sebum and improving hair density. It also stands up for the little guys (the weaker hairs), and it's 99% natural and 99% biodegradable.
Just use the dropper to apply it all over your scalp after washing with Energizing Shampoo, and don't rinse. You can use it as an intensive treatment every other day for one month or as a maintenance treatment twice a week for two months.
>> The Culprit: Your stress levels. Stress speeds up the production of cortisol (the stress hormone) in your body, triggering your natural fight-or-flight response, and redirecting your body's natural resources elsewhere. This disrupts your body's nutrient absorption, hormone levels, and the overall health of your scalp.
What to use: Energizing Seasonal Superactive: Formulated specifically to support stress-related hair loss, this strengthens hair while improving its density and turning up your hair's volume.
Use it the same way you would use the Energizing Superactive—by dropping it onto your scalp after washing with the Energizing Shampoo, and leaving it in to settle before styling it.
You can also put your hair through an intensive, fullness boot camp by using it every other day for a month, or hit your hair with it as a maintenance treatment twice a week for two months.
>> The Culprit: Your diet and health. Vitamin deficiencies that are ever-prevalent in the dog days of quarantine can be behind your thinning hair. Vitamin D, B12, and protein that support keratin production are the keys to having luscious locks. In the same health-centric vein, Autoimmune diseases like lupus, thyroid conditions like Hashimoto thyroiditis (hypothyroidism), and Grave's disease (hyperthyroidism) are tied to thinning hair and hair loss, which you may notice before you even get a diagnosis.
What to use: Energizing Thickening Tonic: Perfect for lovers of instant gratification, this leave-in tonic increases the diameter of the hair fiber by expanding it by 10% from the very first application. It regenerates the scalp while leaving hair shiny, voluminous, and strong. You can use this one after every wash, or as needed, and it's another one you don't have to rinse out once you massage it into your scalp.
>> The Culprit: Your hair's treatment. I know—there's not much you can do when you're programmed to style your hair to the high heavens to keep up with society's pressures, but I digress. Overusing heat styling tools, over-dyeing your hair, and aggressive brushing all contribute to hair falling out. The (flat) irony, right? Over-processed hair breaks over time, and brushing your hair when it's wet (and at its most fragile) can cause a lot more damage than you bargained for.
What to use: Get that Thickening Tonic and massage it on in, right before you reach for those heated styling tools. It's the pep in your hair routine step that you'll need if you just can't quit that hair dryer. I know, it's just so much faster.
>> The Culprit: The seasons. Winter is coming—well, soon-ish—but fall is right around the corner, which is when your hair is gearing up to start shedding faster than an oak tree the minute the calendar strikes autumn. In the summer months, it's believed that your hair hangs on to serve as protection from the increased sun exposure, so when the seasons shift, so must your hairstyle.
What to use: The Energizing Seasonal Superactive is multifaceted, my friend. Not only does it swoop in to slay seasonal hair loss woes per its name, users have reported 35% less hair loss after using it for 84 days.
*Instrumental tests on 20 subjects, made by independent laboratories after 84 days of using Shampoo + Energizing Seasonal Superactive and 84 days of using Shampoo + Energizing Superactive.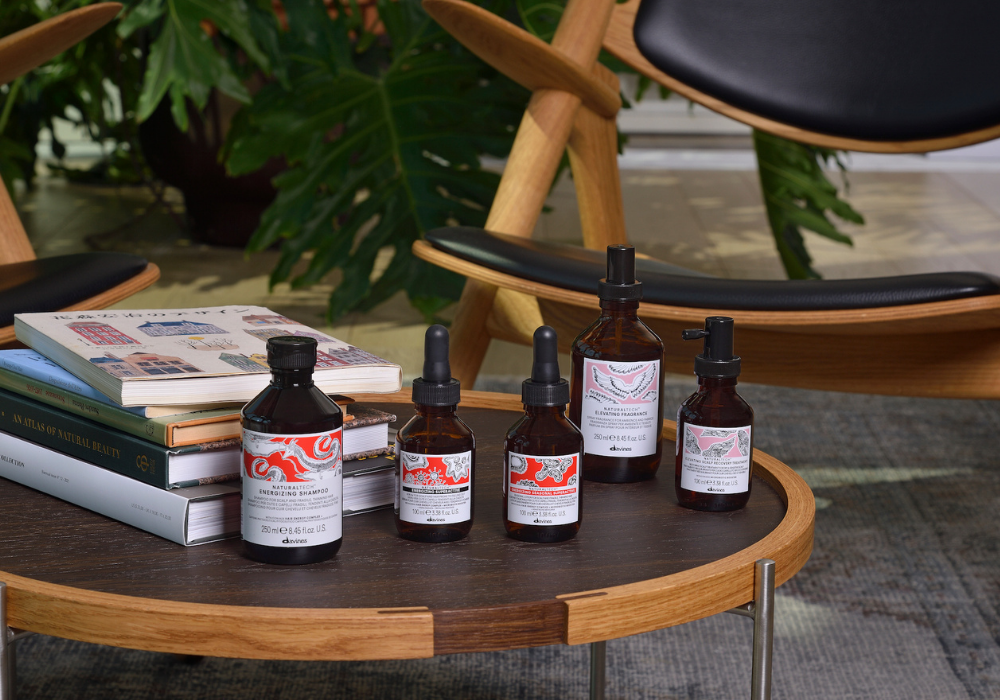 After 56 days of using this sustainably-made suite of hair saviors, users showed a minimum of 24% less hair loss. I can attest to the increasing plumpness in my own hair just 14 days in, and Davines is proof that you don't need to sacrifice eco-consciousness for efficacy, with each product being over 95% biodegradable and hosting natural ingredients.
*Instrumental tests on 20 subjects, made by independent laboratories after 84 days of using Shampoo + Energizing Seasonal Superactive and 84 days of using Shampoo + Energizing Superactive.
If you're like me, and can check off the genes, the hormones, the stress levels, or any of the other culprits—the best plan is to get yourself all the key invigorating players and use them over time. I'm looking forward to seeing my hair journey unfold even more over the next month (and nipping that seasonal hair loss in the bud.)
I might not ever get back to the hair days that earned me my high school nickname, but at least I'm getting closer—one strand at a time.
Don't leave your Hair Stranded—Break the Breakage Cycle with These.
1. Fresh on the Scene, & backed with Years of Science.
Get the whole Hair Care Crew for 20% off
1/4
Thinning isn't everything. There's a whole lineup of revival resources to the rescue and they all have the same mission: to be creators of good life for all—at the intersection of beauty, ethics and sustainability.
Shop Now with code ELEPHANT
~
References:
(1) https://www.americanhairloss.org/