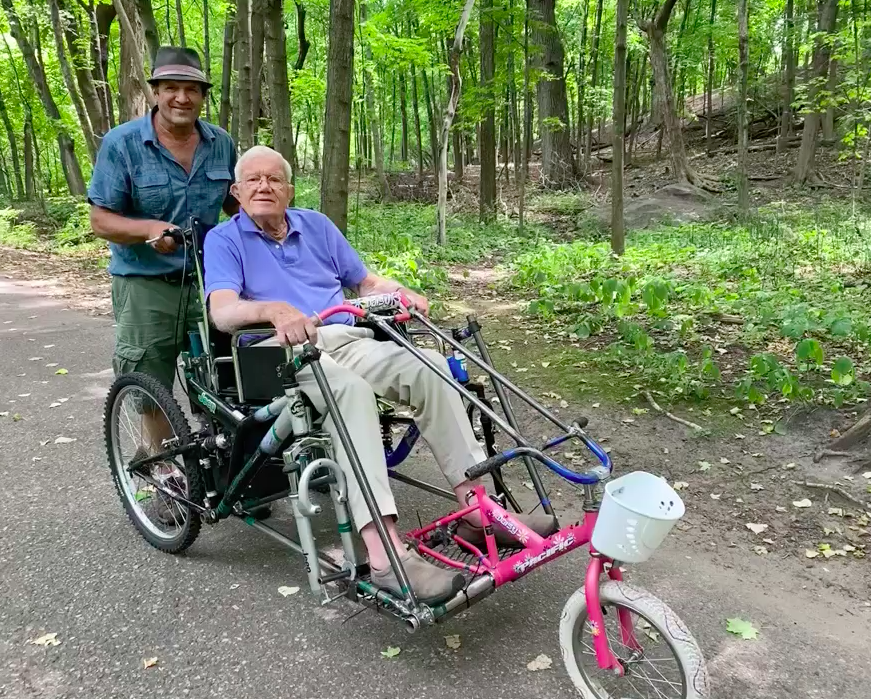 Well, I did it.
It took me a while, but I've begun to return the favor.
I recognize the similarity of the gesture to what poet laureate Billy Collins describes in the stanzas of his brilliant poem "The Lanyard."
At the end of this month, it will be 68 years ago that I was born. And from that very beginning, Dad took me out into nature. In fact, I wouldn't be surprised if I was conceived in the wild.
I grew up in woods, primal woods. I grew up loving giant pines, deep glens, the smell and feel of thick moss. And rock. I can't get enough rock in my life. Cliffs talk to me. Mountains are my friends. I never feel lost in nature, though I often am. My comfort comes from a lifetime of familiarity. And that familiarity started with my dad's introducing me to nature when I was young and continually reintroducing me to nature's unbelievable diversity throughout my youth.
From my dad, I learned to love hiking in deciduous and coniferous forests. With him, I slogged through fetid swamps, scampered up lichen covered rock outcroppings, and stared out over vast grasslands. I developed a sense for finding trails that led to special places. Not places with plaques. Places which inspired an ineffable internal reverence for my surroundings. Nature. Nurturing Nature.
Who would not be blown away by the sight of the uninhabited Great Plains stretching in every direction to the horizons, the snow-capped Rocky Mountains, sunsets in the Sonoran Desert, the endless surf pounding the Pacific coast? But what Dad showed me was how to make nearby nature equally impressive.
Dad was an avid trout fisherman. While I didn't inherit his devotion to the sport, I did develop a deep love for flowing water, especially gurgling, splashing streams bubbling over erratic rocky courses.
Unfortunately, a knee that should have been replaced 10 years ago never was and Dad has had his mobility so curtailed that shuffling to his car and around the grocery store are, at 93, the main sources of his exercise. Last summer, he sold a cabin he designed, built, and loved in the Wisconsin woods.
In response to the loss of the cabin, I took him to Lebanon Hills Park one morning to read the Sunday paper beside a charming little lake. I borrowed a wheelchair from a friend. It was tough going. Every piece of gravel caused the chair to abruptly lurch or bounce. I bent the wheelchair frame in two places. Dad was a good sport about it, but I could tell he wasn't thrilled by the ride. I vowed to do better.
I began to think about what I wanted. I wanted to take Dad out into nature. I wanted it to be a quiet experience for the two of us to share. I didn't want it to be a big deal. I didn't want it to be a motorized experience or one that would require an excessive amount of effort.
I did some research. I didn't find anything like what I wanted. I found four wheel, battery powered $5,000 wheelchairs. I found "adult strollers" for "challenged adults weighing less than 170 pounds." But fully dressed, Dad weighs 200.
I'd seen Dad's reaction to the rough ride caused by the hard tires and short wheel base common to standard wheelchairs. Wheelchair sellers didn't have what I wanted. So I decided to make him what I wanted. Number one, I wanted the ride to be comfortable and safe. I wanted soft inflatable tires and a long wheelbase to make the ride feel smooth and secure. I wanted a comfortable chair that was easy to get in and out of. And I wanted to be able to easily assemble and disassemble the wheelchair so I could transport it in my SUV.
I looked for local bike makers on Facebook; I searched for designers in India on Fiverr. Perhaps I didn't explain myself well, but no one was really interested. Finally I thought, well, I guess I'll just have to make the dang thing myself.
I collected bike parts from the trash at two homeless encampments, one near my Bryn Mawr home and the other by my studio in North East Minneapolis. I also scored four abandoned wheelchairs.
I collected a big pile of bike frames and potentially useful junk in my studio. I supplemented my stock with tubular steel from a local steel yard. Then I had to figure out how to weld it all together. Sometimes a single joint took the better part of a day to cut, weld, and drill. I was working with 1/64-inch tolerance. But I was eyeballing the whole thing.
My first front wheel construction collapsed when I sat in the chair. It was a total disaster. It seemed like a miracle when I finally came up with a solution that worked and was able to assemble, disassemble, and reassemble it.
Then I had to make it safe. And test it. And practice putting it together. A couple of times—first on a level surface, then on rough terrain. So I did all that. It took me more than six weeks. 
Recently, I packed my creation in the back of my car and took it and Dad to Nine Mile Creek, which bubbles over an erratic rocky bed—the residue of the 100-foot high bluffs through which it cuts its path.
I had told him I wanted to take him out for a picnic lunch by a beautiful stream he'd never seen. And I said I'd show him the art vehicle I'd been working on for the last six weeks. I didn't tell him it was a cross-country wheelchair. I didn't know if it would work and I wasn't sure how Dad would react.
The thing looks like such a rattletrap, and Dad is kind of a perfectionist. The night before we went out, I called a friend and asked him how he thought Dad would react. "He's not going to like it!" he said emphatically. I had a knot in my stomach.
I had the whole pile of parts covered with a blanket in the back of my Jeep. Dad was a good sport. He didn't ask me how he was going to see a river when he knew I knew he couldn't walk much further than his garage.
When we arrived at the park, I sat Dad down at a picnic table and brought him the New York Times. "You can read this while I assemble my art vehicle," I shouted (he's almost completely deaf). But he kept looking up, watching what I was doing.
"How am I supposed to read this when you're making something that looks so interesting?" he asked. "What in the world is it anyway?"
I had hidden the wheelchair chair under a blanket. I saved its installation until last.
Then, in a voice a person with normal hearing could have understood 50 yards away, I instructed him to turn around and read his paper until I got the last part installed.
"Okay Dad," I yelled extra loudly. "You can look!"
I felt like a kid with a cowlick and a cow at a county fair waiting for the judge to come by.
"My god, what is it?" he exclaimed.
"It's a wheelchair Dad. I made a special wheelchair for you so I can show you this beautiful river." I was so nervous my voice cracked. I was thinking of all the perfect football passes he'd thrown me and I'd dropped.
What my friend said turned out not to be true. Dad loved my contraption. We glided smoothly down a gently sloped paved path that led to the river. We coasted along effortlessly. I jogged behind applying the brakes lightly.
"My God, I feel like a king," he yelled over his shoulder as we coasted to the bank of the low but still flowing rock-strewn stream bed of Nine Mile. "I feel so free!" At another point he said, "I love the pink kid's bike in front."
The pavement ended but we continued.
A mile and a half further down, after crossing over half a dozen bridges spanning the rock-strewn stream bed, we watched a bald eagle at the pond where the stream flows into the Minnesota river. "This is so beautiful!" Dad exclaimed.
I was glad he couldn't see my eyes.
~