View this post on Instagram

My youngest daughter left this morning on a flight to Boston to start her sophomore year at college. She came into my bedroom to give me a last hug, her eyes brimming with excitement despite the early hour.
Last night, as our family toasted her at dinner, my oldest daughter, who is now a senior in college, reminded her to appreciate every moment because it all goes by so fast. She was speaking from her own earned wisdom.
"Oh, here come the waterworks!" my oldest teased, as the words of her toast—and the maturity both my daughters were displaying—sent me over the edge I'd been venturing close to the whole evening.
My family knows me well, and I don't bother pretending to be anyone other than who I am. I grabbed the tissues and let myself feel and express the poignancy and beauty of this special moment.
Later that night, the emotions hit me square in the belly again when my youngest handed me her single car key—only the key, without her personalized lanyard attached. Just a bland, single key now.
In addition to witnessing these rites of passage in my family, a couple of days ago, I received a rejection from an anthology for which I submitted a piece. I'd almost forgotten about it, actually, until I received an email requesting additional information to be included with our pieces. I let myself celebrate for a moment, even though something in my gut told me differently.
I emailed them back, expressing my excitement. A few hours later, I received a reply, saying that they'd accidentally sent this email out to everyone who had submitted rather than to just those they'd selected. She said she had "egg on her face," but that my piece would not be included.
Like most writers, I get my fair share of rejections, but this one felt unnecessarily harsh and uniquely personal. It was like having auditioned for a play and seeing your name on the cast list the next day, only to learn that it was a clerical error.
Most times, I handle writing rejection by getting started on my next piece. But sometimes, rejection stops my world. Sometimes, the only way to move on is to stop and go deep inside the pain. This was one of those times. I dropped everything else I was working on and let myself sit in the feeling of rejection and hurt.
Also this week, I accepted an invitation to attend my dance studio reunion in September. This studio was my happy place during my tumultuous, growing years. All of us who danced there were invited to upload personal dance photos to the Facebook group that could be used for a slideshow at the reunion. I spent a morning or two digging through my old scrapbooks, studying photos and other memorabilia, and then sharing the memories proudly with my family. Seeing myself as a young girl, and now especially, seeing my grown daughters in my own eyes, was an emotional experience that led me to tears.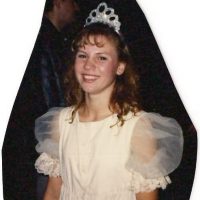 Needless to say, it's been quite a roller-coaster week, emotionally speaking.
It's not just sadness moving through me, either. About my daughter leaving, I also feel enormous pride in who she's become and what she's accomplishing. About the rejection, I also feel disappointment, loss, and anger at their mistake. About the dance reunion, I feel trepidation, anxiety, and longing.
My husband asked me what I want to do today. It's a nice day, and we don't have any plans. He would probably like to make me "feel better." Lots of people have this impulse when someone seems down. But I don't need to "feel better." I need to feel this—all of it.
It's not that I know I will be okay. It's because I'm okay right now. Just like this. Here. Now.
Everything hurts in my body today. I'm exhausted. My muscles are sore from the hard workout I did yesterday trying to move the anger about the anthology rejection out of my body. My eyes and face are red and all I plan to do is binge-watch "White Lotus" on HBO.
I wouldn't change this even if I could.
I choose to feel these things fully. This is my life. These are the things and people that matter to me—my family, my work, my passions. I want to feel the whole emotional color wheel. To me, this is a gift, not a curse.
Being able to send your child off to college without feeling a thing is a talent I don't wish to gain. Brushing off rejections and telling myself they don't matter would mean lying to myself, and I have no interest in living in self-deception, either.
From childhood on, most of us are taught that we have to become unsensitized to the world. We're told that growing a thicker skin is how to keep going in life without ever truly feeling rejection, loss, or pain.
We are told we have to change who we are in this process, and yet somehow, it is the deeply sensitive people who are given labels like "empath" or "highly sensitive person (HSP)," and advice about how to shake it off, and who are told to "let it go."
If you ask me, what's really abnormal is thickening up our skin until we can neither hurt nor laugh until we cry. What's abnormal is developing a stiff upper lip at a young age such that we can never let in criticism or feedback that might benefit us or help us grow. What's abnormal is building "chips on our shoulder" rather than feeling and healing. What's abnormal is "rolling with the punches," and pretending we're fine rather than taking our blows and learning from them.
What's not normal is "manning up," "toughening up," "sucking it up," or any of these cultural expressions that try to tell us that experiencing less of our humanity is what will bring us a fuller life.
If we are living an awake life, we are going to feel things. We are going to hurt, get angry, and feel betrayed. And, if we can do these things fully, then we are promised a full experience of joy, excitement, and enthusiasm as well.
We come into this world as fully sensate, feeling creatures. As young children, we have an enormous capacity to feel emotion. We need only remember how open, wondrous, filled with awe, and yes, emotional, we were when we were children to be reminded that our truest nature—our authentic "skin"—is porous and malleable and quite thin.
As adults, too, we are meant to be in this world with openness and sensitivity. Thin skin is not a defect. It is our default. It's who we are and how we're made.
So much for the nice day out—it just started raining. That's perfect. Thank you, Universe. Now, there is no more temptation to "get out and do something," and all the more invitation to stay with myself and my feeling, emotional body.
~