This article is offered in partnership with Aether—they're dedicated to curtailing global warming as the makers of the world's first positive-impact diamonds, and we're honored to work with them. ~ ed.
~
We promise each other forever.
We have visions of sipping piping cups of coffee on our patios, watching our little rascals take their first steps onto a school bus, tearily waving goodbye to them as they haul the contents of HomeGoods up to their dorm rooms, and rocking to-and-fro on a porch, pinkie-in-pinkie with our partner, while noticing the years that have lovingly collected in wrinkles on our hands.
Not to burst anyone's bubble—but with the shape the world is in, can we even rely on "forever" existing?
Look around—where are we, now? With fires ravaging British Columbia, floods drowning Louisiana, a global pandemic—the long haul is a bit harder to picture.
The physical climate isn't all that's been changing, either. The whole scope of dynamics in relationships, in the way we make our porch-rocking plans, whom we proudly exclaim we love, and how we commemorate it all have undergone their own transformations.
The pandemic has punctuated the need to sort through our values, and get them up to speed with where we're authentically at as a society because, well, our lives depend on it.
Scientists predict that the global temperature will increase by 1.5 degrees Celsius by the year 2030, and it's not just something that will happen, it IS happening. (1)
"It is yet another wakeup call that the world needs to fast-track commitments to slash greenhouse gas emissions and achieve carbon neutrality," ~ WMO Secretary-General Petteri Taalas
Now, this isn't an alarmist, doomsday proclamation, although science may point to that in so many words. It's a reminder that every seemingly small decision we make now is a big one, because it either feeds the climate crisis beast, or aids in stabilizing it. No pressure, right?
Thankfully, sometimes in life, big answers can arrive in small packages, and pressure just so happens to make diamonds.
At least that's what Ryan Shearman, Dan Wojno, and ​​Robert Hagemann, founders of Aether—the world's first positive-impact diamonds made from air—thought when they discovered a way to make luxurious jewelry about the (truly) bigger picture.
These Diamonds are a Globe's Best Friend.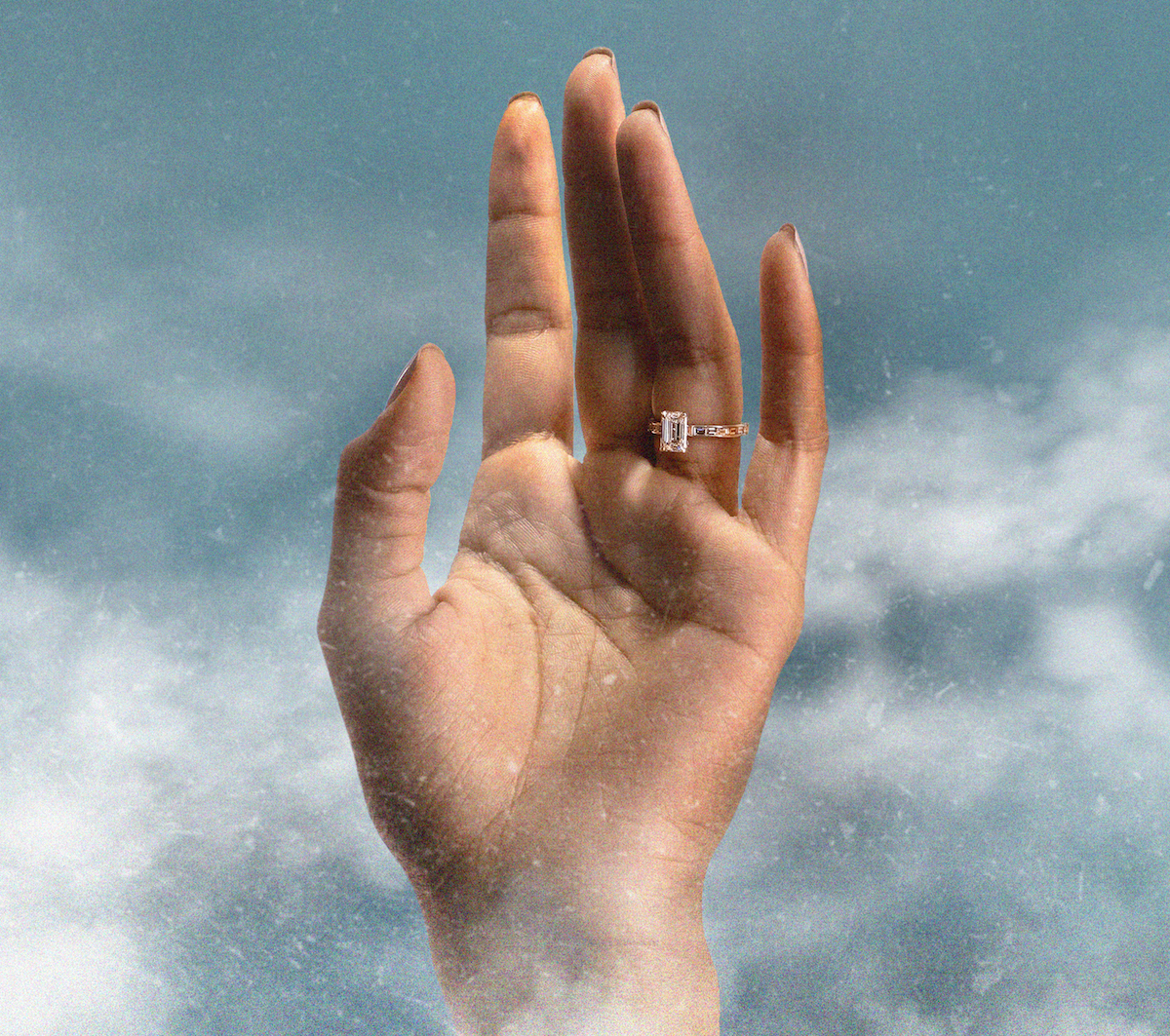 Having experienced working with the likes of design icons like David Yurman, Shearman and Wojno were no strangers to the beauty and intricacy of the fashion design industry, but they became horrifyingly acquainted with the social and environmental repercussions of diamond mining—the typically unregulated process of uprooting stones from the earth.
"It always stuck out in my mind as an industry that should be disrupted in a big way," Shearman said.
For starters, they discovered all the disastrous reasons why the trade off for a Marilyn Monroe moment were detrimental on a global scale. For every one carat that's mined from the ground:
>> Up to 250 tons of earth are removed
>> 127 gallons of fresh water are used
>> Billions of gallons of water are contaminated
>> 143 pounds of air pollution are emitted
>> Countless gallons of fossil fuels are guzzled
Environmental atrocities aside, 60% of mined diamonds funnel revenues into corrupt government regimes, and all mined diamonds sold in the US are linked to humanitarian issues such as: child labor, unhealthy working conditions, displacement of indigenous communities, and the destruction of entire ecosystems.
That's why other lab-grown diamond brands have been on the rise, claiming to make "sustainable diamonds," but they've also been perpetrators of greenwashing.
While their intentions may have been good, 100% of other lab-grown diamond brands rely on fossil fuels as their source of carbon via fracking or drilling oil. Oh, for frack's sake, right?! So, what's Aether doing differently that makes them so, well, ethereal?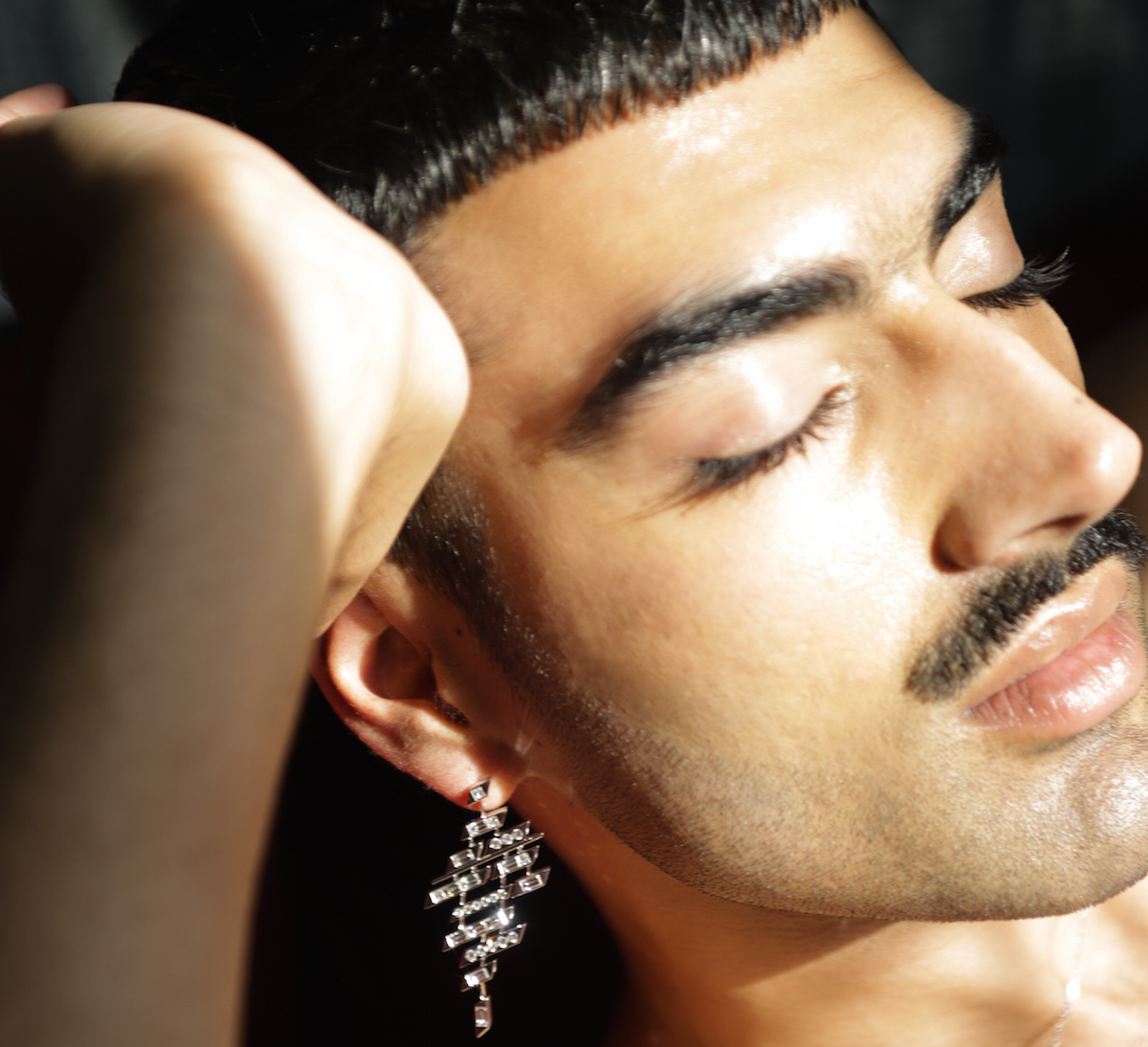 They're the only brand that's creating something beautiful while reversing carbon emissions, or as Vogue called it: "climate positive fashion." Their process has been vetted by independent third parties from start to finish to certify that they actually remove pollution from the atmosphere for every single carat they conceive. How does that work, exactly?
So, here's where the science gets sparkly. Using carbon sourced from air pollution as a raw material that's extracted with direct capture technology, CO2 is moved through a unique filter that converts it into methane. The methane is what's eventually alchemized into a diamond, and placed in a reactor, where atom by atom, it's transformed into stone.
After three to four weeks when the entire process is complete, you have a positive-impact diamond. And for every carat of diamond that Aether creates, they commit to removing 20 tons of pollution from the atmosphere. For reference? One person emits 16 tons of carbon per year into the atmosphere, so with just one carat, Aether has offset more than an entire human's annual environmental impact. Oh, and a whole lot of other great news:
>> Tons of earth and billions of gallons of water are preserved
>> Ethical funding conflicts are circumvented, as Aether is 100% conflict-free
>> Animal habitats are untouched—making Aether the only certified vegan diamond brand in the world
The earth, and all of its residents, have been through enough, and Aether takes every step imaginable to rise above any potential harm that an otherwise destructive industry has caused.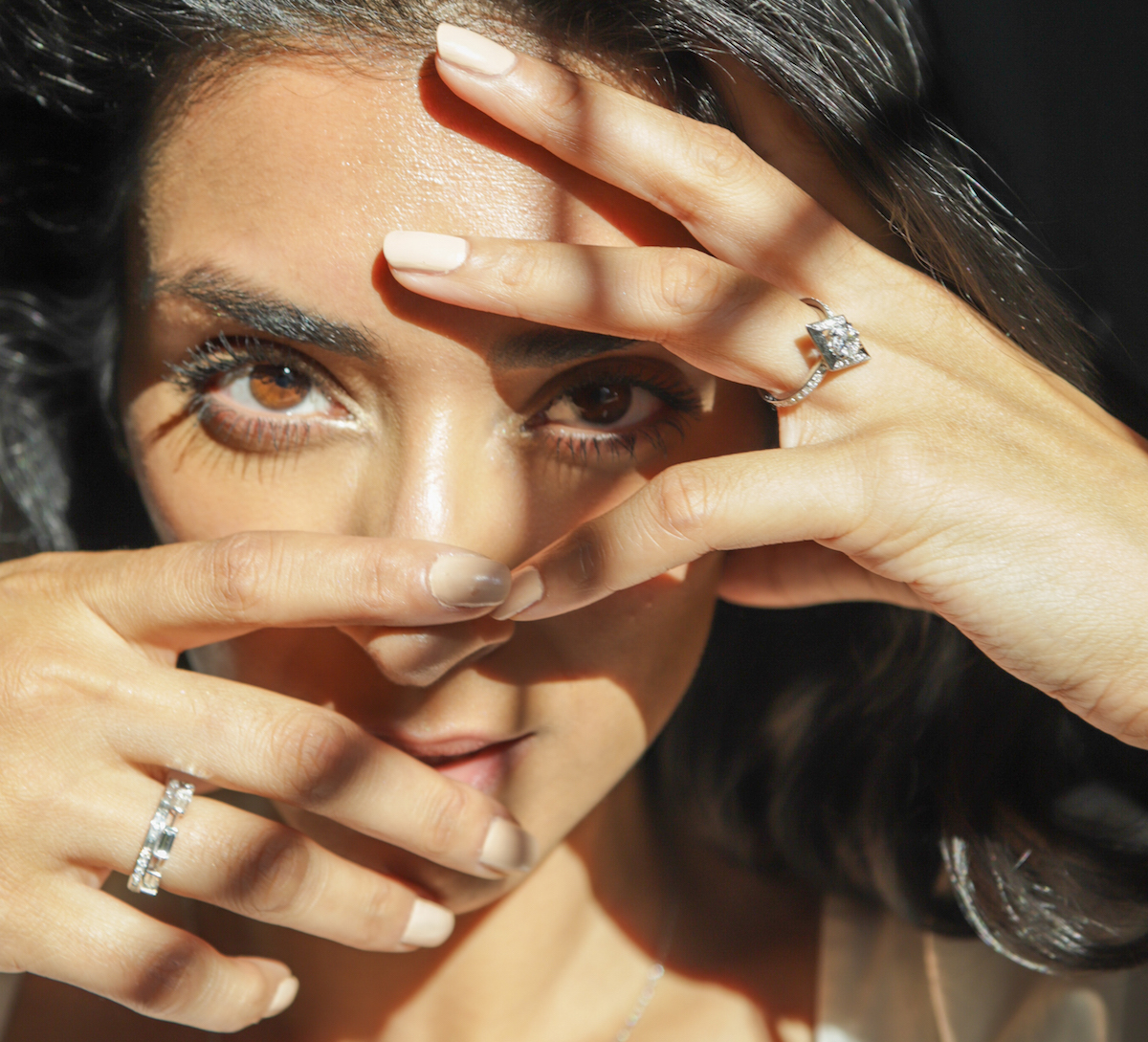 Aether, Ether, & Ethics.
Buying expensive jewelry rarely happens without an immense amount of consideration, (just ask Elephant's founder, the recently engaged and married Waylon Lewis) which is why making a mindful purchase free of ethical guilt can not only reassure you that you're on the right path for the planet, but for your partner.
Aether isn't just known for being the first planet-preserving fashion of its kind, but for its airy designs, like their Ascent, Open Skies, and Horizon jewelry lines. They're a nod to the way that they're made, but they hold a deeper meaning. Aether, by ancient definition, came to be known as the wide space of Heaven. Ether, its phonetic cousin, refers to the air beyond the clouds.
Their names, their designs, and their origins all create space—space for hope to restore the planet despite its grim state, space to plan a life with your loved one, and space to preserve traditions in a nontraditional way. They represent the past and the future, and all that's in between.
Whether you believe in the union of marriage or not, or have been in love for twenty years and want to honor that with a stunning piece, or want to introduce a new heirloom into your family that came from the right kind of pressure—you can find an ethereal option that speaks to you.
If you've felt conflicted about wearing a diamond that was passed down in your family, or a diamond of any kind, there's finally a way to get the aesthetics without sacrificing your ethics.
No matter what you choose, one thing holds true: there's never been a more urgent time to make a timeless commitment: that you'll have a role in making the future a guarantee, instead of a luxury.
A Vision of the Future.
1. Redefine Modern Love.
Propose to your Own Damn Self.
1/4
Aether is all about redefining the status quo. Diamonds don't need to be reserved for a heterosexual engagement—everyone deserves to shine. Want to say 'I love you'? Want to commemorate an anniversary? Want to treat yourself? Make a commitment your way, and one that makes a positive impact on the planet.
Shop Now
~
References:
(1) NPR