There are so many things no one tells you about having a psychotic break.
No one tells you how many friends you lose, how embarrassed you feel afterward, or how difficult it will be to get your life back together again.
Without the right support, it's nearly impossible to get back to any sense of "normalcy."
Then there's the question of what is the right support? For me, it's having a roof over my head and food to eat—not to mention having my bills paid.
I spent a month in the psychiatric ward and another month in recovery at my dad's house.
I was completely delusional and had no idea what was happening. I thought life was a movie and I was the main character, but not in a good way. I thought I was going to meet Steven Spielberg or Harry Styles at one point, as I tried to remember my birthday after it had already passed.
The isolation unit was terrifying, to say the least, but the shared unit was even more confusing to me. I couldn't really tell night from day, and the only thing that got me through it was the intense amount of drugs they put me on.
I made the most of the time I had by making friends with whom I thought was E.G. Daily. She wore sparkly jewelry and a pair of pink and red pajamas with hearts all over. I was jealous that she got to sleep in her own pair, whereas I had to stick to the hospital's oversized brown pants and white tee shirt, making me look and feel more like a prisoner.
I also made friends with a man named Jorge. Well, I tried to at least. He only cared about when he was going to be dispatched and for a good reason. At the time, I didn't understand what that meant and how it trapped me further inside of the system.
I did have a lot of fun dancing for "the pastor" though. At this point, I'm not sure if he was an actual pastor or just a nurse who called himself the pastor who would tell me to go to bed at night because I had no concept of time.
Sometimes they would let me dance around at night by myself, and those were usually my favorite nights because it felt more like a dress rehearsal. I thought I was going to get married to another nurse who was around my age. I'm sure he most definitely did not reciprocate any of my overly emotional feelings.
That was one of my problems with being the main character. As with most movies, I needed to find a romantic interest but sadly my options were limited.
It wasn't until my last day when I met a guy more my pace, but I never got his name. He was dressed in the same hospital garbage I was dressed in and had deep, pink scars on his arms. He told me that all he wanted was for a song to be played at the place where he picked up the trash, which was one of the tasks I had given myself every day.
I obviously fell in love that instant. I asked him to play table tennis and then a game of Uno where neither of us could tell who was winning or losing.
After that, I was ripped away from him. Okay, maybe not ripped away, but I was dispatched from the hospital and returned to my family.
My movie was screeching to a halt as my brain tried to understand why I was going to my sister's house with a bag full of 11 different medications.
At this point, I knew it was because I had been in the loony bin, but I still couldn't express myself or comprehend in the way I wanted to. It felt like being on one of those anti-gravity rides where you stick yourself to the wall and can't move, except I was the only one stuck and everyone else in my life was moving super fast.
After my weekend at my sister's, I was transported to my dad's house. From there I became a zombie: not wanting to leave the couch because I still didn't understand what was going on. I thought I was a child again going between divorced family members. I mean, I basically was but as a 26-year-old.
I spent the next month looking forward to mealtimes due to the fact that I didn't have a phone because my psychotic episode involved texting a lot of different people weird messages. When I finally came to my real self, I had to ask my sister to delete the messages because of my embarrassment.
Embarrassment was the one emotion I lacked during my break, leaving me heartbroken when I realized how silly and chaotic I had been.
I wasn't looking for love, I was just manic as I've now come to terms with being diagnosed as bipolar.
For me, having a diagnosis feels really good in the sense that I know it's manageable and my symptoms completely vanished after my outpatient psychiatrist narrowed down my medications.
I also don't feel any shame about my diagnosis, but I do feel sad about not being able to drink with friends anymore. One of my favorite things to do was go to breweries and try different craft beers, but now I have to stay sober so as not to cause another mental break. A price I can manage because I'd rather be sober than have to go to the hospital again.
I'd also rather not worry or scare my family again because I think they suffered the same amount I did out of pure fear that I'd never be able to take care of myself again.
Although I miss the old me, my psychotic break has given me a chance to become a new me.
One who takes better care by sleeping and eating regularly. One who showers and brushes their teeth consistently. One who always takes their medicine when they're supposed to and listens to the recommendations from my doctors.
Not that the old me was buck wild, but I did like to go do whatever it is other 20-somethings like to do. This usually means that alcohol or weed is involved.
I do think everything happens for a reason though, and I've been taught how valuable my life is not only to myself but to the friends and family who are still supporting me. I've lost some friends, but I've also gained some who check in on me more regularly. For that, I'm forever grateful. It's the little things that add up and put meaning into our lives.
The last aspect to have changed was that I was a writer who never wrote before my mental breakdown. I've decided to change that by publishing my first piece with Wear Your Voice Magazine. A feature that I'm proud of despite it being extremely personal about the abuse I went through within the system.
Now I have time to focus on writing about the brighter side of things, like having my father back in my life. My step-mom and step-brother honestly brighten my days just by being around the house.
I also get to see my sister every weekend (after not seeing her for a couple of years), and I see my mom when she's not busy working or gardening.
Life is pretty good to me, and I'm really hoping I can keep it that way because with my support team by my side, I know I can do anything I set my mind to.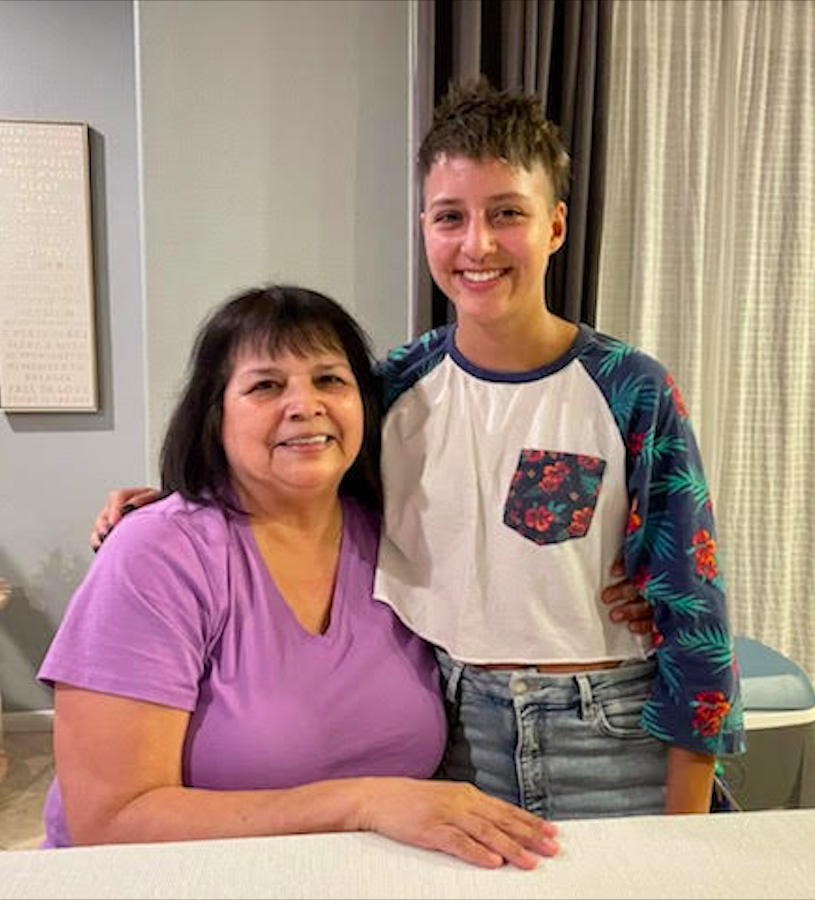 ~