First things first, squash is actually a fruit.
Having to bribe a small child to eat something does not make it a vegetable. From a purely botanical perspective, if something starts out as a flower and has seeds inside, it's a fruit.
And surprise, you can eat the squash blossoms. When I was a kid, I always wondered why we would eat the squash blossoms instead of waiting for the actual squash. The preparation involved dipping them in batter and frying, typical southern United States cuisine. I later learned that some of the blossoms were male and wouldn't have fruit anyway, so it didn't affect the harvest at all. We still had plenty of shredded zucchini in the freezer to keep the zucchini bread coming all winter. And those squash blossoms were tasty.
Now that the weather where I live has turned cooler and I can use my oven again, I feel like baking. Fall weather is harvest time for my area, and there are so many foods to choose from. The varieties of squash in the farmers' market beckon me to try them all—and I have been known to buy a squash just because it looks yummy. I can always find a recipe when I get home or use my fallback technique of peeling and seeding before I cook it under the broiler.
If your oven needs some action, here are some recipes to try.

 
1. Curry & Cinnamon Roasted Acorn Squash (Vegan Recipe). 
Curry, oh, how I love curry. The smell of it through the house is like magic and slow-roasting acorn squash does the trick. I've bloomed spices in the skillet in other recipes and my advice is not to skip this step. I promise you, it's worth it.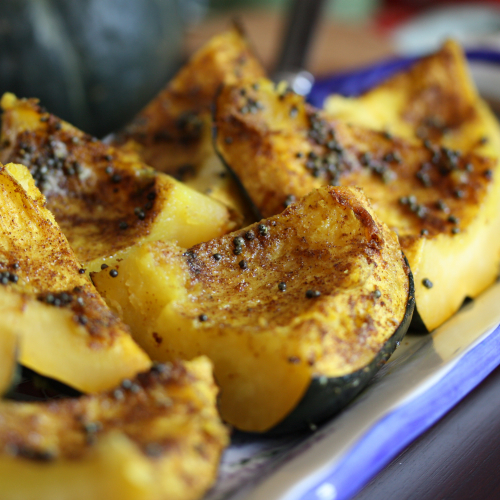 2. Kabocha Squash Stuffed with Wild Rice & Chestnuts (Vegan Recipe).
The idea of having half a stuffed squash plated as a main dish seems so elegant. If you're looking for an alternative for a Thanksgiving turkey, the author suggests giving this a go. Although the recipe calls for Kabocha squash, other squash like acorn or butternut can be substituted, keeping in mind that half of the squash is one serving. Size your alternates accordingly.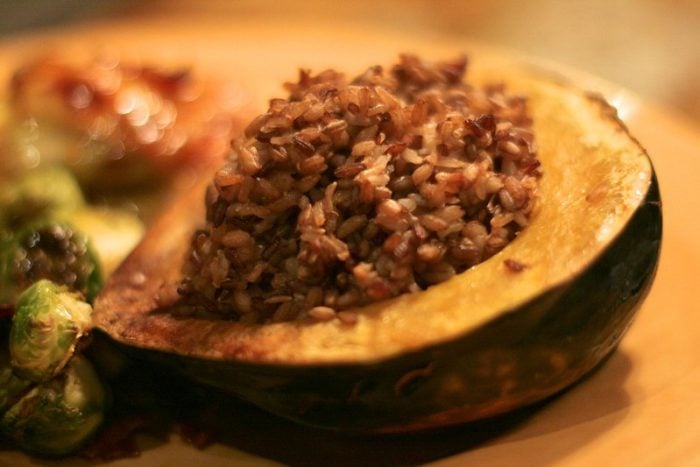 3. "Fooled You!" Vegan Mac N Cheese (Vegan Recipe).
I love cheese. I love mac and cheese. So of course, I had to try this vegan version—for science. The flavor of the butternut squash is super low-key and also adds the viscosity necessary to pull off that cheesy texture. The author suggests adding in whatever veggies you have to use up, and I am definitely going to try the mushrooms next time I make it.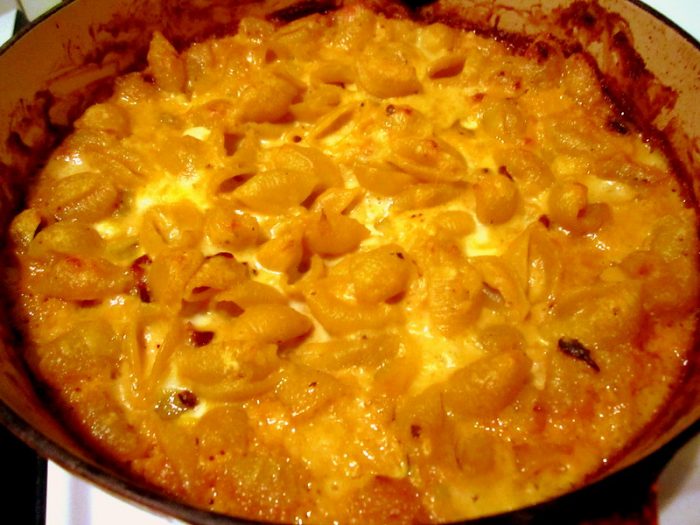 So if you're like me and you're just itching to have some warm, comforting food to help you ease into the new harvest season, squash might do the trick. Different squash varieties have different nutrients, but most squash is high in Vitamin C, beta-carotene, and other antioxidants. Some are also high in magnesium and potassium. The fiber and nutrients in squash make this seasonal fruit an excellent choice for a harvest menu.
~