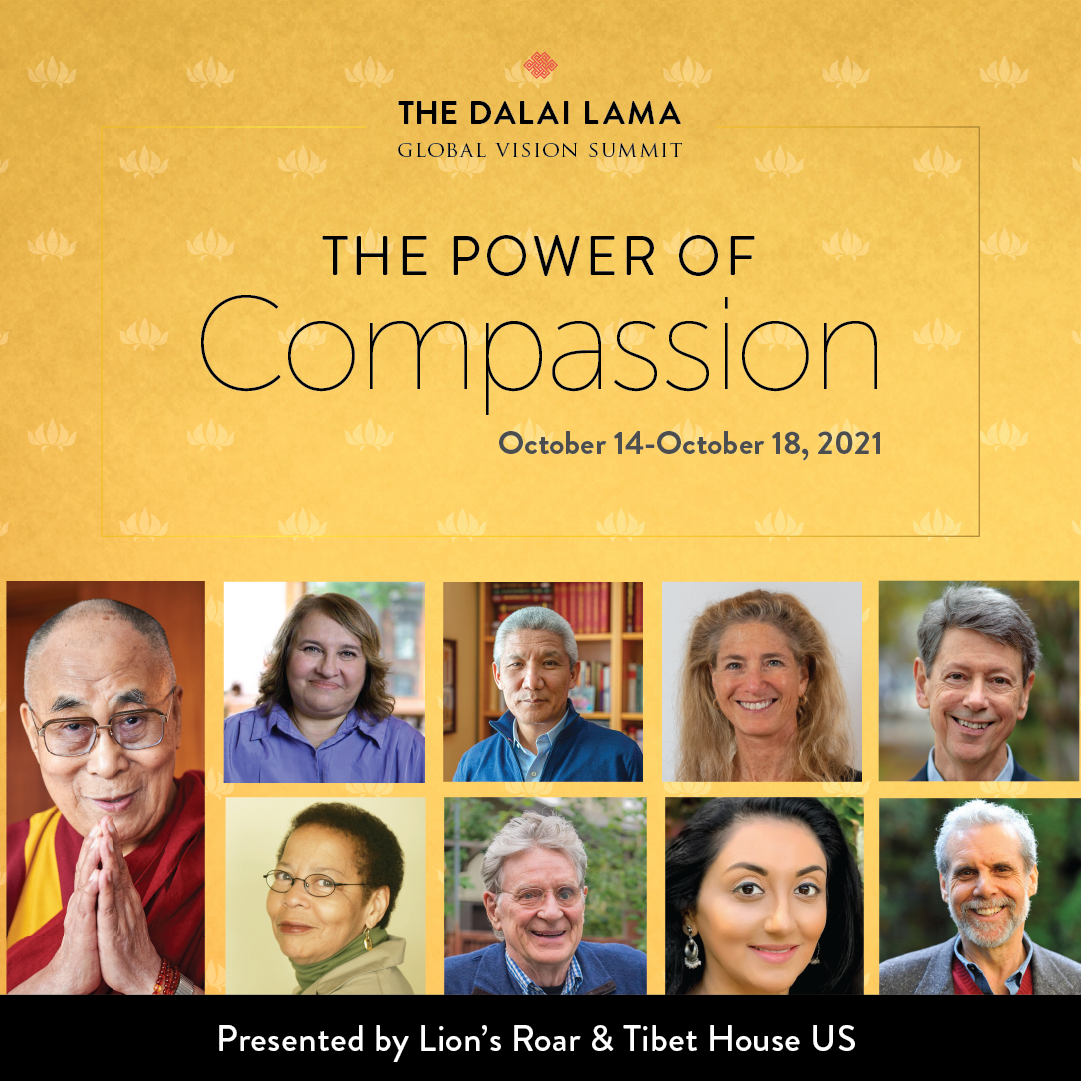 "Ultimately, humanity is one, and this small planet is our only home. If we are to protect this home of ours, each of us needs to experience a vivid sense of universal compassion." ~ His Holiness the 14th Dalai Lama
~
On October 14, join a panel of Buddhist teachers, scholars, scientists, interfaith leaders, and activists who will help guide us into a more compassionate life—free.
Lion's Roar and Tibet House US have, together, brought us a free, online, worldwide event that might just revolutionize our daily lives. From there, we're better equipped to be of benefit to those around us—and to the world.
It all comes down to loving-kindness, to compassion. The Dalai Lama believes that at the heart of each person, we're basically good. Now, more than ever, our world needs each of us to grow and honor those innate qualities.
Featuring world-renowned meditation teachers, scholars, scientists, best-selling authors, artists, and changemakers, you'll get free access to over 30 insightful talks and guided practices that will help you cultivate compassion as a guiding force in your life and how you engage with the world.
What to expect:
>> Learn how to become more compassionate, loving, and gentle toward yourself.
>> Look beneath fear, anger, and alienation to uncover our interconnectedness and a deeper love for the world we share.
>> Find the courage and conviction to fearlessly act with compassion in all areas of your life.
Find out more about the all-star panel and sign up for free to explore teachings on compassion in this momentous online event endorsed by the Dalai Lama himself.
"If you want others to be happy, practice compassion.
If you want to be happy, practice compassion."
~ His Holiness the Fourteenth Dalai Lama
Learn more about the all-star panelists (some of whom have been part of the Elephant community) below:
And visit Mark Hyman and Tara Brach on Elephant Journal.