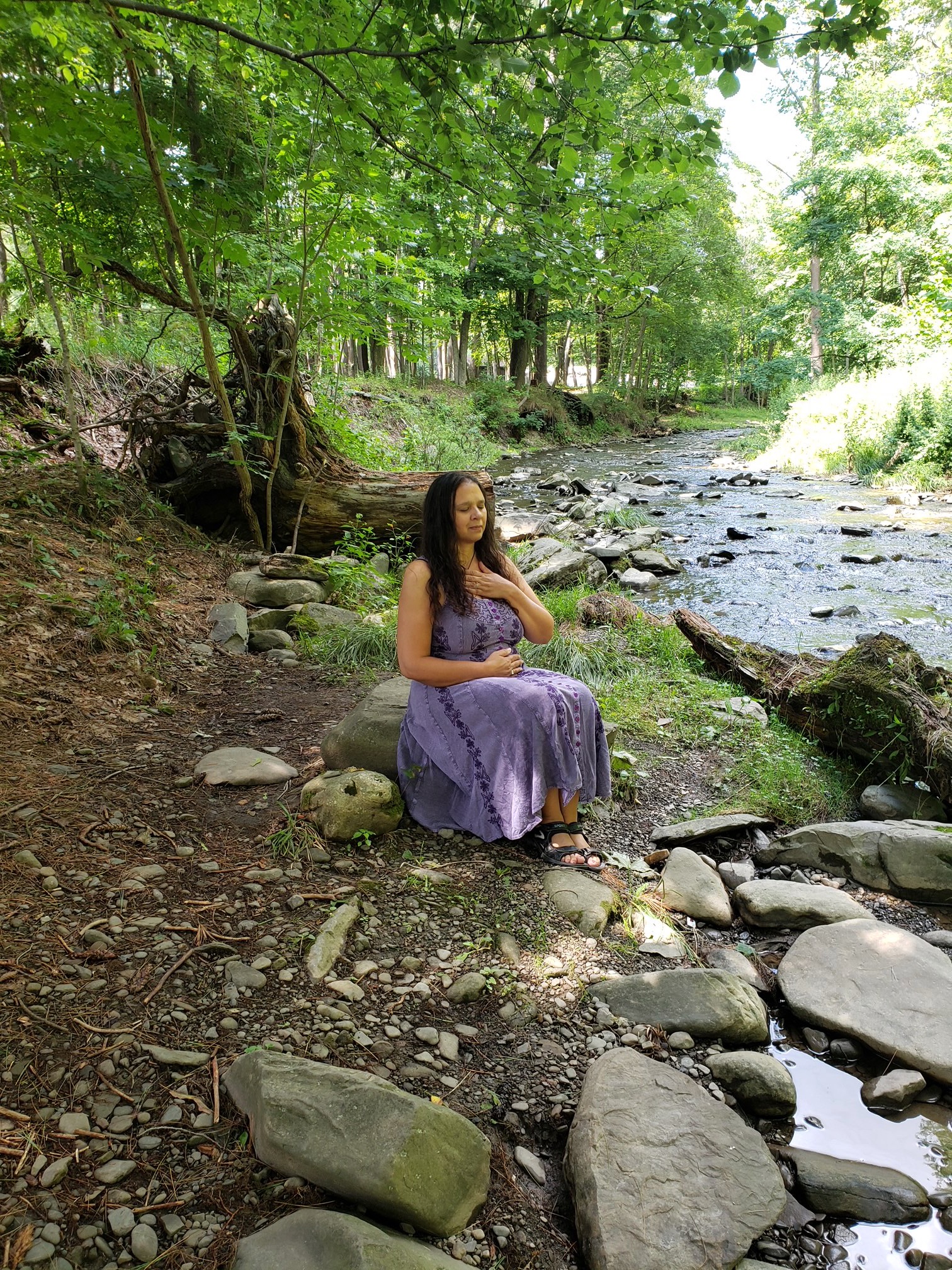 Meditating daily has been an intention of mine for the last 15 years—since my healing journey began.
Every year, I had even more tools, and would tell myself it was so necessary. I knew how good I felt after meditating. But, like many, knowing something helps us does not make it a given that we do it as much as we could.
I have learned many types of meditation over the years and have even adopted a few habits for weeks or months at a time. But eventually, something would come up to either make me skip a day (or week, or more), or I would bore of the method I was using (or tell myself I was bored), and use that as an excuse to stop.
What finally got me to meditate every day was losing my mom.
She and I spoke first thing almost every single morning for 50 years. She was my best friend and always had me begin my day with a smile and laugh. With her gone, I honestly felt lost on so many levels. The loss of that morning routine was visceral.
My mom passed on May 9, 2020. By January 1, 2021, I had been grieving for months and thinking of my mother so intensely every single morning. I wish I could say it brought me smiles remembering, but it brought me grief and sorrow. I took a few months to learn a sutra-based meditation practice, and by the end of 2020, committed to myself that at the start of the new year, I would once again try meditating daily.
It has been an eye-opening journey to have this commitment in place for over a year now (still going in 2022). I really had my doubts I could do it, but also had a new commitment, as I realized how I showed up for myself every morning was important—especially now that my mom, my biggest supporter and cheerleader, was missing. I learned a transcendental meditation (TM) mantra and a sutra practice that follows.
Each morning I began with that and would meditate from 20 minutes (rarely) to one hour (usually) and sometimes as much as one and a half to two hours. After the sutras, I would go into shamanic practices (I was training all last year), intention setting, automatic writing, qigong, tai chi, or some other kind of spiritual practice.
Here are a few of the things I learned from meditating every single day of 2021:
 1. The mind is busy.
The first part of my meditation practice includes a TM mantra. So it is amazing the kinda sh*t that comes up in my mind the first 20 minutes as I do this…even 365 days later! Items I forgot to add to the grocery list, something I or someone else did or said, worry or concern about a loved one, work lists, and so much more. Even after a year, I tell you, that first 20 minutes is still my mind trying to direct a narrative and call me back to distraction. I have gotten better at bringing myself back quicker, but more importantly, not judging the busyness.
Us humans on average have over 60,000 thoughts a day. Noticing is key to beginning to understand yourself and what your mind likes to focus on.
2. The mind likes consistency.
As I began to get into a pattern of daily meditation, I noticed my mind really yearned for it every morning. I went through different patterns of timing. Sometimes I got my coffee or tea first, and there were times I just went into my home office (or on my back deck if it was nice enough out), and began. But every day, even when away from home, it was like I knew at some level it was a nonnegotiable and I would feel better afterward, even if I felt that little bit of hesitation as it was not my "normal spot."

It might take a while to create a habit and please know self-sabotage works itself in there as well. When I was away I had moments, especially when my sweetheart and I stayed in a studio space, of thinking, "I can't do it." But in that case, I spent time in the spacious bathroom meditating. Where there's a will there's a way.
I watched a TED talk where the speaker said it takes five minutes to convince ourselves to do something. If you hear that little voice saying, "it's okay, you don't neeeeeed to do this—why not skip today?" when you know it is better for you, try giving yourself five minutes to picture how much better you will feel if you do in fact take that wanted action. Don't beat yourself up if you choose differently, but notice the difference in how you feel, and that might be fuel to stick with it the next time.
3. Knowing myself and adapting.
I know I don't like doing the same thing every day. I know I will tell myself I'm bored. Other than showering and eating, there aren't many ways my days look exactly the same. So when I adopted this daily meditation, I had to do it in a way that honored that—like allowing wiggle room for if I had my coffee or tea before or after. It had me giving myself the option of meditating inside or out depending on the weather. That knowledge also had me promising myself after the TM mantra and sutras were said that whatever I did next was up to me and how I felt in the moment. It gave me the wiggle room to embrace it, knowing I had the ability to alter it to fit my daily needs, wants, or desires that day.
When coming up with a sustainable habit that is good for you, notice how you have achieved success or longevity before, and incorporate that into your plan for a better chance of sticking to it!
4. Letting go of the mind allows the other senses to increase their sensitivity.
When we actively disengage the mind, our other senses shine. I have had huge energy movements throughout my body, sensed things, and received a deep, inner peace while meditating, along with a slowing of heartbeat and breath. The peace, calmness, and connection last afterward, which makes it a perfect time to do either some more energy and physical work like qigong, tai chi, or some spiritual work. With the mind offline for a bit, guidance and our higher self get to step to the forefront. I write much quicker and in a way that feels like it is not from me and my thinking mind if I do so after I meditate.
There have been times during meditation when I noticed sounds inside my home or outside I know I have never noticed before. While meditating outside, I had more animals approach when I was in that state (birds, chipmunks, and squirrels). As humans, we love to think and overthink, but our brain needs a rest just like the rest of our body does. When we give our active brain a chance to retreat for some time, it gives permission to our other senses to step in.
I felt shifts in all of the other senses at some point during a meditation practice—a taste from a memory would come to mind, a vision of colors, or something I couldn't quite make out would appear. I would feel energy and sensations much stronger in my body. I heard a lot of sounds I know I never noticed, and I sometimes smelled scents that brought about memories from my past.
Even sitting with your eyes closed for a few moments and just asking yourself, "what do I sense?" and feeling into that, is a good way to give your mind a break and sink into a more present and aware way of being.
There were many other lessons learned during this year. Meditation allowed me to know myself at a much deeper level. Learning and watching how my mind yearned to go to the same familiar (even though uncomfortable spaces), understanding I could train my mind, but working with my own traits to do so, and being kind to myself in the process was key.
Whatever it is you want to start a daily habit with, please show some love and kindness to yourself. Berating yourself for missing a day will not empower you to keep going. Know you are a human at a time where it is probably the hardest to be a human on this planet. You are doing the best you can. Show up as your best friend every day and ask yourself what habits you can start to intend to adapt, to make your life easier and more in flow.
Even if you are in a bad state, as I was in deep grief, it is possible to take some baby steps toward that goal. Your soul will support you as you show up for yourself and you will receive more guidance, tools, and gratitude along the way for any step you do take.