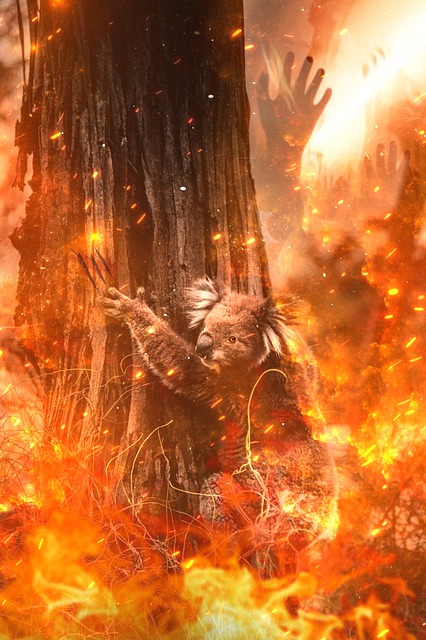 "The greatest tragedy is that we saw it coming." ~ "Burning," the Documentary.
I know Amazon is the devil, but have you seen their documentary "Burning," about the 2019/2020 bushfires in Australia?
I heard about it on the radio one day, as I was washing some leeks I'd just dug up from the garden. I was intrigued to watch it, as a West Coast Canadian, having lived a few months in Australia and fallen in love with the land.
I watched this doco with my hand over my mouth, tears of disbelief streaming down my face, poignantly conscious of how vulnerable and fragile this world is…that climate change is now climate crisis, and yet…so many of us continue to pretend it isn't so.
At times, this film is horrifyingly difficult to watch. That's not an exaggeration in any way. This post's opening quote points a sobering finger at our failure to truly understand what is happening on the earth's surface. However, the film also showcases the wisdom and courage of activists young and old, which makes some aspects of this doco equally beautiful…I know that sounds strange.
We, the older generation, which I am part of, have left this debilitating crisis for our young people to solve. How can we justify this to ourselves, the planet, or them?
The 2019 bushfire season in Australia (known as the Black Summer), burnt 59 million acres, and killed or endangered an approximate three billion terrestrial vertebrates (mammals, birds, and reptiles). That's billion—a number difficult to conceptualize.
This year on Vancouver Island where I live, we experienced an unbearable heat dome. Professor Christopher Harley, from the University of British Columbia, estimates that over a billion sea creatures died from the event—mussels basically cooked in their shells as temperatures rose to record highs. We are a temperate climate, but here, as everywhere, the weather is now unpredictable. Record flooding, fires, and wind have wreaked havoc in our beautiful province. We have our own yearly fire season, which stretches east through mainland BC and coincides with the fires in Washington, Oregon, and California.
Today I was reading about the Denver fires—an unexpected winter disaster. A week ago I was speaking with a client about the winter tornadoes tearing through six states. Super storms are the new normal. I read somewhere that if nothing changes, our oceans will be empty by 2050. My granddaughter will be 30 then. She lives on the Pacific West Coast, and at 20 months old has been to the ocean most days of her life. Her mother helps with ocean cleanup as do many in her community which gives me hope. My heart breaks for such a possible scenario of an empty ocean, bordering the traditional unceded lands of the Tla-o-qui-aht First Nations.
I think we all need to watch this well-documented film…yes, I did get the Amazon Prime subscription to see it. You can cancel it right after.
Dear fellow Earthlings, let us not leave this to our children and grandchildren to fix any more than we already have. If you do see it, please share your impressions with me. Together, we can make change that lasts for generations.
~