This article is written in partnership with Je Joue—they're dedicated to sexual pleasure and empowerment. We're honored to work with them. ~ ed.
~
Friends; we've got spring fever! We're ready to make like rabbits and…wait, are we?
The weather and the light are just a little warmer, and between spring vacations, and weddings, we're probably feeling rejuvenated and ready to bear some skin. We just feel so…alive!
That energy surge is a scientific phenomenon that results from longer days and more exposure to sunlight which, long story short, triggers a change in our hormones.
Then why aren't I able to, eh, "get it up," doc? 
If you're anything like me, you had this idea that spring fever referred to a magical time of year when our sex lives heat up along with the weather. Nope.
Despite the fact that we're feeling better in our bodies, and beginning to become more physically awake, the hormones affected by "spring fever" have little to do with sexy time and more to do with our hibernation hormone—melatonin.
So, we may have more energy, but it's not necessarily sexual energy.
The truth is, as The Bloodhound Gang says, "you and me, baby, ain't nothin' but mammals." We've still got some animal instinct in us, and most wild things mate in the fall just before the winter months roll around and slow our systems down.
That makes spring, from a procreation perspective, a time for birthing, not banging.
But when it comes to this fertile time of year (fun fact: it's a scientifically unexplained reality that we women are more likely to conceive unintentionally during the spring months, despite using contraceptives properly), while we may not be super horny, these months are a good time for us to reawaken to the joy of being in our feeling, sensitive, skin, and to begin rediscovering our sexuality—alone or partnered. In that sense, this season is, indeed, a time for us to flower sexually.
That's something our friends at the sex-positive, luxury adult toy company, Je Joue, support whole-heartedly—and love to talk about. And guess what? We're all ears!
So, let's make like a rabbit and hop right to it:
4 Ways to Enjoy a Sexual Spring…Awakening (despite the scientific lull)
For a frisky frolic into spring…
1. Make like a bunny, honey.
Rabbits are famous for their procreative prowess in the wild. But in the sex toy world, rabbit vibrators have their own iconic status for another reason: the ability to tap us into a blended orgasm—one generated from both internal and external stimulation.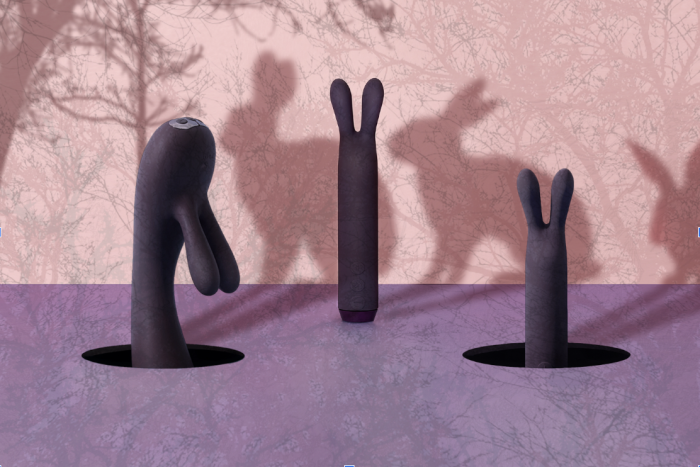 Although some people consider blended orgasms to be 2-in-1 orgasms, it's really all the "same" thing since the clitoris is a wishbone-shaped organ that has legs that extend deep into the body, reaching around the sides of the urethral sponge (aka, the g-spot).
With that in mind, it makes sense that many people with vulvas have an easier time achieving orgasm through penetration when they also have external stimulation. And that's what the rabbit is really, really good for.
Je Joue has three rabbits to help make it rain in the orgasm department. But don't worry, folks. These aren't your mama's rabbits of old, made with dangerous, porous materials, rotating shafts full of pearls, and a huge battery pack.
Rabbit Bullet:
If you're new to vibes and you're looking for something to gingerly escort you into the proverbial rabbit hole, this little guy can do the trick.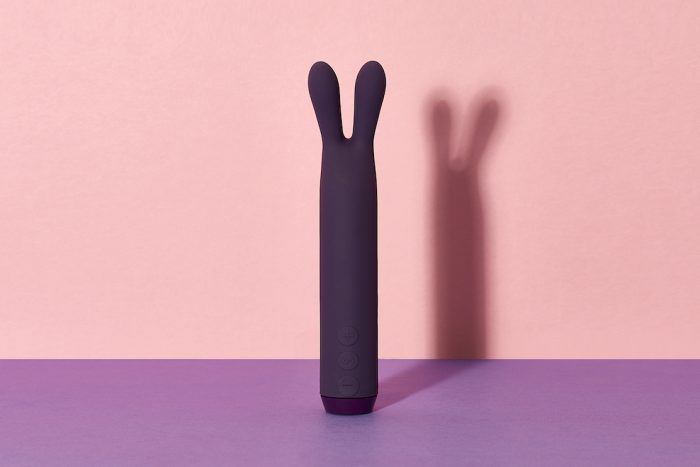 Bullets are good intros into the world of vibrational clitoral stimulation—and the rabbit bullet gets you there fast. Je Joue's low-frequency motors help to ensure your clitoris' 8,000 nerve endings don't get overstimulated (which can happen with cheaper, battery-operated toys that feature high-frequency motors that lead to temporary surface numbing).
Plus, the rabbit bullet's ears can be used to tease nipples, barely touch the glans (the visible part of your clitoris that lives beneath her hood), or to hug it at its base for a more intense stimulatory effect.
Fifi:
(Not so little) bunny Fifi might go hopping joyfully though your pleasure forest, but it's not going to bop you on your clitoral head all haphazard-like and hard.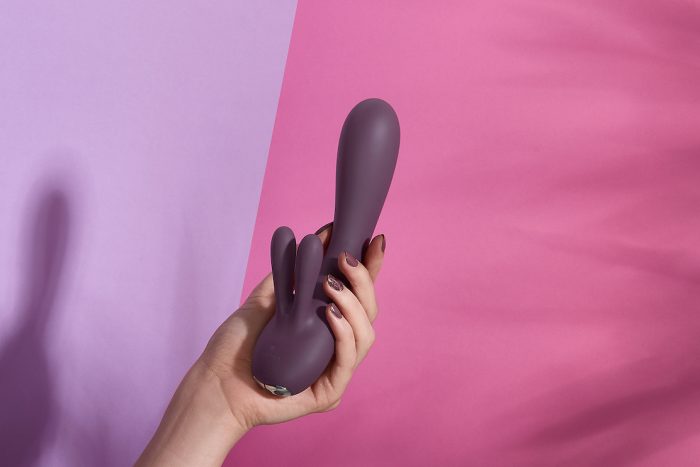 With five vibration and pulsation patterns from each ear and the shaft, this super-soft bunny offers the ultimate in sensory indulgence. Engineered with a curve that helps to hit the G-Spot just right, Fifi is the rabbit, redefined.
And unlike rabbits of the past, Fifi is made of premium grade silicone and has a whole trio of low-frequency motors that put off anywhere from a purr to a rumble of deeply-penetrating vibrational waves unlike any you've ever experienced.
G-Kii
You're definitely going to want to get G-Kii with it.
Back in the Day, O Magazine dubbed the traditional Rabbit vibrator the Rolls-Royce of vibrators. And if that's the case, then the G-Kii is the Tesla.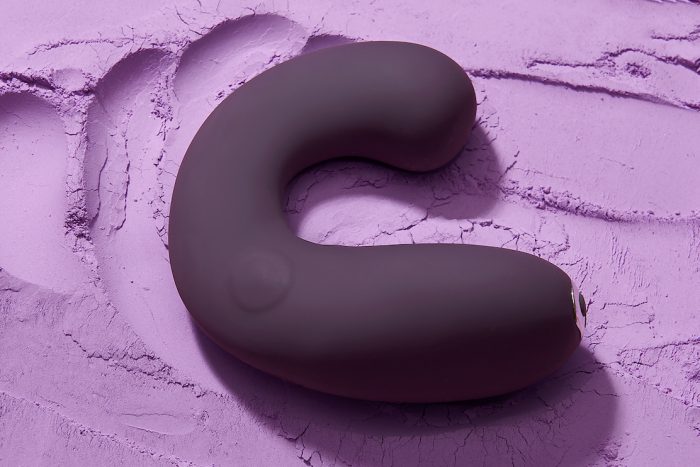 Move over battery-draining dazzle-dong. Rechargeable rabbits are here and they're specifically engineered to meet all the needs of the modern pleasure-seeker.
Je Joue worked alongside the Gynecological Association to compare the measurements of over 10,000 women's anatomies to engineer the perfect G-Zone toy (yep, it's a zone; not a spot).
Guess what they found?
Basically, only a customizable toy can ensure that a majority of people can stimulate their G-Zones. And that's how the G-Kii was born.
At the press of a button, G-Kii will move to position 1, 2, or 3. Position 3 (completely curved) introduces G-Zone beginners to the magic—a polite introductory handshake, if you will. Je Joue recommends that you rock back and forth on this setting, which will serve to alternate stimulation between the external clitoris and the internal until you're well acquainted with your new sensations.
Position 1 is best for partnered playtime, position 2 is great for everything in between, and of course, everyone's encouraged to mix and match to amplify the fun. This is the kii to ultimate, delicious pleasure (see what we did there?).
2. Spring into Action Alone
Using your new rabbit, let your imagination blossom with the discovery of what sensations feel best. Separate exploration from the pressure of reaching orgasm to unlock new levels of orgasmic pleasure.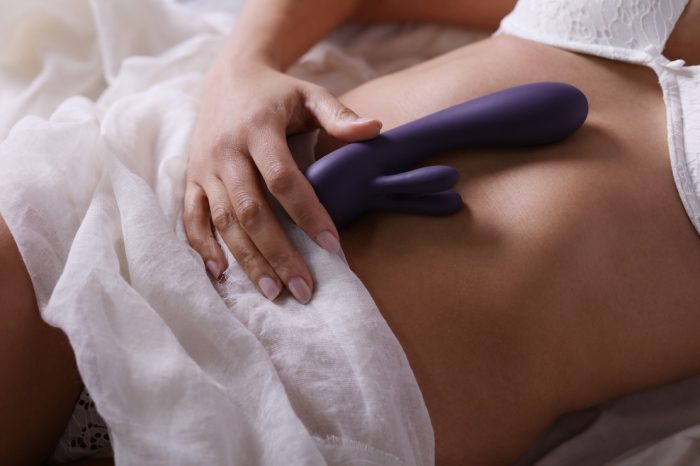 Use these tips to get started:
Use plenty of lube:
Even if your body produces a lot of lubrication, adding lube helps to keep things slick and comfortable—and helps carry vibration throughout the body.
Start with external stimulation:
Start the vibrations at a low setting and increase gradually to tease yourself and build up sensation.
Insert the shaft and find the depth of penetration and motion that works best for you:
All bodies are different, and everyone's erogenous zones are unique. Play around with the depth of penetration until you find the angles that work best for you. Increase and decrease the intensities and try out the different vibrational patterns.
Try different positions:
Lay on your back or flip to your belly to grind on the rabbit ears. Maybe stand, kneel. You do you!
Explore the back door:
Inserting your rabbit anally and pointing the rabbit ears toward the front of the body will both stimulate your g-spot indirectly and bring added stimulation to your taint!
3. Hump out of the Winter Slump Together
Freshen your bedroom routine with a partner and bring a rabbit into the picture. You're just a hop, skip, and a hump from partnered ecstasy.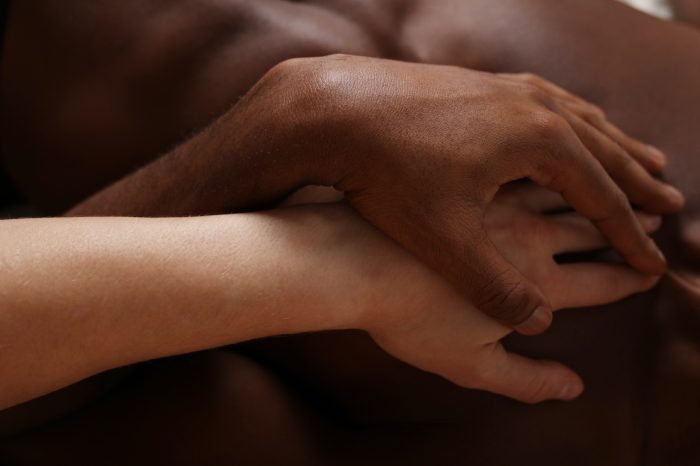 Invite your partner to watch:
Watching a partner indulge in solo sexual pleasure can be super sexy! It also gives your partner an idea of what feels good for your body. Using toys in front of each other is also a great way to learn what makes your partner tick.
Share your rabbit vibrator with your partner:
Regardless of anatomy, vibration can feel good on different erogenous zones. Try using your rabbit on your partner's sensitive spots, whether the shaft of the penis, on the vulva, or internally.
Incorporate your rabbit vibrator externally while exploring other types of stimulation:
Because bullets are more compact, they can fit more comfortably between two bodies during different types of sex. Try using your Rabbit Bullet instead of your dual-action vibrator for external stimulation.
Play the field:
You don't have to relegate the rabbit just to the clit. The fluttery ears also feel good on the nipples, labia, or along any sensitive spots like the neck or ears. (I've tried this. It's way fun.)
Give your partner control:
Hand your partner your rabbit and let them explore, tease, and reward you with different intensities and angles.
4. Create a bouquet of sexual touch.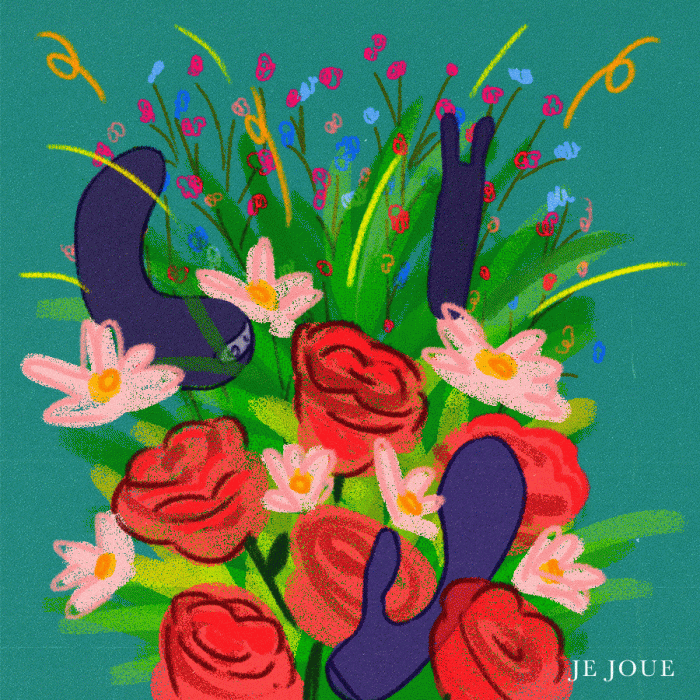 Think of the most gorgeous garden you've ever seen. Now, imagine that garden had just one single type of plant in it. That would be lacking now, wouldn't it?
That's what we're doing if we settle on one, single, tried-and-true way to get off.
On the one hand, we are guaranteed a good time, but on the other, we may become reliant on one particular kind of stimulus, and find it harder to be turned on by anything else. And while there's no right or wrong way to come, we do think it's a bit more fun to open our eyes to the rainbow of pleasure available to us all.
Switch up the way you or your partner touch your genitals, and tap into that magical sense of wonder and exploration.
>> Make like a vine and trail your nails delicately down your whole self.
>> Let your partner root their fingers down inside you deep and slow.
>> Gently caress the tender inner and outer petals of your full flower.
You get the idea.
Touching in with ourselves (quite literally) with a finger tip or a toy can make all the difference in keeping us primed and ready to go when it's actually our time to bang like bunnies—come the true sexy season of fall.
After all, time flies almost as fast as rabbits reproduce, and that means the sexually hottest time of the year will be here before we know it.
~
Get Rascally with these Rabbits.
1. A little bit of eggs-tacy.
1/4
It may not be a rabbit, but it does looks like a treat the Easter Bunny might leave behind. So, let us introduce Mimi, Je Joue's lowest-frequency vibrator, engineered to bring super low, rumbly ripples to the innermost parts of your pleasure palace while its shape loves on your labia. (PS: It's my favorite bullet vibe—and I've got quite the collection). Now for the real rabbits:
Catch Mimi if you can!