This article is written in partnership with Naked Nutrition—they're dedicated to helping us achieve new heights of health and fitness with products that use only the purest ingredients—we're honored to work with them. ~ ed.
I grew up in a big Italian family.
That meant holidays were loud and chaotic, there were lots of emphatic hand gestures…and food—lots of food.
I loved all of it. 
I'm particularly grateful for the closeness we all shared—and how I was taught to eat. I still remember when my Nana would come to visit me in lower grades: she would smuggle in raw almonds as a snack for us to share.
We ate funny foods like dates, chard, cottage cheese, and kale before they became "cool" or "on diet." In fact, my husband and I still joke to this day about how I'm a "bad American" because my food choices, which stem from childhood, are somewhat…abnormal.
I guess my roots have given me a deep appreciation for high-quality eats; some might even call me a food snob. But I'm happy to embrace that title. And it's also why, when I scarfed down my first Naked Nutrition PB&J Protein Shake, I was shamelessly hooked (read on for the recipe).
Their main goal hits close to "home" for me: supporting health and fitness goals by sourcing premium ingredients, using as few of them as possible, and being transparent so we know exactly what's going into our bodies.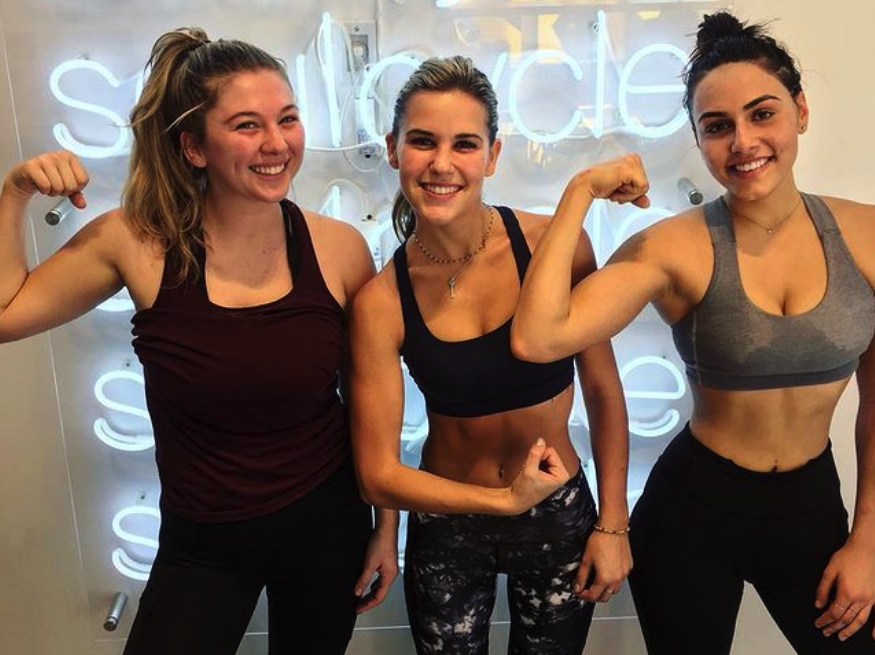 Back to Basics: Nutrition with Nothing to Hide.
I've always loved exploring the supplement sections of grocery stores but also found it somewhat intimidating. If I can't pronounce what's in it, I don't feel like I should be putting it into my body. It's confusing, or, as Nana would say, like "having prosciutto over your eyes."
Despite having over 50 products at Naked Nutrition, most of them still have three ingredients or less. Heck yes, Nana would approve. (And, as a runner…well, former runner, I couldn't help but nerd out on the fact that Naked Nutrition was birthed from former cross country and track All-American Stephen Zieminski.)
I can't say I've stayed entirely true to the level of health that my family members uphold, but I have definitely learned a thing or two. And when I crave something a little naughty (which is more frequent lately since I'm pregnant), I still try to make it…
Heavy on flavor & nutritional value—zero in the artificial flavors, colors, or sweeteners department.
So, when our friends at Naked Nutrition sent over three different flavors of vegan protein powders, I decided it would be fun to make some sweet treats that I didn't have to feel guilty about.
Up first: Energy Balls.
Energy balls are pretty awesome little dietary tools. For one thing, they're extremely easy to make. More importantly, though, they are packed with protein, slow carbs, and healthy fats. (For my recipe, you won't need any fancy equipment either…aka no food processor needed!)
Vegan Vanilla Protein Peanut Butter Balls Recipe: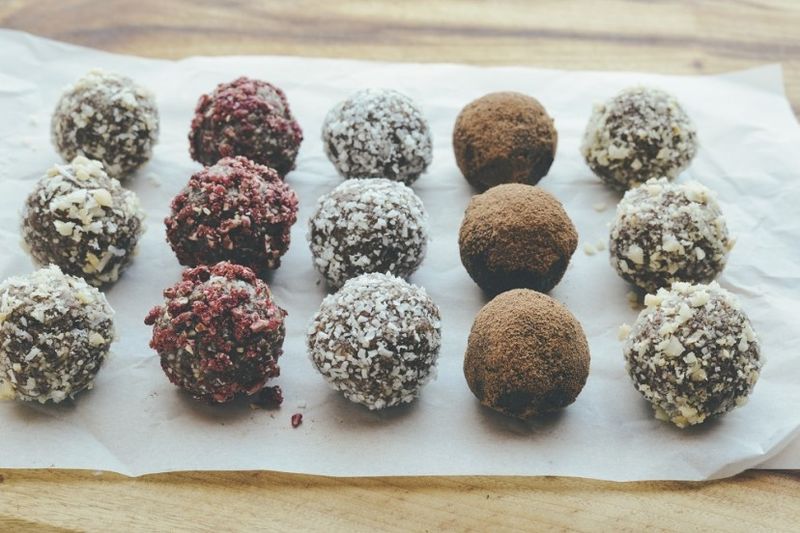 >> 6 Medjool dates
>> 1/2 cup crunchy natural peanut butter
>> 1/3 cup quick oats
>> 4 tbsp Naked Shake-Vanilla (or chocolate)
>> 2 tbsp chia seeds
>> 3 tbsp maple syrup
>> 1/2 tsp cinnamon
>> pinch salt
>> 2 tbsp hot water
Instructions
Remove seeds from Medjool dates. Chop the dates into small pieces.
Place dates in a large bowl with all other ingredients. Mix firmly with a wooden spoon or spatula to bring the ingredients together, then use your hands to press into a crumbly dough. If the mixture seems too wet, add another spoonful of protein powder.
Use your hands to shape the mixture into small balls.
Place the balls in the fridge or freezer to set. Keep the balls stored in the fridge or freezer depending on how firm you would like them.
Pass the lean muscle mass (without the farts), peas.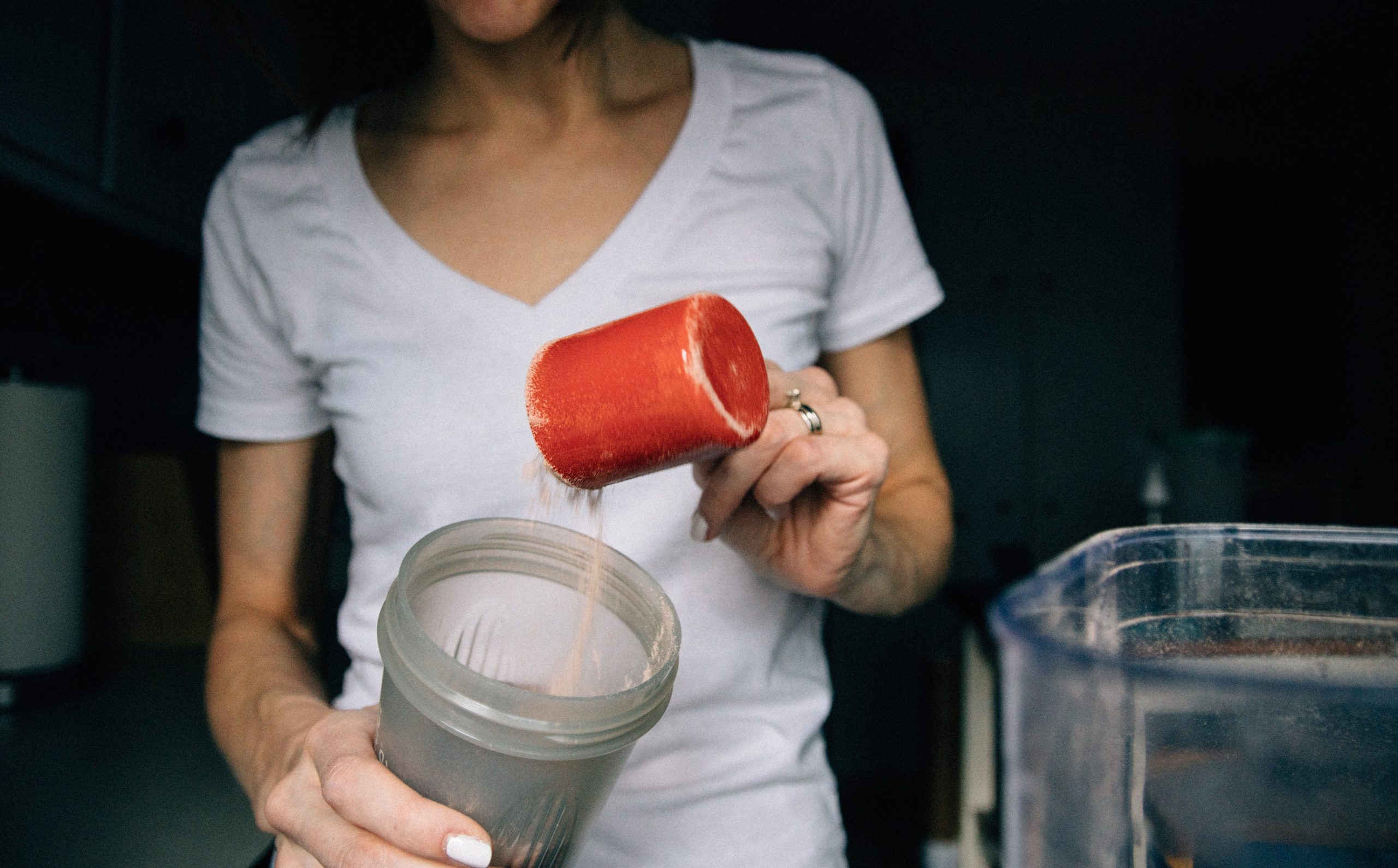 Before I share my next recipe, I wanted to explain why vegans and non-vegans alike should be grabbing for this pea protein (yup, it's veggies, y'all) like it's the day before Christmas and they haven't started their shopping.
Easy answer: it's plant-based. But it's also hypoallergenic(1) and since it doesn't contain lactose, it is much easier to digest (less bloating and less…toots)!
As far as "workin' on my fitness, ooh-eeee" as Fergie would say, pea protein is one of the best plant protein sources when it comes to maintaining or building lean muscle because it contains a wide range of essential amino acids which are critical for muscle growth and repair.
Okay, let's get back to the good stuff…
PB&J Protein Shake Recipe: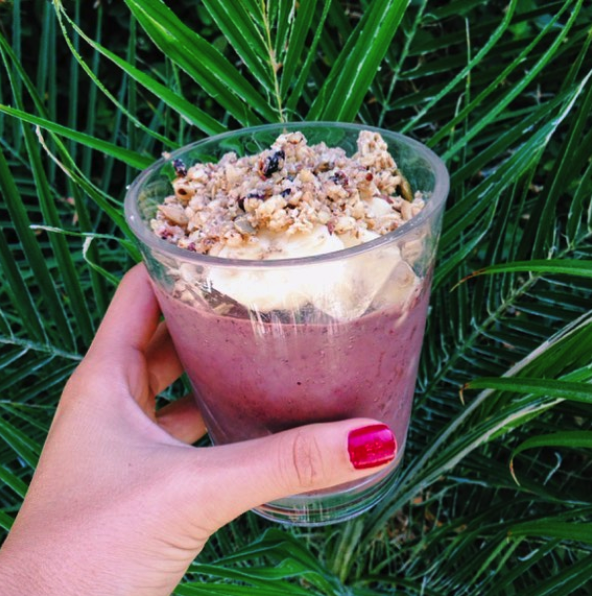 Okay, this shake is a healthy twist on a childhood classic. It's comfort food mixed with "we're gettin' swoll." Or maybe just "we're stayin' healthy."
For this one, I let my heart do the measuring, but I'll give a rough (very laid-back Italian style) recipe:
You'll need…
>> 1 cup(ish) of frozen berries (mine was a blend of strawberries, raspberries, and blueberries)
>> 2 scoops Naked Shake-chocolate
>> 2 tbsp crunchy natural peanut butter (let's be honest, you probably need more than that)
>> 1 cup Almond milk (more if you want it more liquid-y)
>> Extra: I scoop collagen (unflavored)
(Hot tip from my coworker and friend, Marisa: cauliflower! Steam it, freeze it, and then throw it in your smoothie to add volume without adding extra calories.) 
Blend until you get the consistency that makes your mouth water!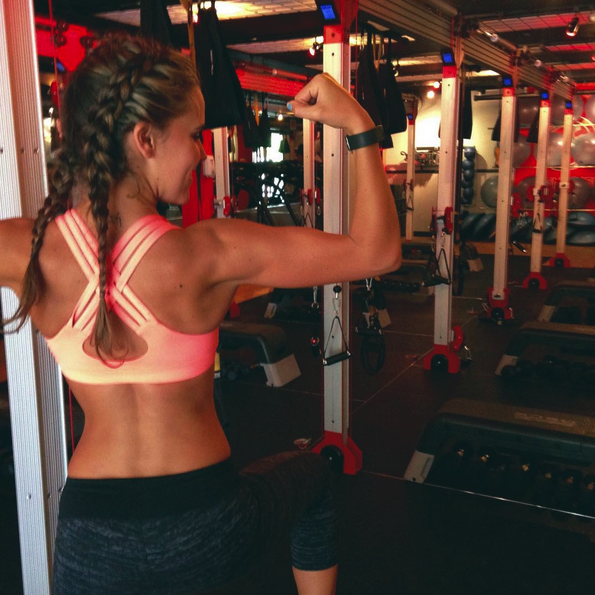 There are literally a million and one ways to customize our smoothies with this stuff, but I loved what my friend and coworker, Marisa, had to say about her experience:
"I'm probably the least timely person in the world. I'm also maybe one of the most easily hangry. That's not a good combo. I'm either starving and cranky as I make my way wherever about 15 minutes late, or I'm half an hour or more late because I made myself a damn omelet (I love me some protein).
Clearly, that wasn't workin' for me and where I wanna be in life (hello adulting, real world). So, I started folding Naked's protein shake mixes into, well, the mix! It's been a lifesaver and a game-changer. Depending on how much time I have in my day, or how full I'd like to be and for how long, I usually make myself one of two shakes to help wake me up before I go-go:
Fast-Fast Shake:
>> 2 scoops of Naked Shake-chocolate
>> 1 c almond milk
>> .5+ cups coffee
I just place all the ingredients in a mason jar, screw the lid on, and shake my shake literally on the go. Et voila! Hanger avoided, timeliness (probably, maybe, sometimes) achieved.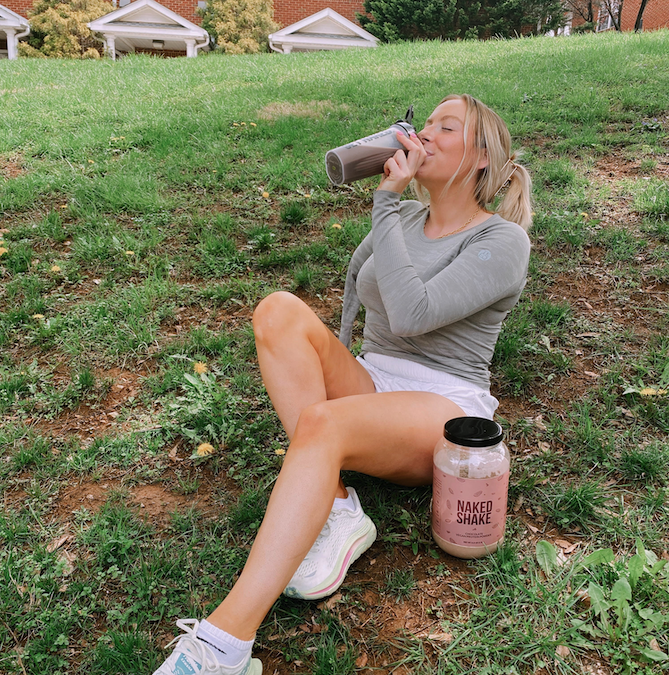 Slow-Morning Shake:
>> 2 scoops of strawberry banana or chocolate Naked Shake powder
>> ¼ c non-fat Greek yogurt
>> ½ cup raw riced cauliflower
>> 10 oz unsweetened almond milk
>> 1-2 Tbsp peanut butter
>> 5 ice cubes
This one, I blend in a blender 'til it seems like it can't be blended no mo', and I'm fed for a good majority of my day, which makes a busy agenda feel that much more achievable. Plus, my body just feels happier and more nourished all around with all the clean, good stuff runnin' through my system. I didn't expect it, but this has become my true go-to breakfast."
Let's #getnaked
Over time, my meals have changed in meaning from bonding with the fam to helping me achieve health goals. And even those health goals have changed from preparing for "hot girl summer" or "feel good naked" to "just make sure I'm healthy and baby is too."
(Honestly, the most important goal at the moment is hiding my protein powder from my husband's sticky fingers.)
But, no matter what we're eating for, I think we can all agree we don't want to be fed something that claims to be healthy and isn't. Maybe the mantra should be something like "WWNE" (what would Nana eat?).
For the record: Nana would definitely eat those Vegan Vanilla Protein Peanut Butter Balls (she's the one who inspired them)! 
~
More Mouthwatering Recipes
1. Fruit-Packed Greens Smoothie
Protein + full of health-boosting micronutrients.
1/6
• 1 Cup Spinach ⁠ • 1 Cup Water or Almond Milk • 2 Scoops of Naked Pea • Half a Green Apple • 1/2 Cup Mango (frozen) • 1/4 Cup Pineapple (frozen)⁠ • 1 Tsp. Chia Seeds (optional)
Shop Pea Protein Powder