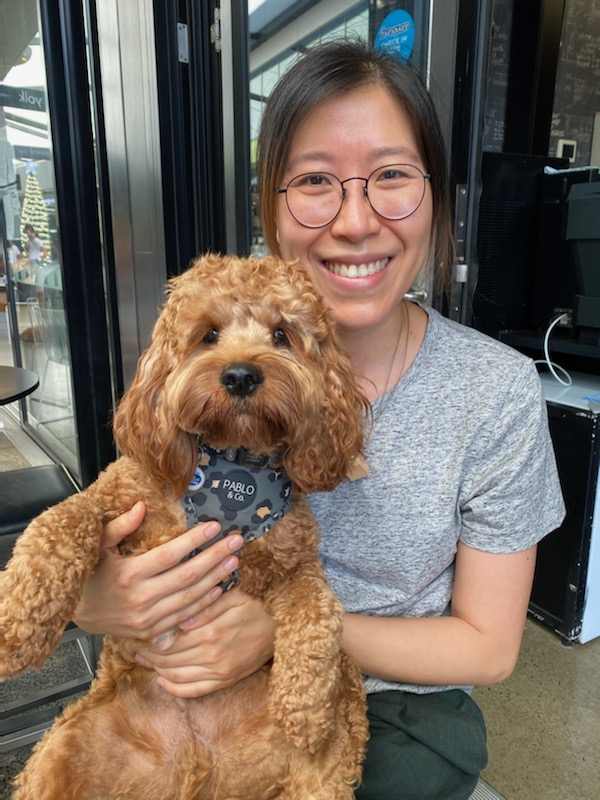 Since after watching the Disney-Pixar animation film "Inside Out" in 2016, I have been using Sadness as a profile picture for my Facebook, Instagram, and Twitter accounts.
Why? Partly because I looked a bit like Sadness back then—the bob haircut, large round-framed glasses, and I loved wearing the turtleneck in winter. More so, I behaved very much like Sadness—always feeling a bit blue, often lying flat in my "circle of sadness," unsure of my place in the world. I also thought it'd be fun to use a cartoon character giving people a glimpse into my "personality."
But the truth was, I felt uncomfortable and insecure about putting my headshot on social media. Before Sadness, I used either my baby photos or different images of the letter "B" as profile pictures. I often cringed when looking at old photos of myself from teenager years on.
In my eyes, nothing looked right. I would always find faults with my hair (too thick or too frizzy), my face (cheeks too big or eyes too small), my outfit (so boring or so ugly)—and my inner critic would go on a monologue for hours, nit-picking every detail of my appearance.
Gradually, over time, I would actively avoid the camera and had photos taken only for "mandatory" or "obligatory" reasons. Like family gatherings, graduation ceremony, or getting my driver's licence.
Looking back now, what the hell was going on? Where did this self-hatred come from?
Growing up in Hong Kong, I was constantly bombarded by TV, magazines, and tabloid newspapers about what should be the gold standard for female beauty. Long straight hair, silky white skin, a wrinkle-free face, and double eyelids. Ideally, she would weigh less than 100 pounds (no matter how tall/short). Her body would be in a perfect hourglass shape, with precise measurements of 36-inch breasts, 24-inch waist, and a 36-inch bottom. Female celebrities and beauty pageant contestants were often picked on and teased publicly—whether they gained or lost weight, for how they dressed while grocery shopping, or for what was wrong with their make-up-free face.
For as long as I can remember, I've been surrounded by people who criticise themselves, their children, extended families, and even strangers on the street about their look, body shape, and size. In their eyes, nobody and nothing is beautiful enough. My sister and I are often told to dress in certain ways to hide our "flaws," like our "too small/too big" shoulders, our "unproportionally big" bottoms, and our "thick" thighs.
During my university years, I had a few people telling me that I was "too tall," "too smart/read too much," "too quiet," or "too well-behaved," as the reason why I did not have a boyfriend. I still could not forget the conversation I had with a colleague who told me to "act dumb and feminine" so I would appear less intimidating to men and be able to get a date eventually.
Not one time did I stand up for myself and call out those inappropriate comments. Instead, I felt disappointed about myself, internalised other people's opinions as the truth, and let them eat away my identity and confidence. I constantly worried about how people might perceive or judge my everything—my face, body shape/size, personality, English accent, and even the quality of my professional work.
I ruminated every conversation I had at home and at work, making sure I was always nice, agreeable, and considerate—so I would be accepted and loved. I always compared myself to other female friends, colleagues, or strangers, thinking that I would never look as pretty and attractive as them.
Not showing my face on social media, I thought, was also the right thing to do. At a young age, I was often lectured about "stranger danger." Especially for girls. That it'd be my responsibility to protect myself, not to put myself in any vulnerable situations, and not to fall prey to criminals. That I must not share too much personal information online and in real life. That I'd only have myself to blame if I was being deceived and taken advantage of.
In short, there would be no sympathy if something bad happened to me.
So far, I've lived a safe and careful life. I have been keeping people at arm's length, not sharing much online and in real life, and obsessively reading all kinds of self-help books—all to make sure I "protect" my dignity, while trying to "fix my flaws."
Has this approach helped me feel better or safer? Not really. The irony was, the more I retreated from the world, the more I missed out on living that full human experience. Like childhood friendships that last a lifetime, being spontaneous and doing some crazy sh*t, parties and karaoke all night long, falling in love and breaking hearts, and making some silly, stupid mistakes—all while I was feeling unseen, isolated, and lonely in my being behind this invisible wall I built around myself.
"Courage starts with showing up and let ourselves be seen." ~ Brené Brown
After my first article was published on Elephant Journal, the editor asked me to upload my headshot onto my profile. I panicked because I did not have any recent solo photos taken. And I was petrified by the idea of putting my whole self out there. Not just my words, but also my face! Amid my flustering and self-doubt, I took a sip of green tea from my little black ceramic cup and gently pulled myself back to the present moment.
I paused and asked, "Why am I writing on Elephant Journal again?"
Because I want to explore and learn more about who I am through writing and sharing my stories.
Because I want to unlock and express my true, authentic voice.
Because I want to find my "people." A like-minded, kind, and supportive community that is committed to making the world a better place.
Because I want to do good, make an impact, and support others.
Scrolling through on my phone, I found this blurry picture that I took with my friends a few months ago. For a few seconds, I liked me in that photo. Looking relaxed and content after a great night out with my friends, eating Korean BBQ, drinking a lot of sake and iced tea, laughing at stupid jokes, and throwing banter at each other. So I took a deep breath, cropped my headshot, and uploaded it onto my writer's profile.
The next day, while rewatching the Elephant Academy Write Your Heart Out live classes, I was so struck by how Waylon talked so passionately about jumping into the pool, going all in and showing up, and no half-in and half-out. And he was right.
If I could not accept and show up in my flawed but authentic self, how could I be present and connect with people around me and the world fully?
If I kept hiding behind a cartoon character, it would have blocked people's view and access to me. How could I expect others to be able to see me and get to know me as I am?
If I picked or chose my experiences to avoid the (perceived) bad and the ugly stuff, I would miss out on the real-life goodness and enjoying the beauty of living.
How could I learn and live my truth?
To build and live a purposeful life, one must show up and face the world wholeheartedly with courage and consistency.
And the truth is: the world is not as bad and ugly and scary as I was told as a kid.
Like meditation and exercise, social media should be integrated as part of the mindful life. It gives people the space to explore and to express ideas freely. It shines light on our bias and blind spots, challenging us to understand differences and that it is okay to change our minds. It overcomes physical distance and time zones, connecting like-minded people from all around the world based upon their shared purposes and experiences. When used with kindness, care, and intention, social media can become a powerful tool for creating something beneficial to oneself and others.
One week after posting my first article on Elephant Journal, I decided to update my profile picture on Facebook, Instagram, and Twitter, showing my face to the world.
Not only that, I shared the article with my family, friends, and colleagues through social media. No longer do I care about how many "likes" and followers on my accounts. No longer am I worried about what other people might think of my face, my writing, or my stories. No longer am I feeling scared and ashamed of wanting to express my creativity and my desire for deep and genuine connections.
I feel safe and at peace. I trust that being me is enough. And I know the world will always embrace me as I am.
"Maybe life is not about avoiding the bruises. Maybe it's about collecting the scars to prove we showed up for it." ~ Unknown
~