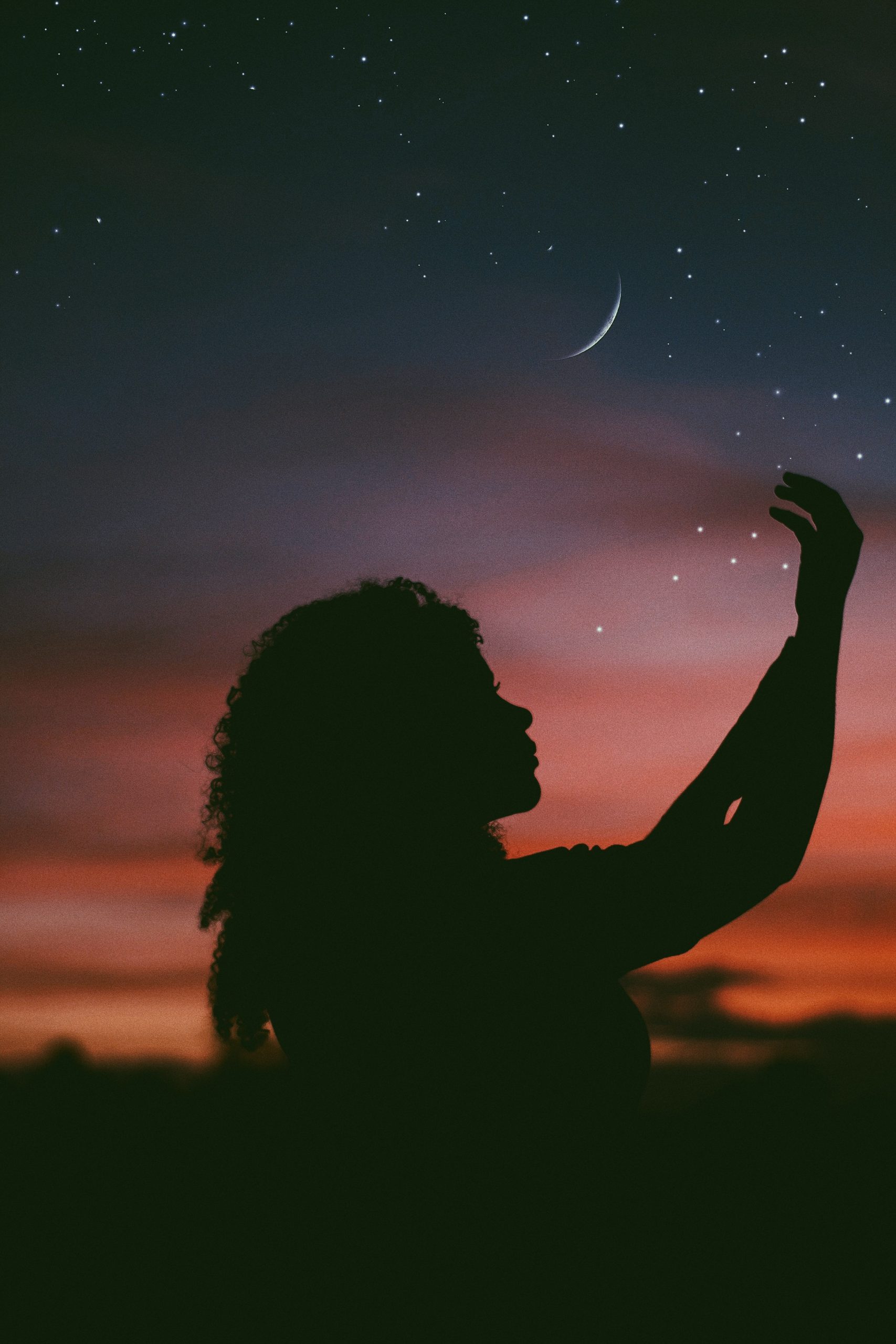 *Whether astrology is science or magic, we're open to most things, if they may be of benefit. ~ Ed.
This New Moon on June 28/29 sits in the sign of Cancer.
There's no mistake we're under a Cancer New Moon as the feminine is hurting on our planet.
Cancer is the sign of the mother, the protector, the one who will fight for the children. It's also important to mention that not all Cancers are mothers, and not all mothers are Cancers.
As women and as mothers, we are capable of making our own decisions, for our bodies and for our children. Cancer is deeply intuitive. It may be hard to put the knowing into words, and for Cancer, words are not necessary. There is no need to question a mother's intuition.
Cancer is cardinal water. Cardinal energy is the initiator. It is the beginning of a season—the seed starter. Water is the emotional body, the feminine fluidity that is ever-flowing and changing. This energy is of the divine feminine, creating and flowing in the container of a healthy masculine.
Except our collective masculine is not healthy.
When the masculine is unhealthy, it tries to control. It bursts out in anger and uses manipulation tactics to get its way because it hasn't learned how to work with its own inner feminine (we all have both energies within us). It suppresses the emotion because it doesn't know how to work with it, and with the suppression of emotion, there is suppression of the feminine, as the feminine is emotion—energy in motion.
Energy cannot be created, nor destroyed, and we are at a boiling point. The pressure cooker is bursting at the seams because the sizzle has been ignored for far too long, and now we don't know what to do.
I'm sometimes guided to look up the sabian symbols for certain events. Sabian symbols were first introduced in 1925 as clairvoyant Elsie Wheeler channeled an image for each degree of the zodiac with the assistance of astrologer Marc Edmund Jones.
The sabian symbol for the degree of this moon is pictured as a group of rabbits dressed in clothes and on a dignified parade.
What a powerful image that depicts what we're going through at the moment. Symbolically, rabbits represent procreation and fertility. This is where the troops are gathered to march for what is right when it comes to women's rights.
We're dawning our finest dress and getting ready to march for change. All of the rabbits are ready for battle, just as the sign of Cancer would fight for their young if threatened. There is a better way, and we as individuals need to determine what that means for us. Using this cardinal, initiating energy, we can strive for our best and make it happen through our actions.
The moon is in conflict with Jupiter. Jupiter represents faith, the justice system, and policies. At the highest expression, there is room for all schools of belief and multiple levels of truth. The low road comes when we stop seeking and when we take one thing at face value.
This is where self-righteousness gets in the way and we believe that our truth is the only truth. The invitation under this moon is to get clear on our own beliefs and still hold space and compassion, knowing there is more than one truth.
The New Moon is also waking up our core identity wound. There may be situations presenting themselves where we are reminded of what this would be for us.
What needs weren't provided for when we were children? How were (or weren't) we nurtured as an infant?
These stories continue to repeat throughout our adult lives and are recreated through new conduits—people, situations, and self-imposed limitations. This may be highlighted under this New Moon.
It's a great time to nurture ourselves and to take on the role of the mother that we needed as a child. We are responsible for reparenting ourselves and healing the wounds so we can respond from the scar, rather than reacting from the wound.
New Moons are the time for new beginnings.
Here are three ways to support ourselves and others during the dark sky:
Take time alone
We are invited to unplug and sit under the dark sky with the intention of clarity. What are my next steps? As we take time alone, we unplug from the energy that isn't ours and release ourselves from the expectations of others. Sitting with ourselves offers clarity that may not otherwise be available. To heal is to be free, and to be free is to be me.
Check in with our emotional body
There are times when it feels safer to dissociate than to feel; it's not wrong or bad (it's actually a safety mechanism designed to keep us alive). The invitation is to let down the walls and to find a safe space to explore our inner world. Feel the anger, grief, resentment, disappointment, and also the joy, hope, and gratitude. Opening up allows for the feminine to heal. Feeling is the natural state of the feminine essence, so let's allow the space for it and begin the ripple of healing. As we heal individually, we heal collectively.
Explore our personal beliefs
Often, as adults, our unconscious mind is driving the bus until we are ready to hand over the wheel to our conscious mind. The invitation here is to connect with the beliefs we carry from our ancestors, parents, and society. If we are running on outdated beliefs, we will continue to live in outdated ways. Here is an opportunity to do a system upgrade and identify where we no longer continue down the same path.
The reminder is Cancer, although it's a water sign, it's also cardinal, which means we are feeling and healing, and there is a desire for action. This is a great time to set intentions for the rest of 2022, as we will begin to see the fruits of our labor in the New Year at the Full Moon in January, 2023. Now is the time to be clear on who we are at our core. With clarity of our truth comes clarity of our next steps.
~
Please consider Boosting our authors' articles in their first week to help them win Elephant's Ecosystem so they can get paid and write more.