This post is written in partnership with Meta Spirituality and its founder, Nina Verkoeyen. Meta Spirituality seeks to eliminate our dependence on mainstream spirituality and awaken the world to the powerful Creator within each of us. We're honored to share the word. ~ Ed.
~
In recent years, spiritual intermediaries have become increasingly popular.
Many of us heavily rely on spiritual practices, techniques, and rituals like visualization, manifestation, psychology, crystals, and divination tools such as tarot or astrology to connect to our higher selves.
We turn to these tools for guidance, seeking to connect to our true selves or manifest our desires. We seek them out so that they can tell us what to do, what to choose, and what the future holds.
Does that feel particularly empowering to read it that way? To rely on something outside of yourself to make all of your decisions and determine your every step?
It might be time to put these "tools" down and step into Meta Spirituality.
It is time that we awaken to a new, Meta Spirituality.
While our spiritual and psychological tools of choice may have served their purpose in the past, what our use of them suggests is that we have not been ready to accept the Truth of who we are. In fact, continuing to rely on these intermediaries can hinder our spiritual growth.
Let me give you a metaphor:
Using spiritual intermediaries is similar to using a cane to walk. When we are weak or injured and cannot walk on our own, a cane is useful in helping us to remain or become mobile again.
Once we have learned how to use it and have regained our strength, however, we must put it away and start walking on our own lest we reprogram our bodies to remain limited in motion and reliant. Holding onto the cane becomes detrimental to our development.
Similarly, with the widespread adoption of spiritual practices in the West, we have come to be spiritually handicapped. We have trained ourselves to need our spiritual cane.
There was once a time when we, as a collective, could not fathom that we were more than just a body. But just as Spirituality has evolved and that belief has become more widespread in the West, it is a natural next step in our spiritual evolution to throw away the intermediary "cane" we've been spiritually leaning on, and develop a direct connection to the source within us—without spiritual practices and intermediary tools.
And so, while our favorite spiritual practices have served us well in our early stages of spiritual development, some of us have begun to sense that there is something more we haven't yet connected with.
Perhaps you have begun to sense that you are far more powerful than you allow yourself to see.
Maybe you have a hunch that you're keeping yourself small and crouched over your spiritual crutch of a practice. And if that's the case, there's probably something inside of you that tells you you're ready to learn to stand tall and rely on yourself again.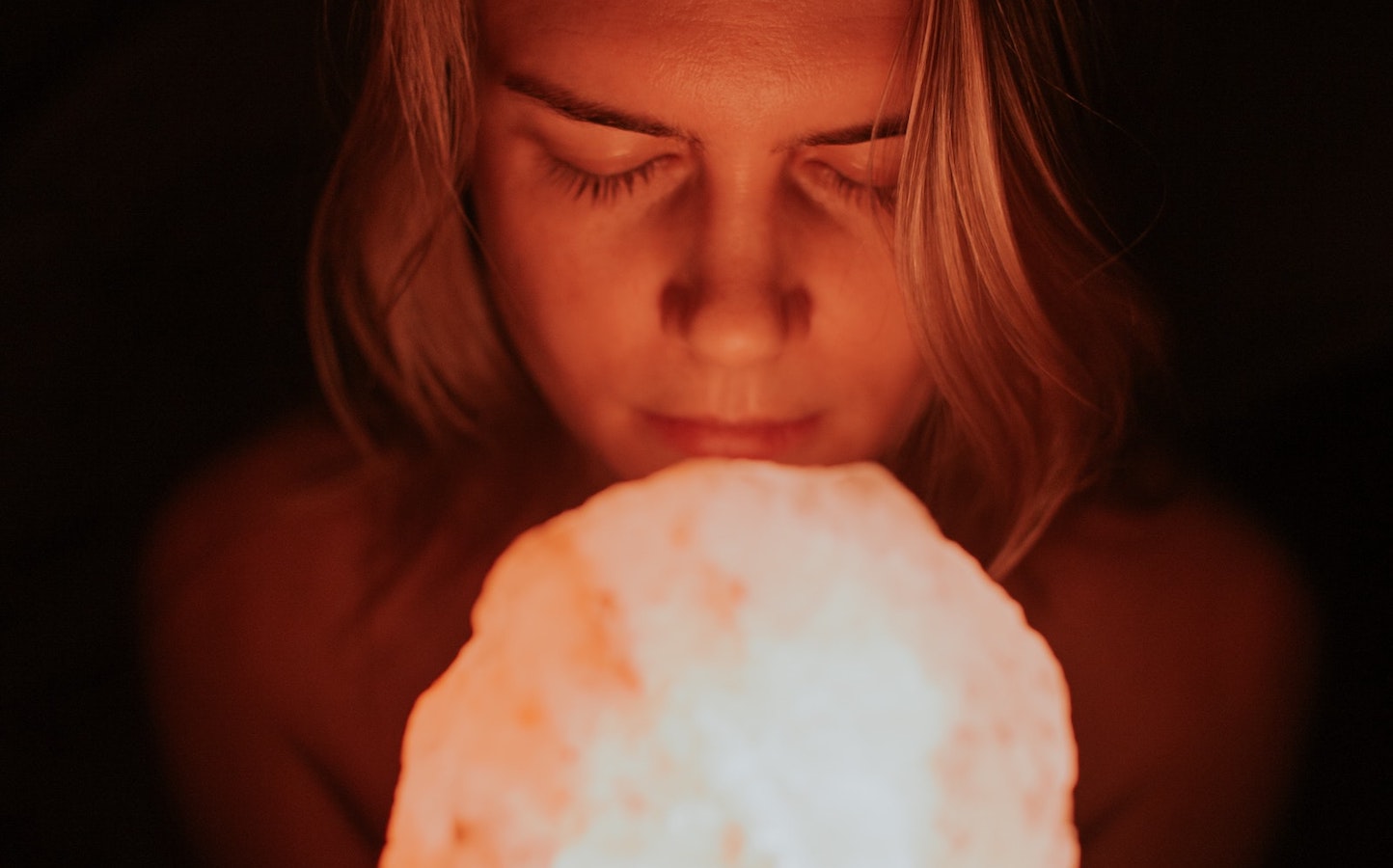 If you feel ready to discover your true self & stop relying on external forces, this is for you.
You can sense it. You've come to mistakenly equate spirituality with spiritual practices, blurring the distinction and creating a dependence on external tools for inner growth.
In 2016, the concept of Meta Spirituality came to me. Despite that I had been teaching meditation, awareness, and yoga for many years, I kept finding that none of the practices I had learned seemed to change my visible reality or improve my material life.
I still felt anxiety and other emotions that I couldn't control. I felt dissatisfaction in my personal relationships, and kept struggling with my finances and low energy levels. I needed something different.
I can remember the exact date I became aware of the truth. It was March 10th, and I was in my bedroom, preparing to go to sleep, but in deep contemplation. While thinking about the nature of love and questioning what it is I was transported into a state of unity with God, the universe, and everyone. I realized my true identity and what love, God, and the universe truly are.
This experience, this spontaneous shift in identity, opened my eyes to a new way of seeing everything. I discovered that I am The Creator. You are The Creator. We all are. Since then, my life has never been the same.
If you are tired of constant practices, rituals, and artifacts like I was, and if you desire a direct relationship with the God inside you; if you feel that you are growing weary of middlemen and your heart desires a direct relationship with the Source, then Meta Spirituality is for you.
See, when we depend on external sources for answers, we disconnect from our inner wisdom and innate power. Tarot cards and crystals can offer valuable insights, but they've also created a barrier between us and our true self of The Creator.
Similarly, while meditation and affirmations can help us shift our mindset, they also prevent us from becoming The Source, and instead act as a barrier that reinforces the illusion of separation between ourselves and the Creator.
With each passing year, the number of people who feel ready for a direct relationship with themselves as The Creator will increase. The old tools may still work for some people, but eventually, the old tools will no longer work for the majority of people. That's the aim, at least, when we pursue Meta Spirituality.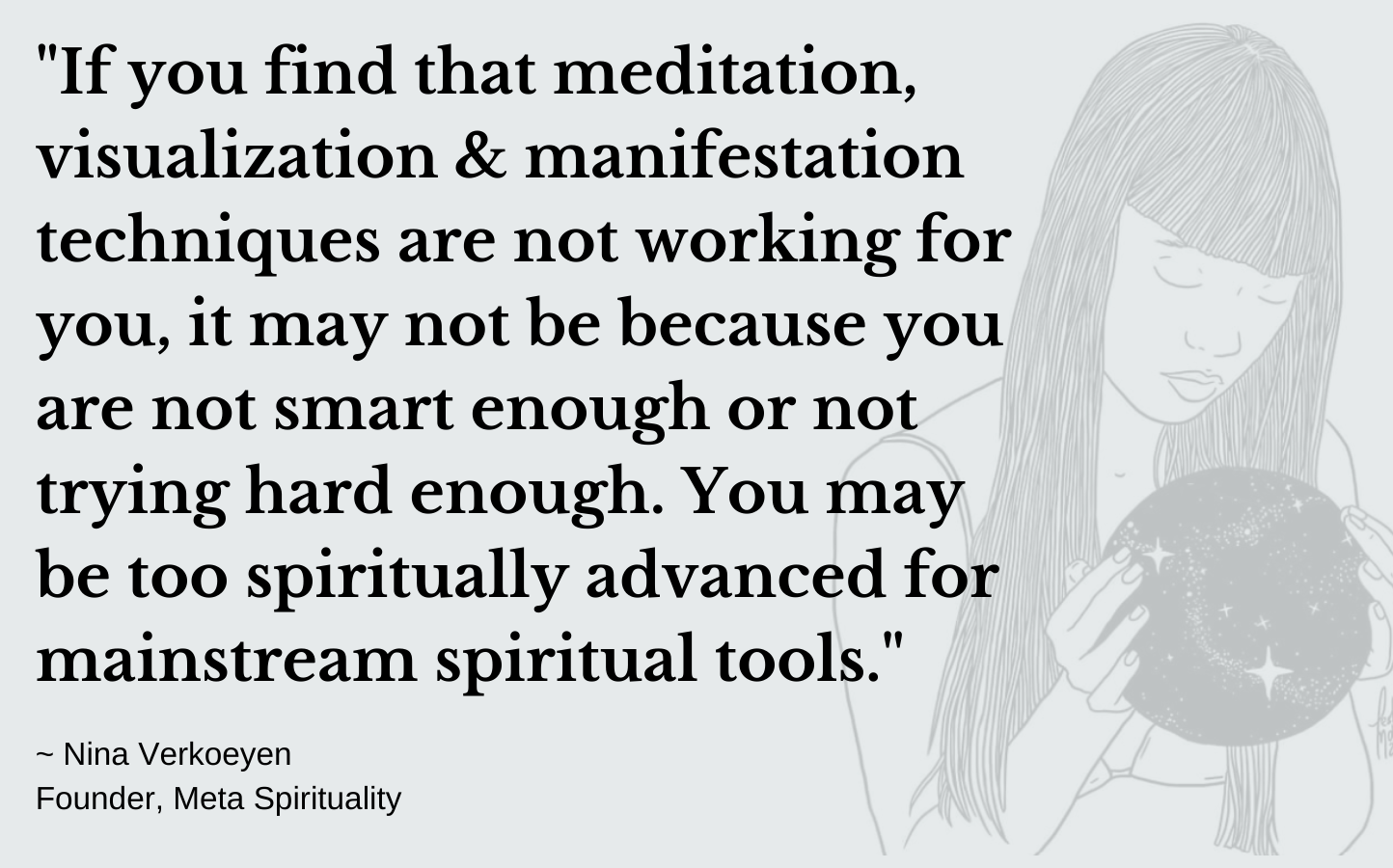 Relying on the power of intermediaries prevents us from awakening to the Truth of who we are and what we are capable of. And if our true power lies not in rigorous spiritual practices, but in our understanding of our true identity, it's essential to recognize that our prior techniques are only tools and that the ultimate goal is to transcend them and connect with our true identity as The Creator.
Failing to let go of intermediaries for good means refusing to develop a direct relationship with The Creator which is us.
As such, one of the first, most important steps in exploring and owning our Meta Spirituality is to learn to release our attachment to powers outside of ourselves.
In my free masterclass, we go into more detail on what it means to embark on this journey back to ourselves as The Creator as well as how to determine whether or not you're prepared to fully embrace your role.
But if you're looking for some tips to help you experiment with owning The Creator that you are, here are a few things to help you on your way:
3 Tips for Beginning to Release your Need for Intermediaries
Meta Spirituality is much more broad than can be covered in a three-point listicle offering you a quick glimpse into its seemingly infinite wisdom, and releasing our need for intermediaries is only a small part of the journey.
But we all deserve a taste of what it feels like to step into our role as The Creator, and if you're here, my guess is that you're feeling called to embody that identity.
Every journey would benefit from a map. Let these three pointers serve as a compass that guides you in the direction of your calling back to the Creator that is you.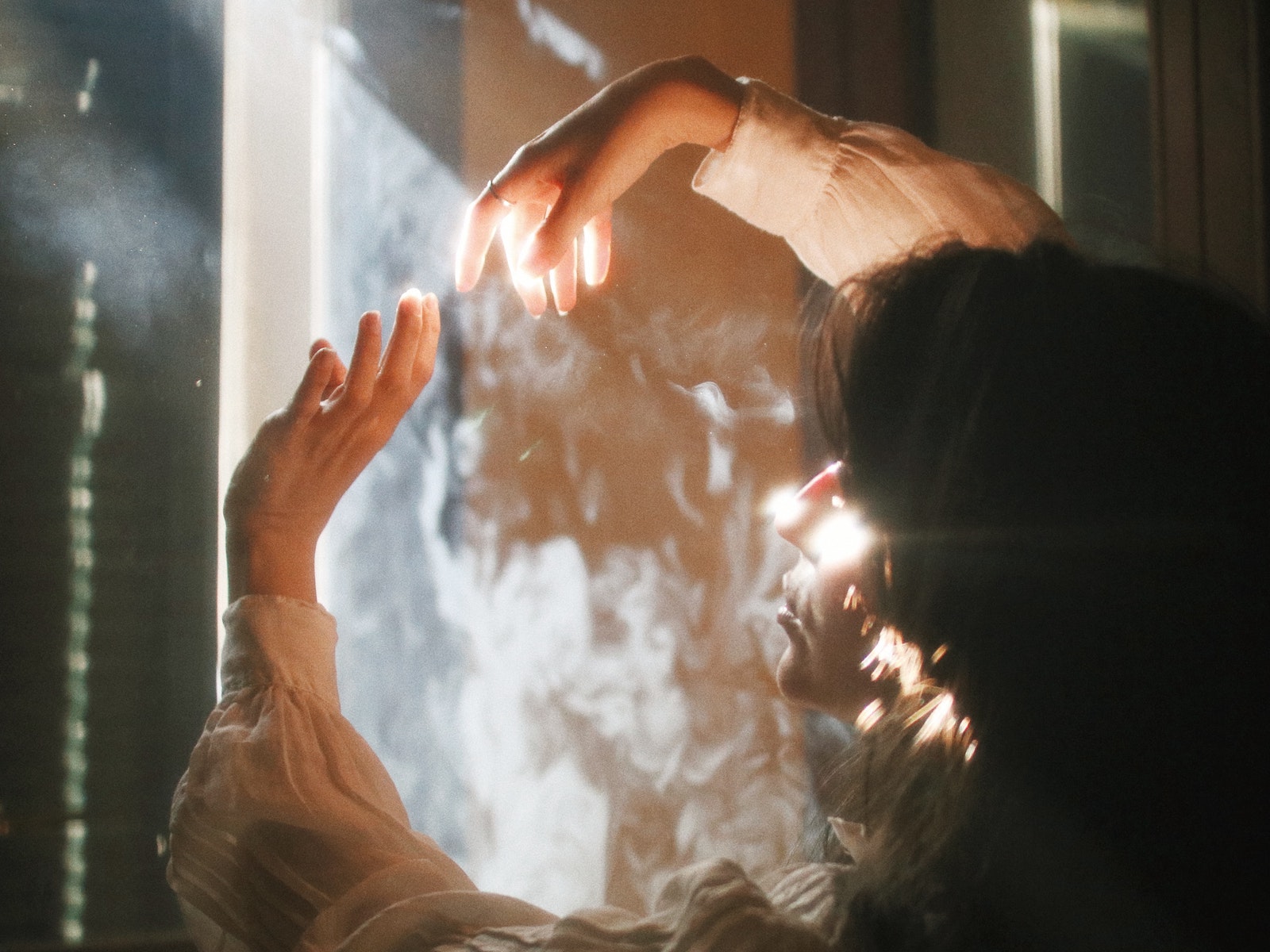 1. Stop being afraid to trust your own inner guidance
The next time you feel called to reach for your Tarot cards or crystals for comfort or wisdom, turn inward instead. Pose the question you had to yourself. Listen without distraction. There is wisdom in you beyond your imagination. There is an answer to every question. But like a muscle that has never been used and has become atrophied, it will take some time to start distinguishing between the loud rambling of your mind and the quiet inner knowing that's always there.
Rambling feels like an energetic vacuum. When you are operating outside of the space of the Creator, your mind will spiral and overthink, leading you to fatigue, laziness, or lack of "motivation" and creativity.
When you're operating within the space of the Creator, the wisdom hits with precision. There is a statement and then a gentle breath. It's subtle, but certain, and the wisdom gives you a small, perhaps instantaneous jolt of joy, peace, or enthusiasm before your "thinking mind" jumps back into action. Try holding on to the feeling of the lightning-fast wisdom for just a nanosecond more until it's the thing you hold to most firmly.
2. Create consciously, rather than just reacting to what's happening to you.
Every situation you find yourself in, every word you hear spoken to you, and every relationship you have been in is your creation and the extension of who you are in our visible reality. Stop perceiving yourself as separate from others, the world, and the Creator. Everything is within you and created there. So the next time you feel triggered by some event, situation, person, or word, look within and find what this situation represents about you.
Ask yourself these questions:
> What limiting belief about yourself does it support?
>> What secondary benefit does it allow you to have?
>> What are you trying to say or show to yourself using a medium of that person, that situation, that word?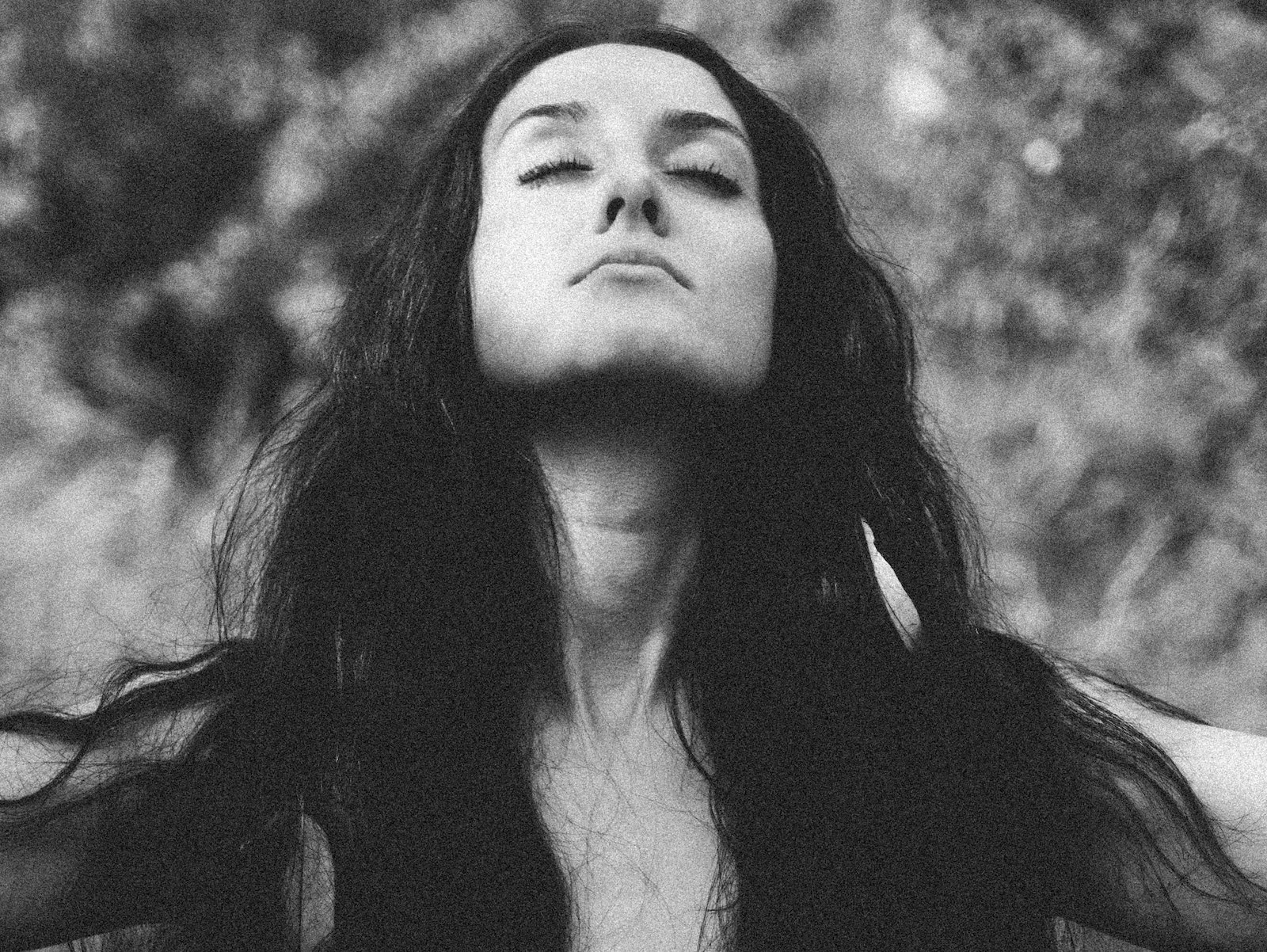 3. Take full responsibility
Many people fear the word "responsibility," which has a negative connotation. But full responsibility is what The Creator is. Full responsibility is full power. When you realize and accept that you create everything around you, you will no longer be able to put responsibility into someone else's hands. You will stop blaming others, get out of the victim mode, and realize your true power that you can use consciously to create the life you want. You become a conscious Creator.
Here are two small questions you can ask yourself to start repairing your relationship with responsibility:
>> For what purpose did I choose to create this situation?
>> How can I bring the responsibility in this situation back to me, thus returning the power to control the situation, change it, and create it differently?
Meta Spirituality offers a new approach that recognizes the power within ourselves and enables us to connect directly to the Source. It can help us become aware of our power as a Creator so that we can take ownership of every aspect of our life without relying on external
Instead of looking outside yourself for answers or guidance, turn inward—you already possess all the wisdom and power needed to create an extraordinary life! Allow the wisdom of Meta Spirituality to guide you.
~