⁠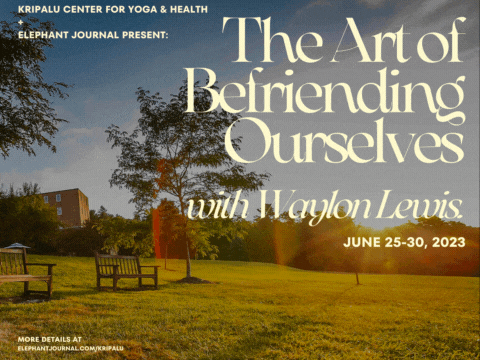 "Self-care" has become such a trendy little term.⁠
⁠
But: taking care of yourself, yes. It's never, perhaps been more important.⁠ We've never had more of our moments filled by the Attention Economy, that form of Capitalism that preys on our every moment. We've never been so online, disassociated from our Nature that we are a part of.
That's not to say that everything is worse. Many things are better. As the joke goes, time travel is a rich straight white male fantasy—for just about any other group much of our past world had fewer protections, rights.
So we find ourselves now, here, in this speedy, but workable situation.
⁠
In this filter-happy Photoshop Culture, there is a tonic, or antidote, to wanting to be other than we are.
It's called maitri. It's called unconditional friendliness toward ourselves. It's simple. It's hard. ⁠
It's what we practice, both through meditation and maitri itself, and through finding our voice and in sharing it with others transforming our experience into wisdom, into service, into generosity and helpfulness.
It's what I'll do, this June, with you.
⁠
Give yourself the gift of a life-changing, heart-opening, voice-rediscovering vacation into your life's true meaning, in community, with me at Kripalu, a lovely retreat in Western Massachusetts, this late June.⁠
⁠
For the first time since before the pandemic, I'm offering a program in person. ⁠
⁠
We'll enjoy evening lectures, discussion groups, and joyful gatherings, boring old meditation and cathartic writing practices, yoga with Kripalu…and you're pretty much guaranteed to make at least two new lifelong friends.⁠ ⁠