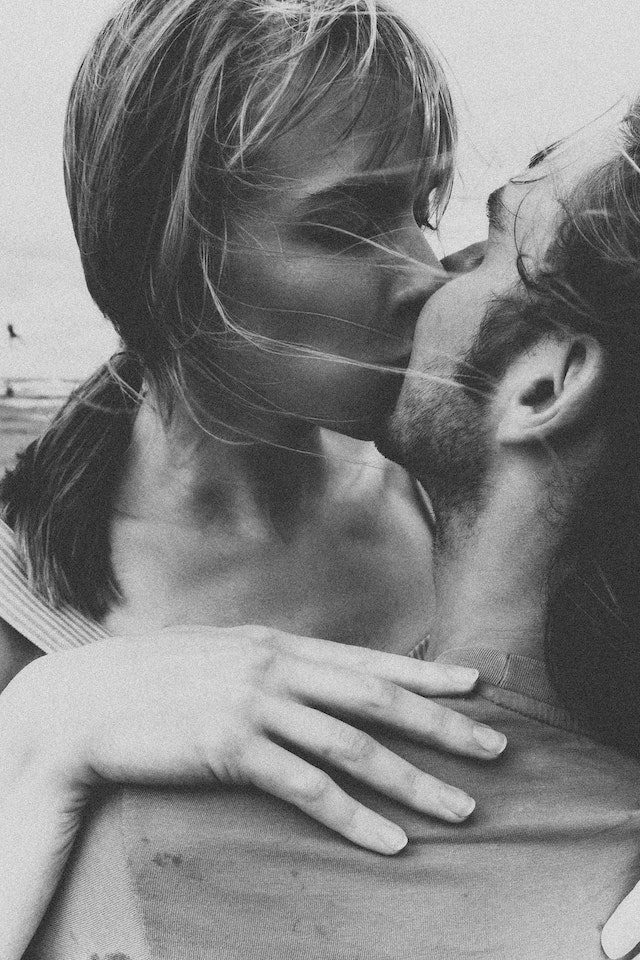 If you are my person, I want to touch you.
I want to touch you at a depth you may have never felt before. In a way you may have never known.
I want to swim with you in the deep end of the pool because I know the shallow end is simply that, shallow, and that will never take us to where we want to go. I don't fear the deep end. No, we'll swim in the deep end because it's in the deep end where you sometimes fatigue, sometimes get scared, and sometimes struggle, and that's where the truth of who we are will be seen.
I want to touch your mind.
I want to inspire you to find and follow your passions. Your purpose. I want to ignite exciting and passionate conversation and talk all night. I want to teach you and be taught by you. I want to encourage you to understand different perspectives. New ideas. I want to challenge your beliefs. And I want you to challenge mine. Growing individually and together.
I want us to feel comfortable disagreeing with each other. Debating the fire within us. To speak our truth. I want to motivate you to go inward and reflect. I want to discover your sense of humour. Your sarcasm. Your wit. Because I want to laugh hard with you. I want you to read to me from your favourite books. I want to read to you from my favourite books. I want to stimulate your mind. Light it up. I want you to be curious. About life. The universe. Me. Yourself. Us. I want to touch every crevice of your mind.
I want to touch your heart.
I want to remind you that vulnerability is a gift. A beautiful open and genuine gift that builds intimacy and trust. I want to see your compassion and your kindness. I want to bring out the gentle in you. Your softness, even if it's buried deep within.
I want to feel safe and warm, the type of safety and warmth you feel when two hearts are open to each other. I want you to feel safe and warm. I want to metaphorically hold your heart like it's the most precious of gifts and know that mine is just as precious to you.
I want to look out at the world together, sharing the some wondrous view. I want to see that view through your lens and have you see it through mine. Travelling the same path, yet unafraid to have individual experiences. Knowing that our own individual experiences makes for a more passionate heart. A nurtured heart. A fulfilled heart. I want to touch every corner of your heart.
I want to touch your body.
I want to trace the outline of your shape. Slowly. Generously. Gently grazing the bits you try to hide. The scars. The changes you don't like. Meeting every inch of you. Intriguingly. Intricately. I want to brush past you and feel the electricity awaken every cell in our beings. I want to use my hands to sooth your aching muscles. To discover every curve of your body. I want my lips to delicately skim your cheek. Your neck. Your lips. I want to hold your hand. Sit lovingly within your embrace. I want our bodies to connect, using every paintbrush, crayon, and pencil we have, to messily colour inside and outside the lines of each other. Creating a canvas of heat. Of red-hot heat. An intense, uninhibited yearning. I want to touch every piece of your body.
I want to touch your soul.
I want that front row seat to your soul because you will have a front row to mine. I want to discover your soul's desires. The absolute truth of who you are. I want to take that soul journey with you. Encouraging you to step out of your mind, your body, your heart, and really listen to your soul. I want to meet you at your most authentic and raw self. The beautiful and the ugly. The courageous and the scared.
Show me your hurt. Your pain. Your sorrow. Your fear. Show me what you crave. What you value most. What makes you cry. What makes you laugh. What you're keeping in the dark that needs to come out in the light. Let me meet your shadows. I want to see it all. Hear it all. I want to touch every inch of your soul.
I want to touch all of you.
Touching your mind would be an honour. Touching your body divine pleasure. Touching your heart a privilege. But touching your soul, touching your soul would be the greatest gift of all.
See, we can often touch the minds, bodies, and hearts of others, at least partially. But touching the soul is no easy feat. How could it be, when many are yet to touch their own souls? Many are yet to know who they are at the deepest level?
But if you let me, I'll guide you to your soul, whilst opening mine to you. Together, we'll learn, grow, and find a depth of love that's the rarest kind of all. The undeniable type. The type you want to invest in. The type that challenges everything you've ever known. It's unexpected, yet it feels like home. It awakens things you didn't even know were asleep. It's all encompassing, yet completely liberating. It has an extraordinary rawness to it. It will captivate you. It's the type of love that will forever change you. Leaving a permanent mark on your heart and soul.
Let me touch you. The man you are. The boy within you. The masculine in you. The feminine in you. The scared parts. The brave parts. The strengths. The weaknesses. The complex human you are.
~
Please consider Boosting our authors' articles in their first week to help them win Elephant's Ecosystem so they can get paid and write more.