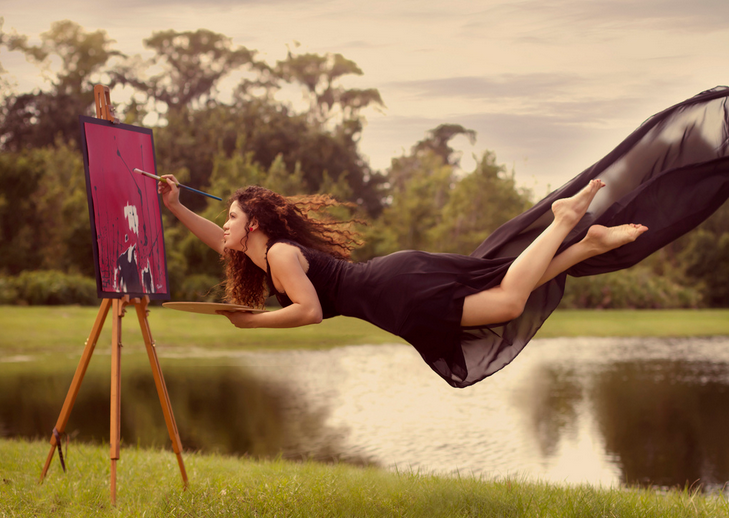 I love a good success story.
People who found (specifically) artistic success after a certain age are special to me—I suppose because I've always written, but also, I had to learn the hard way that life is not a straight road that delivers us cleanly from point A to point B.
It means a lot when I come across stories of people who have struggled for a while, only to have "made it" perhaps after they should have "given up".
(I realize that by "making it" in this context I mean, "getting some sort of recognition for their work" and that is problematic: by no means do I want to suggest that success is marked only (or at all) by one's achievement.)
Personal success for me means so much more, and is so much more complex, than just achievement.
Achievement is transient and ego-based and success for me, as a human being, is so much more about connection, fulfillment, kindness, purpose and love—but there is still something heartening about someone who carries a childhood dream well into adulthood, well past the point where the world was telling them they should give up and get practical.
I have often said that an artist can be many things: a mathematician, a mother, a chef, a dancer, a mechanical engineer, someone who loves their paper route—anyone who dedicates a certain amount of time and passion to a certain pursuit. Someone who has a talent, a raw connection to the materials, and a longing for it.
An artist is all of these things, and more.
The following is a list of fairly influential artists who have changed society in some way and who achieved their greatest success a little bit, or a lot later in life. Enjoy.
1. Meryl Streep.
I'm just going to call her one of the top five most talented actresses of the past 50 years. I haven't seen every film she has acted in, but I've seen enough of them to be astounded, time after time, by her range: her timing, her humour, her chameleon ability to change appearances, the depth and breadth of her emotion.
She was 27—though I don't by any means think that is old, I would say, fine, that is older than usual—when she graduated from Yale with her Masters' in Drama. She got her first major role (in the movie Julia) after her graduation.
2. Vivienne Westwood.
Westwood is a legendary British fashion designer and empire builder, largely credited with bringing punk fashions into the mainstream. She opened her first store, what would be later called Sex, when she was 34 and had her first runway show in 1981, when she was 40. She has, of course, gone on to be one of the most influential and recognizable designers in the world—still putting together shows and staying engaged as a political activist.
3. Joseph Conrad.
Okay, so Conrad's is a name perhaps more recognizable (or willfully forgotten) from high school reading lists, but the author only turned his hand to writing when he was 36, when ill health forced him from a beloved career in the Merchant Marines. His first book was published the following year and what many consider to be his masterpiece, "The Heart of Darkness" was published only when he was 41.
Granted, though that was the time his talent was first recognized by literary critics, financial and commercial success eluded him for several years afterwards.
4. Dr. Seuss.
Theodore Geisel, the man associated with putting colour and words to the crazy imaginations of the world's children didn't publish his first book, "And to Think I Saw It On Mulberry Street", until he was 33 years old. Prior to that, he had made a successful career for himself as an advertising executive and he once estimated that "Mulberry" got rejected from publishers between 23 and 43 times before a chance encounter with an old college friend led to it being published.
What some would say was his biggest artistic achievement, "The Cat in the Hat" was published when he was in his early 40s.
Can you imagine? Dr. Seuss almost gave up on his passion of writing before he got started. Where would our world be without him?
5. Alan Rickman.
One of the best movie villains of the past 20 years (Professor Snape anyone? Hans Gruber, from Die Hard? Or—and I'll date myself here—the Sheriff of Nottingham?) wasn't an actor, at first. Right out of his first stint at university he owned a successful graphic design studio for a few years, until he decided that he needed to give acting a serious try.
He wrote a letter to the Royal Academy of Dramatic Arts, requesting an audition, and studied there from 1972-1974. He worked primarily in theatre for a long time—but only got his first significant television role and the subsequent recognition, when he was 38.
6. Marina Abramovic.
Though many of us may not immediately recognize Abramovic's name, I would argue she has been one of the most influential performance artists of the past century.
Born in Yugoslavia, she began performing early, but under her mother's strict conditions she had to make a 10 p.m. curfew every night, up until she was 29 years old. In the 1970s she began to make a name for herself in the art world with the Rhythm Series—a triad of provocative pieces designed to challenge herself and the relationship between artist and performer.
It wasn't until her 30s, when she joined personal and professional forces with another artist, Ulay, that her fearlessness started to gain international recognition. In the past few years, she's performed "The Artist is Present" at the Museum of Modern Art in 2010 and she collaborated with Jay-Z for his video "Picasso, Baby!" in 2013.
7. Toni Morrison.
This author has written some of the best fiction to come out of America in the past century, and her first novel, The Bluest Eye, was published when she was 40, while she was going through a divorce, raising young children, and working full time at Howard University. The novel tanked. It wasn't until a few years later that Sula and Song of Solomon were written, published, and started blazing a trail for her.
8. Morgan Freeman.
He might be considered a "maybe" for a piece about late bloomers, but I will include him anyway. He got his start as a member of the kids' show, Electric Company, in the early 1970 and for years, Morgan Freeman was an actor in off-Broadway theatre. Although he was definitely given many awards for his body of work, it wasn't until Glory Days came out in 1989, when Freeman was 52, that he made the significant crossover into films, and living-room recognition.
9. Terry Gilliam.
One of the most innovative directors of all time actually started out being a strip cartoonist: in the Monty Python movies, all the little animation breaks were drawn by Terry. In fact, it was only when the troupe broke up for good in 1983 that Gilliam turned to full-time screenwriting and directing—his first film, Time Bandits, came out in his early 40s—so all of the movies that we know and love him for came well after that.
10. J.K. Rowling.
While Jo Rowling grew up writing stories, she did lots of other things, or, as she has said in interviews, "failed at lots of other things" until she got the inspiration for her big idea. She scraped by at university, and was an English as a Second Language teacher in Portugal for a while.
As she tells it, the idea for what became "The Philosopher's Stone" fell into her head, fully-formed, one day as she was riding the train. She was 35 years old. How she came to write it, (on government assistance, divorced, with a small child, writing in cafés because that was the only way she could get her baby daughter to fall asleep) has now become the stuff of legend. "The Philosopher's Stone" was published when she was 38.
11. Alice Munro.
If you don't yet know this author, you should (but I'm guessing since she won the Nobel last year it's more of a possibility). She is widely regarded as the master of short fiction (I continue to be amazed at what she continues to write well into her 80s) but she first was published at the tender age of 37.
Before that she was a dedicated housewife and mother, who wrote when she could find the time. It didn't take her very long to get recognized, however—her very first collection, Dance of the Happy Shades, won her the Governor General's Prize (which is a prestigious Canadian literary award) and from that point on, her success was ensured.
12. Charles Bukowski.
Bukowski is the blue cheese of writers: you either love him immediately, you warm up to him very slowly, or you hate him your entire life—his life's work definitely polarizes people and that's why I appreciate him (for the record, I'm one of the "warm up to him slowly" readers).
He was one of those larger than life characters—he admitted freely to a troubled childhood that continued to haunt him, he dealt with alcohol and substance abuse problems for most of his life, he was a fiercely loyal friend who also had the weird capability of alienating everyone around him.
He wrote and was published periodically beginning in his 20s—but it wasn't until he was 49 and a friend who also owned a publishing house offered to subsidize him so that he could write his first novel, that he finally quit his full-time day job in order to write full time.
He wrote the award-winning movie that was somewhat based on his life, when he was 67.
And if that isn't enough, there are several other honourable mentions—an incomplete list is below.
Ang Lee—had his first movie screened when he was 38 years old.
Mark Twain—first published Tom Sawyer when he was 41 and he published Huckleberry Finn when he was 49.
Leonard Cohen.
Maya Angelou.
Cheryl Strayed.
The takeaway from this article is that we are all such unique, special, magical snowflakes. Every one of us.
If we have a dream in us, we have to keep it alive, no matter what. The world needs us, that's why we are here. We can all figure out a way together. Don't give up.
Relephant:
Love elephant and want to go steady?
Editor: Renée Picard
Photo: Omalix Martinez, Flickr Creative Commons