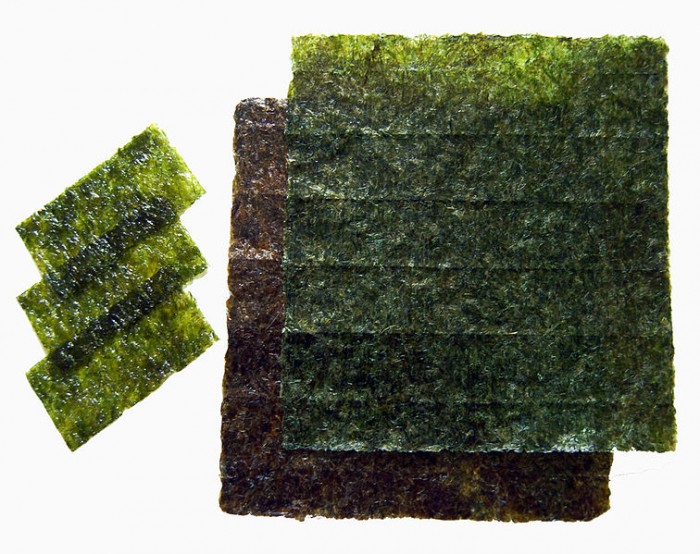 "I still think that one of the pleasantest of all emotions is to know that I, I with my brain and my hands, have nourished my beloved few, that I have concocted a stew or a story, a rarity or a plain dish, to sustain them truly against the hungers of the world."

~ M.K. Fisher
Seaweed is wild, making it more often than not, organic, the supply is huge, making it an ecologically sound food source, and it is exceptionally high in protein, calcium and vitamins A, B, C, E and B12 (often lacking in vegan diets) and minerals: magnesium, phosphorus, iron and the hard to come by naturally, iodine.
Besides wrapping it around some rice and fish, or buying the aforementioned snacks, both of which I have historically required others to do for me—what should a girl wanting to partake of home made sea greens do?
Enter (once again) Mark Bittman. Following is his ridiculously easy recipe for do-it-yourself Nori Chips. Honestly, if I wasn't already married, I'd have to hunt this guy down and make a serious case for myself.
Nori Chips:
Six sheets nori (dried seaweed, found in any Asian market, Whole Foods and often any regular grocery store in the Asian section if they have one). These last forever, and can be bought in bulk, which I recommend. You'll want to make this recipe many, many times.
2 t/l dark sesame oil (spicy is great too). *Tip: store sesame oil in the fridge so it doesn't spoil.
Fine grained kosher salt
Put a skillet over medium high heat. Brush both sides of nori with sesame oil and sprinkle with salt. Put a single nori sheet in the pan and toast it until it shrinks up, about 15 seconds, turn it over and toast the other side for 15 seconds. Use scissors to cut sheets into bite sized chips. Serve within a few hours.
These chips taste great by themselves, or try them mixed into a bowl of brown rice or white sticky rice with some kimchi (fermented cabbage—which you can also find a great variety of in Asian markets) or German rohkost, recipe included here.
Love elephant and want to go steady?
Editor: Travis May
Photo: Wiki Commons