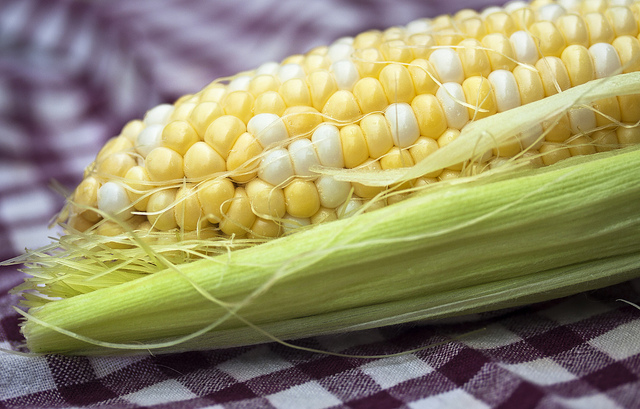 I recently made this glorious salad almost entirely from farmer's market ingredients and was delighted with its lush, distinct flavor. Buddha—pictured below—agreed!
It would be a fantastic addition to any summer meal—and could even serve as an entree with the addition of one can of drained and rinsed black beans for protein.
Pro Tip: Using avocado is one of the many ways to tease decadent textures out of vegan food.
The "dressing" for this recipe is really just the result of all the other ingredients coming together after the salad has been chilled. Its creaminess comes from the maceration of the avocados from the acidity of the tomatoes and lime juice.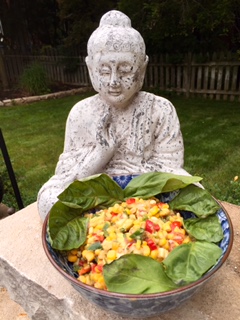 Here's how I did it:
8-10 ears of corn, shucked—no need to cook!
(Alternative: 3 bags frozen corn, cooked for 3 minutes in boiling water, drained and cooled in an ice or cold water bath.)
3 cups tomatoes, chopped (plus juices)
1 red bell pepper, chopped
1 jalapeño pepper, seeds removed, minced
4 avocados, chopped
1 red onion, chopped
1-2 cups fresh cilantro, chopped
3 cloves garlic, pressed or grated on a microplane
1 t/I ground cumin
Juice of 4-5 limes (depending on their juiciness)
1 t/l brown sugar
Sea salt and fresh cracked pepper to taste
1 can black beans, rinsed and drained (optional)
~
Method:
Mix all ingredients in a large bowl and chill for at least one hour.
Stir again and check seasoning.
Serve with fresh basil or cilantro leaves as garnish if desired.
~
Relephant Read:
~
Author: Erica Leibrandt
Editor: Alli Sarazen
Photo: Courtesy of Author/Liz West/Flickr