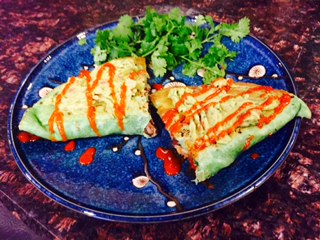 Quesadillas are one of my go-to comfort foods, and this version is my absolute favorite. Ooey-good, easy and even healthy, they make a great weeknight dinner, a fun game night appetizer and an excellent hangover cure.
You need not make the guacamole from scratch—if you're in a hurry you can just use store bought and the whole shebang will take you less than 15 minutes from start to finish. But if you'd like to (and I do), here is my recipe.
Spinach Quesadillas Stuffed with Mushrooms
Per person you will need:
1 large or 2 small soft spinach tortillas (or any kind of tortillas you like)
1 1/4 cup sliced mushrooms, any kind (I use baby bellas or button mushrooms)
1/4-1/2 cup shredded vegan cheddar cheese (you may also use real cheddar if preferred)
1 t/l fresh chopped cilantro plus more for garnish
1 clove garlic, minced
2 tbl (plus more if desired) guacamole
2 tsp olive oil
1/4 tsp ground cumin
sea salt and fresh cracked pepper to taste
Heat 1 tsp of olive oil in a medium pan. Add garlic, sauté for one minute. Add mushrooms, salt and pepper, sauté 5 minutes or until they release their juices.
Turn off heat, mix in cilantro. Remove mixture from pan and set aside.
Add 2nd tsp of olive oil to pan, bring heat back up. Put in tortilla, put half of the cheese on half of the tortilla, and add mushroom mixture on top, add second half of cheese on top of mushrooms.
Fold tortilla over and press down with a spatula. Turn the heat down to medium low and cover, cooking for 3-5 minutes, checking periodically to see if the bottom is brown.
When the bottom is brown, carefully flip, press with the spatula again, and cook on the other side 3-5 minutes or until brown.
Remove quesadilla from pan, and cut with a pizza cutter into triangles. Top with guacamole, extra cilantro and a dash of Sriracha (optional).
More vegan goodness from Erica: 
Author: Erica Leibrandt
Editor: Renée P.
Photo: via the author