So I met this guy.
If you'd like to read Waylon's "So I met this girl," it's here.
A few months ago, maybe July, the site Elephant Journal reached out to me asking if I wanted to write for them.
I love writing, and I respected Elephant Journal from the little I knew about the site, so I was excited that they were interested in my writing. I told them no for the time being, because I was moving and changing careers in the next week or two, but I would get back to it, eventually, I promised.
Fast forward a few months to November.
I went into my Instagram inbox—well, the inbox behind the inbox, and I found a message from some guy I didn't know. It was just a little red automatic heart. The one touch heart, but that's all. Just a heart. I was kinda confused, so I went to his page. I saw he was affiliated with Elephant Journal. I looked through his stories, and saw his hound dog, who he clearly loved a lot. I have a hound dog who I love a lot, my Forrest. I have a soft spot for dog people.
I messaged him, "Is this your nugget?"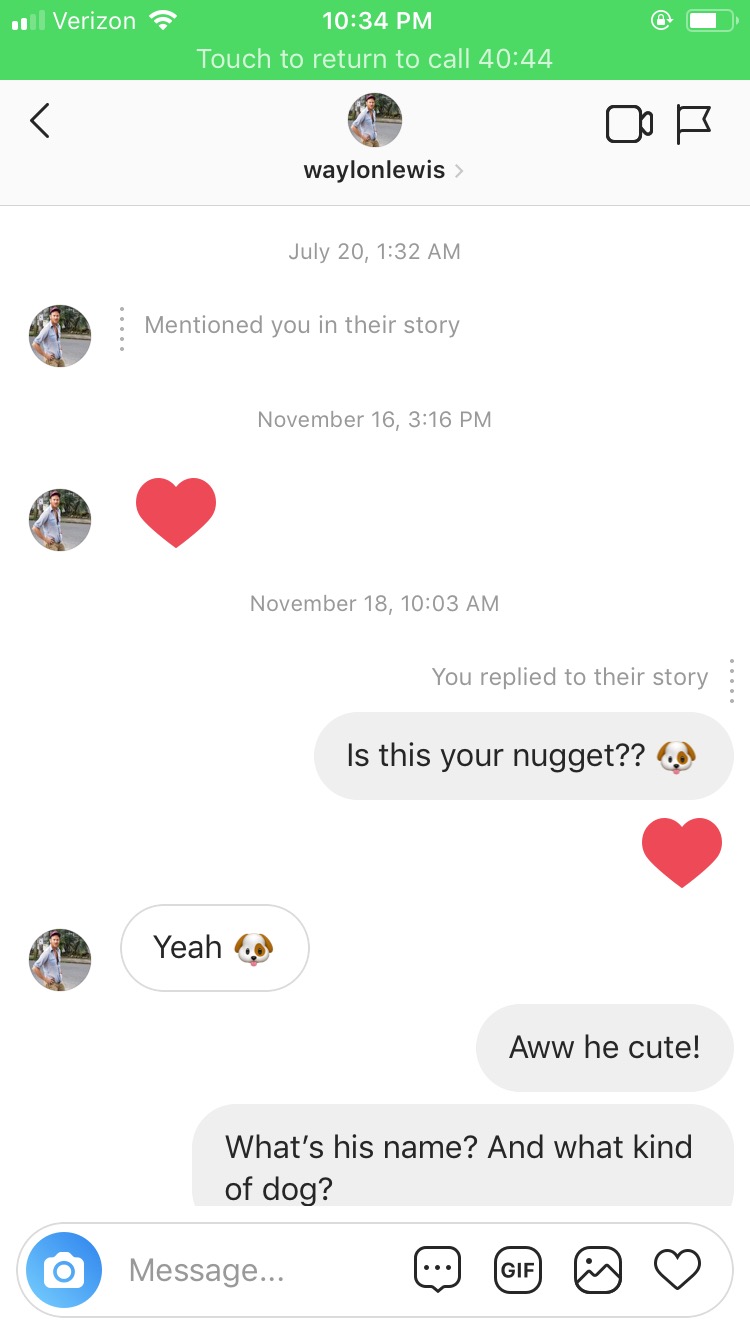 He messaged back. I messaged back. He messaged back. I gave him my phone number. He immediately texted me. It was fun. He was funny, and kind, and respectful, and sweet. Easy to talk to and interesting.
He asked me on a date by day three of us texting nonstop. I was confused. I really didn't know this man that well, and besides, he lives in Boulder, Colorado, while I live in southwest Virginia. After thinking on it, I sent him an emoji—the monkey covering its eyes. I felt shy. I told him I didn't know how that would work out.
Let's just take it a day at a time.
We took it a day at a time for a few more weeks. Eventually we started calling each other. Then Facetime. We talked everyday, multiple times a day usually. I started to really like this man. He's vegan, kind, cares about the environment, meditates, cares about people, loves his mom, loves his dog, loves his community, funny. I could get really vulnerable and honest with him.
There were no games. No drama. He said how he felt.
I wanted that date with him.
He flew to Asheville right before Christmas. I was nervous and excited. He landed and I picked him up from the airport. It was scary at first, but we got comfortable fast. We had been on a virtual date every night for the past six weeks, and now here he was, in person, the real deal. The man I was slowly starting to fall for.
It was a wonderful few days. I had been to Asheville many times since I live close to there. It was fun watching him enjoy the history, the vegan food, and the Appalachian Mountains that hold my heart. We were really liking each other, which can be scary, but we took turns expressing that fear while the other held space and gave reassurance.
He went back to Boulder.
We went back to talking on the phone, slowly counting down the 50 days of separation.
Then, I went to Boulder. I'm here now. I've been here for a week and a half. Just a few more days before I return home.
I love it here. I love being with him. I love walking, having him show me around this town filled with kind people and mountains that are much more dramatic than the rolling old mountains that I'm accustomed to. I love meeting all sorts of people here, some of which ask me, "Are you Waylon's new special lady?," and then proceed to tell me about how wonderful they think he is. He's so loved here by the community. That is clear.
And he's loved by me. More and more each day.
It's still new and fresh and exciting and sometimes hard and scary and challenging. Sometimes we talk about the future together: marriage, children, grandchildren. We're both romantics. We like to reminisce on the past and contemplate the future. However, we're also both the mindful type. We like to come back to the present saying, "One day at a time." We do not claim the other. We enjoy each other. We respect our unique independences and needs. We know that while this could be forever, it could also just be for now, and that's okay.
But I do know one thing: no matter what the future holds, I am so thankful for the time I have with this man. He is good. He is kind. He loves others. He loves himself. He walks his talk. He inspires the hell out of me.
Turned out that he owned Elephant Journal, that website that reached out to me about writing. I never did get around to writing for them.
Yesterday morning, on Valentine's Day, he shared an article about this new love. It was sweet. Then, we had a lovely day together. After our romantic, fireside dinner, we walked his dog Redford around the neighborhood, the dramatic mountains looming darkly above us as we chatted and walked. We came upon a school that had swings on the playground. I love swinging, so I hopped on. He got on the swings, too. As we were swinging, I had a stroke of inspiration from this man.
So here I am, acting on the inspiration, sitting in my pajamas in Waylon's dining room, writing for him, writing for Elephant, finally. How funny and fitting that my first article is a confession of love for the man who reached out to me eight months ago to write for the site.
How funny and fitting that the automatic red heart on Instagram would lead me to giving my heart to one of the best men I've ever met.
Thank you for your sweet letter. Thank you for having me in your town and your home. Thank you for giving your heart back to me, Waylon.