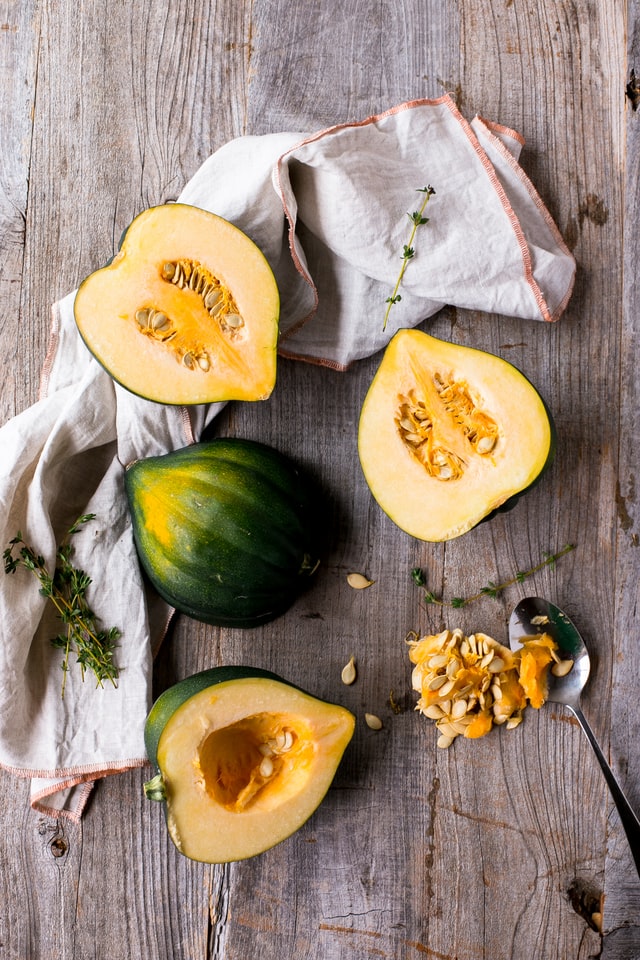 Dear Squash Lovers,
I have for you the yummiest, most decadent make-ahead squash recipe of all time! With just a few ingredients, you can transform the lowly, inexpensive acorn squash into a company worthy masterpiece!
Without further ado, I give you…
Acorn Squash Stuffed with Walnuts and Sage
Serves 2
Prep time: 15 minutes
Cook time: 1 hour and 25 minutes
You will need:
1 large acorn squash, split in half and seeded
2 tsp olive oil
1 apple peeled and chopped (I like Honeycrisp)
2 tbsp chopped fresh sage
1/2 cup walnuts roughly chopped
2 tsp almond flour
1 cup fresh ricotta cheese (You may also try 3/4 cup blue cheese, 1 cup goat cheese, or one cup soft vegan cheese.)
Salt and pepper to taste
To prepare:
Rub one teaspoon of olive oil along the inside and rim of the squash. Add salt and pepper. Place face down on a tin foil lined sheet pan sprayed with cooking spray. Bake at 400 degrees Fahrenheit for 45 minutes or until the squash is tender to the touch.
While the squash is cooking, mix remaining ingredients in a bowl.
Remove the squash from the oven and let it cool. When the squash is cool, gently scoop the flesh away from the skin with a spoon. Now add half of the mixture from your bowl to each squash and carefully mix it in.
At this step, you may either continue cooking, or cover with plastic wrap and refrigerate up to 24 hours.
When you are ready to cook the prepared squash, preheat the oven to 350 degrees Fahrenheit. Set the squash on a lined baking sheet and use tin foil to create a ring to tie around the squash to keep it from falling apart in the oven. Bake for 35 minutes covered. Uncover and broil for five more minutes or until the top is nice and brown.
Remove the tin foil rings if you have bowls that are roughly the same size as the squash for serving, and place each squash in its own bowl. If you don't have the right sized bowls, leave the rings on and find the closest thing you've got!
Serve topped with a little more fresh chopped sage, a drizzle of honey, and a dash of red pepper flakes, and enjoy!
~