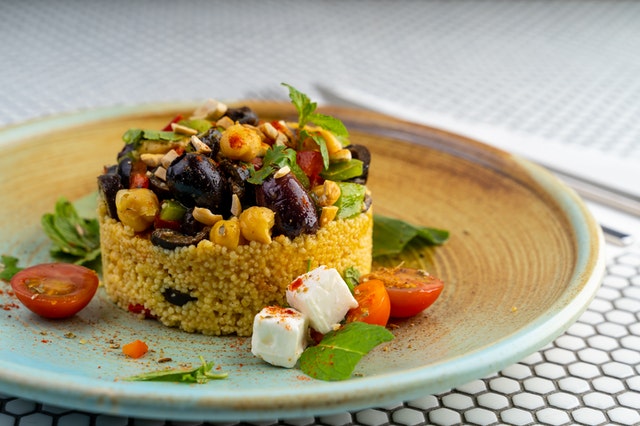 You know how some recipes just manage to evoke the feel of an entire season?
This is one of them and the season is…summer! Its bright and cheerful mix of flavors will have you thinking about fireworks on the Fourth, lightning bugs dotting a summer night, and the warmth of a beach towel soaking up the sun. Each bite is filled with tiny surprises, complex textures, and satisfying flavors. Make ahead and serve at your next outdoor party, or keep it to yourself and eat it all week long!
Serves 4-8 (depending on whether as an entree or side).
For the dressing, you will need:
1/4 cup good olive oil
1 teaspoon Dijon mustard
1/2 teaspoon honey (maple syrup works well if you're vegan)
2 teaspoons fresh grated lemon zest
Juice of two lemons
Salt and pepper to taste
Put all ingredients in a small-lidded container and shake until mixed.
For the salad, you will need:
2 boxes (1 1/2 cups) Israeli or pearled couscous (I like the olive oil and herb flavor)
1/2 Persian cucumber, peeled and cut into small pieces
1 cup cherry tomatoes cut in halves or quarters if they are larger
1/2 red bell pepper cut into small pieces
1 small red onion chopped
1/4 cup fresh dill, snipped
1/4 fresh mint, snipped
1/4 cup fresh Italian parsley, snipped
1/3 cup chopped walnuts
1/4 cup Golden raisins
1/3 cup good Feta cheese/vegan Feta or any other vegan crumbly cheese
To assemble:
>> Prepare couscous as directed and set aside until completely cool.
>> Add all salad ingredients including couscous to a large bowl and gently combine. Add dressing and fold in thoroughly. Adjust seasonings.
Serve with generous pieces of pita and enjoy!
~