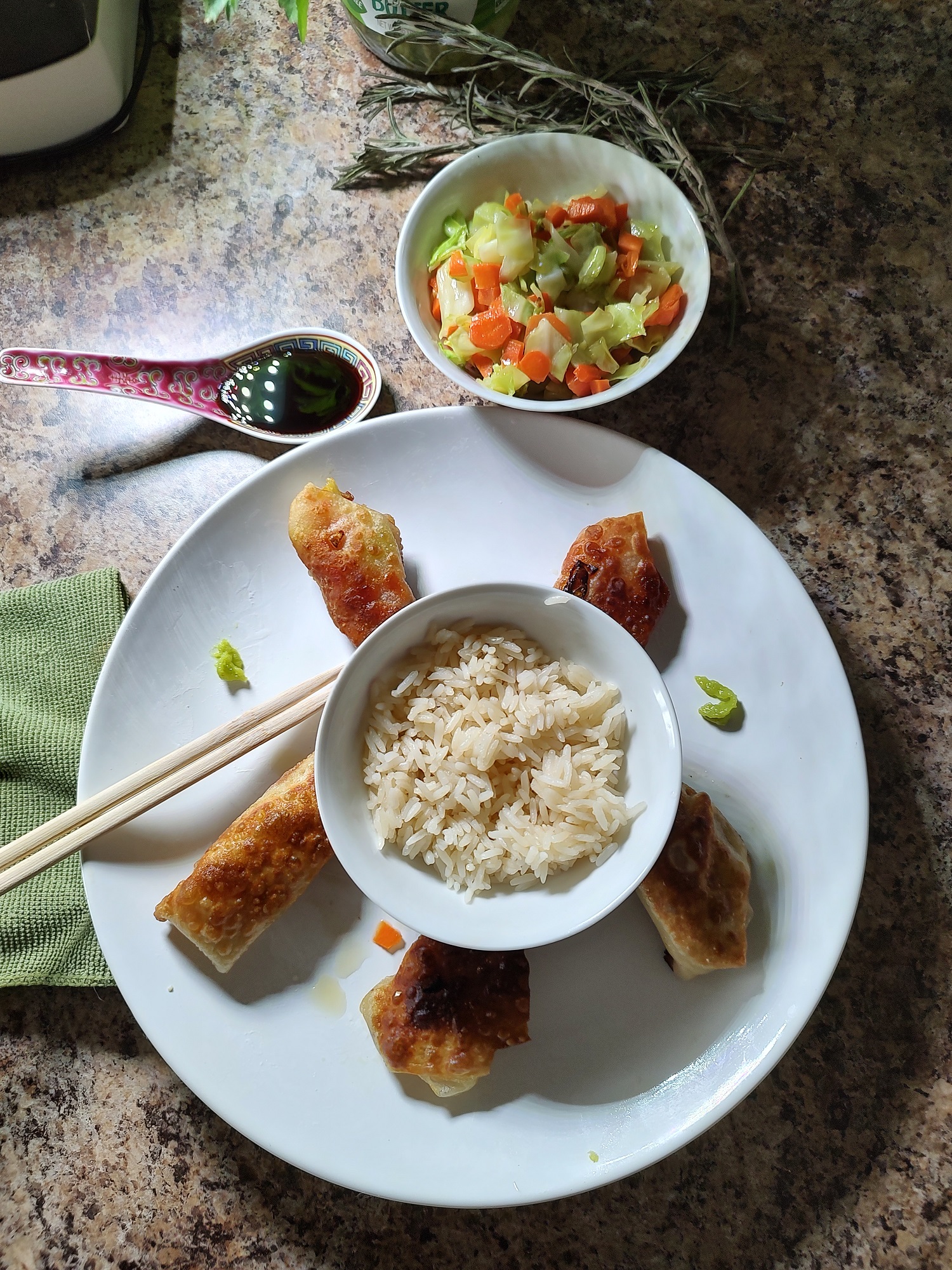 Chef Jeremy was making eggless wontons to add to the Monday night soup cooking class, and I was hungry to learn this lesson.
Dumplings would be a first for me to make and it was certain to be filled with my blunders.
And it was.
I was happy he used the same brand my grocery store sells, and I wrote it on my shopping list, always written in the order of the aisles—counterclockwise. These wonton wrappers are eggless, and he used all veggie fillings, yet another win although I would have veganized it if not.
A side note since I tend to digress: wontons originally came from North China and they are recorded to have been around in 1644. Eventually, they made passage west and became a hit in Canada and the United States. Quickly, Asian restaurants opened to share this popular morsel.
Typically, the wrapper is made with egg and the filling is pork, cabbage, and carrot. Not this recipe though. Chef Jeremy used the Organic Nasoya Eggless wonton wrapper and filled that cutie with cabbage, carrot, and crumbled tofu. They were added to a soup, which I forgot what kind since I was souped-out and only wanted the wontons.
So on with the show, I know you are salivating and keen to make these delights.
Supplies:
Clean, cat-free counters, pot or wok, potholder if needed, spatula (I used bamboo in my wok), love, a shallow small dish of water, spoon rest, chef's knife, patience, a large plate to lay out the wonton wrappers, cooking utensils, serving plate, eating utensils, or chopsticks and hands work too, good attitude. Cutting board, towel or two.
Ingredients:
Note that I cook for one human, adjust accordingly.
Wonton wrappers: I used Nasoya Eggless wrappers.
Veggies: green cabbage, purple cabbage, carrot, tofu, fresh ginger.
Spices: your choice, I did not use any other than the fresh ginger.
Oil: sesame plain and toasted work well, plain for sautéing the ginger and toasted to sauté the wontons.
Extras: soy sauce, tamari, coconut liquid aminos or none, wasabi if it pleases you.
Mise en place all of the above.
Recipe:
Wash your hands after removing jewelry from your wrists and hands. Tie long hair back to avoid hairy food. Please. Wash the veggies.
Do one last check for pesky, curious cats. One of mine likes to help.
Chop the cabbages and carrots into shreds or small pieces. Set the drained and towel-pressed tofu nearby. Chop the peeled ginger.
Add oil to the wok or pan and let it heat, adding the ginger to sauté about one to two minutes.
Lay a few wonton wrappers on the large plate or clean cutting board and have the small bowl of water close. One at a time, lightly fill each wrapper with the veggies; don't forget the tofu. Use one finger to dip in the water and paint it around the edges to help create a seal as you take one corner to the opposite one and press firmly. Lift the pressed piece and form a U-shape, tucking in edges. Feel free to get creative; it's your wonton masterpiece.
Jann blunder alert: I overstuffed and it was starting to split in places. Instead of removing some veggies, I added another wrapper. Yep, double wrapped and my U-shape was a rectangle. This is how I learn—mistakes.
Add the toasted sesame oil to the pan and give it less than a minute if you kept it on low while stuffing the wontons. If you had turned it off, give it a little longer to heat before dropping in the wontons.
While it's cooking, clean up the mess you made. Pour soy sauce in an adorable small bowl and dab wasabi on the plate in a couple places; maybe 3 and 9 o'clock or 12 and 6.
Flip the wontons. Blunder number two: I am a poor flipper and waited too long to flip. Depending on thickness, a few minutes per side is good. Mine was about six minutes, flipped to see burned areas and cooked side two to three minutes.
Plate your wontons, and find a stress free, calming place to sit and eat. No television, no devices, just peace and maybe a nature view. Remember to give gratitude to this food, the farmers, drivers, stock folks, cashiers, and baggers.
Enjoy!
As always, no critters were harmed in the process of this meal. One more win for all the critters and this tiny blue marble we call Momma Earth.
~
For a whole bunch of delicious recipes, scroll through my author page.
Please consider Boosting our authors' articles in their first week to help them win Elephant's Ecosystem so they can get paid and write more.